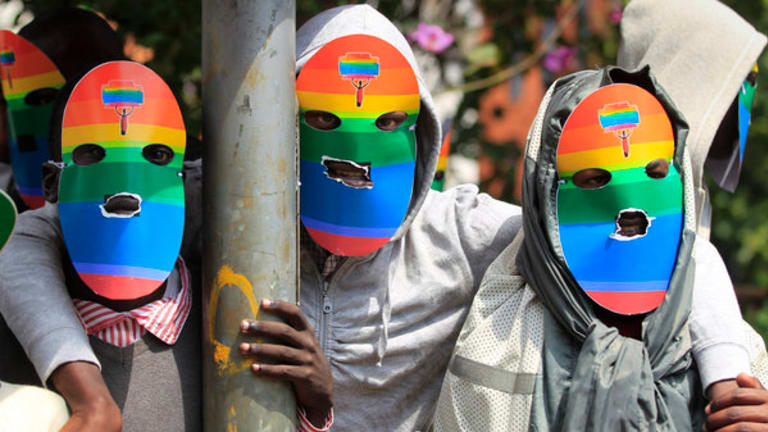 How White American Evangelicals Exploit African Homophobia
African Homophobia: Denouncing homosexuality is one of the ways these African countries decry perceived neo-colonialism.
When Uganda's President, Yoweri Museveni, signed into law this week the long-awaited controversial Anti-Homosexuality Act, 2014 (a.k.a "Kill the Gays Bill"), it came as no surprise. The bill was passed by his Parliament in December 2013, removing its original draconian proposal of the death penalty for a seemingly more humane act of life in prison.
With no time for the country's LGBTQ population and its allies to reel from the news, the following day the nation's popular tabloid "Red Pepper" front-page story read, "EXPOSED! Uganda's 200 Top Homos Named," with photos.
This, too, came as no surprise.
Just last month, Nigeria's president, Goodluck Jonathan, signed into law his country's Same Sex Marriage (Prohibition) Act. The act was unanimously passed in Nigeria's House of Representatives.
For several years now, African countries have been ruthlessly going after its LGBTQ communities in a genocidal frenzy. And Africa's LGBTQ populations are the collateral damage in the U.S. culture wars with its Christian evangelical right-wing movement, its LGBTQ movement, and also collateral damage with a black African Christian nationalist movement decrying neo-colonialism, Western imperialism and cultural annihilation.
The geopolitics of each of these groups not only violate the human rights of Africa's LGBTQ communities, but they each also exploit African LGBTQ people to gain leverage, if not victory, for their causes.
For example, many LGBTQ of African descent and our allies feel that the U.S. LGBTQ organizations have abandoned the cause and struggle of their African brothers and sisters now that they no longer have the need to stretch across the Atlantic in order to gain political leverage for their fight here in the states.
"Even when LGBT Americans do express concern, their motives sometimes seem less than pure. For example, LGBT publications covering the legal situation of Ugandan gays have historically focused narrowly on the shameful promotion by certain American evangelical Christians of repressive policies in that country, up to and including the death penalty. But that coverage suggests an American LGBT priority of demonizing their own "enemies" more than addressing the needs of foreign gays," David Benkof, of the Daily Caller and a white ally, wrote in his op-ed titled, "Why Isn't Africa a LGBT priority."
African activists here as well as back home are begging U.S. activists to stay the course with them.
"For LGBTQ organizations to now demand they pull out of Uganda perilously compromises the lives of LGBTQ persons—who will not have anyone to turn to for safety, and strip our ability to monitor persecution," Rev. Dr. Kapya Kaoma wrote in his recent op-ed "WARNING: U.S. LGBTQ ORGANIZATIONS FALLING INTO UGANDA'S ANTI-HOMOSEXUALITY TRAP."
While many U.S. LGBTQ organizations and activists are gradually backing away, the Christian evangelical right-wing movement has not. One of the reasons is that they have been at it longer. And, another is that they have made, unfortunately, headway.
In the 1990s, the Christian evangelical right-wing movement began losing their fight over gay ordination. Although there are two distinct strains within the Christian evangelical right-wing movement -- denominational and non-denominational churches and organizations -- both, however, sought the same outcome.
For example, Scott Lively, head of anti-LGBTQ "Abiding Truth Ministries here in Springfield, Massachusetts and co-author of "The Pink Swastika" represents the lucrative free-wheeling non-denominational tie of the movement. Unfettered by church doctrine and ecclesiastical polity, Lively organizations and those like his, and non-denominational mega churches like Rick Warren's Saddleback Church, answer to no higher ecclesiastical authority than themselves.
But denominational churches do answer to a higher authority. And you see more clearly, pitting groups like, first, the U.S. LGBTQ population and Africans against each other, and, then, the African LGBTQ population against heterosexual Africans, how the church masks the geopolitics of race and power while bating homophobia.
Does this scenario sound familiar?
When the liberal wing of the Episcopal Church of the U.S (ECUSA) consecrated Gene Robinson, the first gay bishop, the Anglican's Global South – comprised mostly of Third World countries in Africa, South America, and Asia – did not embrace the Church's radical shift from a religion of personal transformation to a faith of personal affirmation. For the Global South, that shift raised not only questions about theological belief, but also about their ecclesiastical power within the Church.
With centuries of Anglican missionaries traversing worldwide into the hinterlands and jungles of Third World countries to transform heathens of indigenous religions and fertility cult practices into good Christians, its globetrotting evangelizing carried not only racist and homophobic messages that had strong theological holds on its colonial subjects, but it also brought the notion of power to disenfranchised countries that wanted in the Anglican ecclesiastical fiefdom.
One sign of entry is an invitation to Lambeth conferences. They are once-a-decade global gatherings of Anglican archbishops and bishops that once upon a time functioned as the Church's only white male club of heterosexual power brokers. They ignored, without moral compunction, its missionary churches.
But things changed. And when they did, they changed not only radically but also racially
"In 10 years, when African bishops come to the microphone at this conference, we will be so numerous and influential that you will have to recognize us," said Joseph Adetiloye, a retired official with the church in Nigeria, at the 1978 Lambeth Conference, according to The New Yorker.
While the U.S has, at best, approximately 2.2 Episcopalians today, the center of Anglican gravity is neither here nor in Britain, but in Africa. There are approximately three million in Kenya, and nine million in Uganda. But those two countries combined do not come close to the 20 million in Nigeria, making Peter Akinola, the archbishop there, one of the most influential men in the Anglican Communion.
A vociferous opponent of LGBTQ civil rights, Akinola has used Robinson as his whipping boy to flex his muscle as a sign of African power in the Anglican Church as well as to expand his missionary power by capitalizing on the theological schism that has developed.
In expanding their African power in the Anglican Church, African bishops also work in tandem with their countries presidents and politicians, promoting a Christian nationalism.
Presidents Museveni and Jonathan set the stage for other countries to follow suit. Denouncing homosexuality is one of the ways these African countries decry perceived neo-colonialism, Western imperialism and cultural annihilation.
And it's telling the West- U.S. and England, in particular- to mind their business.
[dc]"W[/dc]e Africans always keep our opinions to ourselves and never seek to impose our point of view on others. If only they could let us alone," Museveni told the New York Times in discussing pressure from the West to not sign the bill.
But the fall guys in all these struggles -- the U.S. culture wars with its Christian evangelical right-wing movement, the U.S LGBTQ movement, and the black African Christian nationalist movement -- are African LGBTQ people.
Irene Monroe
Subscribe to LA Progressive's daily newsletter
* indicates required
Email Address *


First Name

Last Name

Email Format
Powered by MailChimp