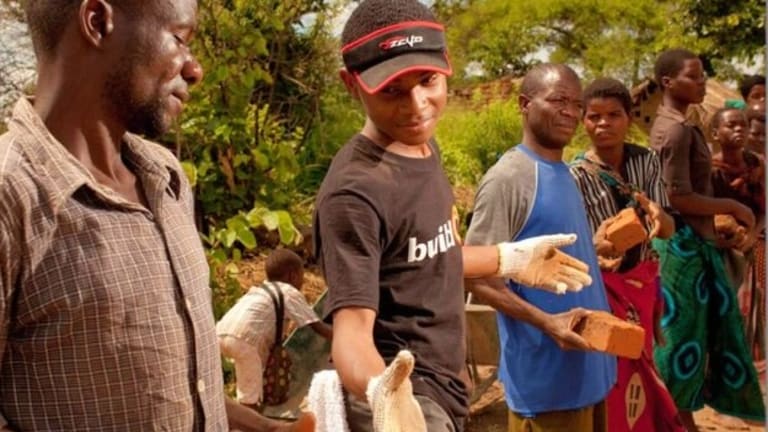 buildOn: Empowering Urban Youth Through Community Service, Building Schools Overseas
Tania Verafield: For two decades, buildOn has been mobilizing rural communities in some of the economically poorest countries on the planet, such as Haiti, Nepal, and Malawi.
Nonprofit organization buildOn's mission is multifold, operating in inner city America and some of the world's poorest nations as it shows students the value of community service.
In the U.S., buildOn's service learning programs engage students in challenging urban areas such as Chicago, Detroit, and Boston, showing them the limitless power they can achieve through community action. In each of these programs, youth contribute intensive local service—helping the homeless, seniors and children in their communities—to confront urban struggles with passion and optimism. BuildOn's youth go on to college in much greater numbers than otherwise. That's just here in the US.
Internationally, for two decades, buildOn has been mobilizing rural communities in some of the economically poorest countries on the planet, such as Haiti, Nepal, and Malawi. They build schools with villages that have historically had no adequate school structure—where students are squeezed into dark and crumbling mud huts, or are taught under trees when the weather permits, or have to walk multiple miles to a neighboring village, or can't attend school at all.
These international builds are with not only volunteers but also the youth from those urban areas who are often traveling for the first time in their lives, seeing that they can make a difference in the world and not just their immediate communities.
As a supporter of their efforts, I recently decided to get more involved by traveling to Malawi this coming July, along with a group of 20 others. To make this service trip, we each committed to raising the amounts necessary for groups of volunteers to build a school in Nepal and another in Malawi, and a group of buildOn kids building a third in another country not yet determined.
To help me reach my goal, two artists have generously donated their pieces to the cause. The pieces included here are both available for purchase—tax-deductible donation to this 501c3 organization.
These artists' pieces retail for $1800 to 2000. I am also accepting donations via my personal fundraising page. My deadline is February 14th, 2018.
Help is much appreciated as we promote education access across the globe. Thank you for your generosity; I am confident with all of LA Progressive in the know we will hit our goal!
Especially with the ugly statements that have have been said recently, I feel strongly that this is the time to shed light on the work we can do in these other countries so I thank you again for your kindness & generosity in helping me spread our mission.
Tania Verafield
Tania Verafield is a native Angeleno, actress and lifelong activist. She is the granddaughter of blacklisted screenwriter Robert Lees. She is devoted to many causes and most recently became one of the co-organizers of non-profit Cause Celeb Productions. You can find her at your local protest or onstage and follow her on Instagram @taniaverafield.