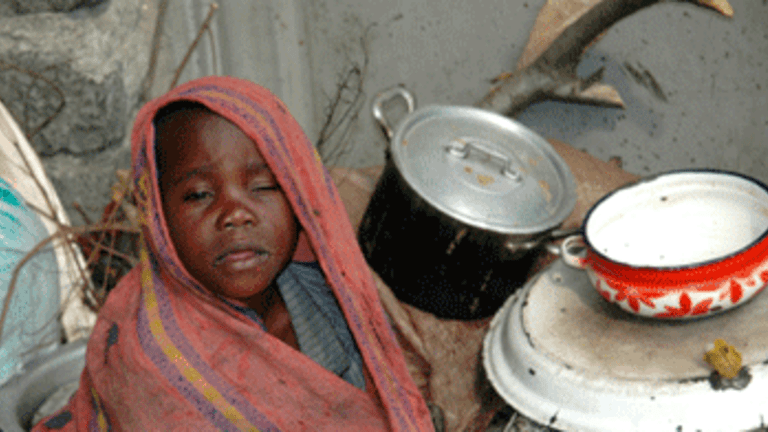 Facebook Community Helps Save a Few of Congo's Many Cholera Victims
Georgianne Nienaber: Some rudimentary help is now on the way to Walikale due to a tight-knit Facebook community that rallied to find a simple solution that will not solve the problem, but might save a life or two.
Depending upon your theology, thank God or Mark Zuckerberg for the Facebook community.
Due to an increase of fighting and assassination threats in the Walikale area of the Democratic Republic of Congo (DRC), there is an epidemic of diarrheal disease in children who are fleeing the fighting, killing, looting, burning, and raping. Since the communities have no oral rehydration kits or antibiotics, their only recourse is a homemade cocktail of sugar, salt and water. But the concentrations and volumes need to be accurate, and the only recipes immediately available on the Internet are in Creole and English. Urgent calls made to UNICEF, the Centers for Disease Control (CDC), and World Health Organization (WHO) for the recipe yielded nothing. The CDC really tried and offered a PDF in French which outlines symptoms and standard first world medical interventions.
So we updated our status on Facebook to read "Anyone out there have access to the homemade oral rehydration poster (PDF in French) for cholera...emergency in village in Congo. I can send to Mwami if I can find it."
Within minutes we had a poster that could be easily translated from English and another that was ready to go in French. It's not much to offer, but maybe once this emergency information is in the hands of community leaders, some children can be saved. There is nothing we can do to stop the murderous rebels; nothing we can do to force the incompetent and corrupt President of DRC, Joseph Kabila, to order his army to protect the "enfants sans defense;" and nothing we can do to provide life-giving medicine. But we can send an email with emergency instructions that were used with great success during the early days of the Haiti cholera epidemic.
Mwami Lukonga told United Nations-supported Radio Okapi 18,000 people have fled his community as of December 21 and that the rebel Democratic Forces for the Liberation of Rwanda (FDLR) burned the village of Buweke near Walikale. Several members of an ad hoc community defense group called the "Guides" were killed. Mwami said that the villagers have sought refuge around United Nations (MONUSCO) bases near Walo Yungu and Walo Ntoto Uroba, but that no help in the form of food or medicine is forthcoming. Other villages, including Chumba 1 and 2, Buteresi, Langer Ndando, and Kimua Mikweti are "emptied of their inhabitants." Radio Okapi reports, "The traditional chief deplores the poor conditions in which they live. He said the population suffers greatly."
At a time when I speak, people are going to pack up to flee to Masisi. Others turn their backs on Masisi because they say they left this city not long ago. They remember the suffering they have experienced, again because of these attacks.
In an email message, another community leader from Walikale told us that drugs and rehydration supplies are urgently needed because of a cholera epidemic near the sites of Kasheber/Machumbi. The provincial Health inspector sent a "small batch of drugs" that were ineffective. Many of the victims are children displaced by the fighting, and they urgently need rehydration. This leader, who is in danger of assassination if we use his name, also mentioned the local self-defense group, Guides, which he says was created "due to the absence of state authority in this part of the country; security is lacking and their are constant threats. Civilians are exposed, and they are unprotected because the Armed Forces of the Republic (FARDC) are absent in these areas."
Another village called Buhimba was attacked during the night and this morning the village is about to be pounded by the FDLR. Again people are in disarray. Among new reports of those killed are 9 persons and four civilians in the locality of a consortium Ntoto Walowa-Yungu. [Confirming the Radio Okapi Report] People are now moving without assistance. We have also started recording deaths among the displaced due to epidemics and diseases and the first of the victims are children. We launch cries of alarm to the authority, but without success.
In other conflicts, local leaders report people fled their homes and, "many died" in the villages of Chumba, Buteresi, Langira and Mukoberwa.
The international community appears to have once again abandoned the innocent in DRC. The United Nations is doing nothing, just as they have done nothing but posture in Haiti. Some rudimentary help is now on the way to Walikale due to a tight-knit Facebook community that rallied to find a simple solution that will not solve the problem, but might save a life or two.
Meanwhile, our contact from Walikale urges everyone to "Pray for our people that ended up very badly in 2011 in the forest."
Makes one with no faith wonder if prayer is "nothing else than being on terms of friendship with God," as the saints suggest. Perhaps God is using social networking on Facebook to truly unite nations.
Georgianne Nienaber