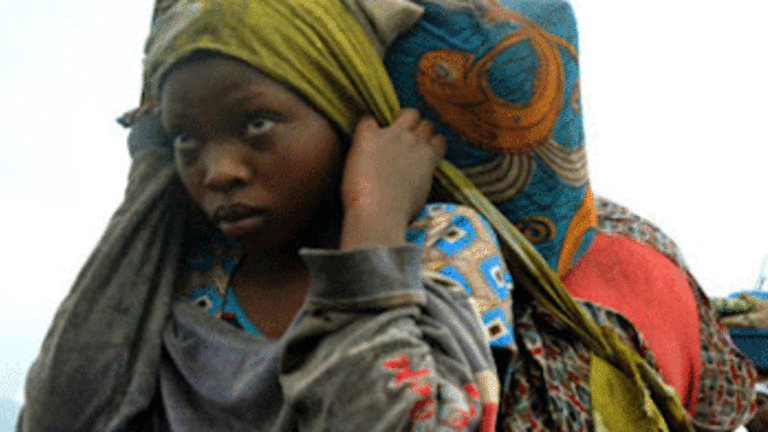 Why the Democratic Republic of Congo Is a Failed State
Georgianne Nienaber: Throughout DRC's history, the ruling elites have antagonized ethnic groups by supporting regional strong men who plunder resources -- sowing confusion, fear and insecurity in the process. No sense of statehood could possibly arise out of an exploitive system that continues to this day.
Written With Obadias Ndaba
The emergence of the M23 rebel movement in the eastern Democratic Republic of Congo (DRC) has focused a media spotlight on a part of the world that is often disregarded until there is a full-scale military crisis. Ignorance of history and persistent myths about Africa perpetuate a conventional wisdom that is fed by news cycles totally disconnected from social and political realities. Media loves a war and loves warlords even more. Rebellion makes exciting copy, and the reader is forced to choose between "good" and "bad" opponents.
In this case, Rwanda and the DRC are gladiators in a coliseum of hyped public opinion. DRC says that Rwanda is meddling in its affairs by covertly supporting the rebels, a charge that Rwanda vehemently denies. This week, foreign ministers from DRC, Rwanda and neighboring states met at the African Union Summit in Addis Ababa and called for a neutral international force to end the rebellion and disarm other rebel groups that have plagued the civilian population for thirteen years.
It may be worthwhile to challenge conventional wisdom regarding cause and effect in the current conflict.
DRC has never existed as a sovereign, unified political entity. Established by a stroke of a pen in 1885 at the Berlin Conference, "The Congo Free State" was a forced labor scheme developed by King Leopold II of Belgium. As European powers greedily divided Africa with no consideration for social or tribal makeup, hundreds of different tribes and languages that had never coexisted together were expected to adhere to a national identity. Half the population, as many as 10 million people by some estimates, perished during the oxymoron known as the Free State Period.
This "forced state" was a clever ruse invented by Leopold to plunder minerals and rubber. Tribal chiefs vigorously fought the mercenary army of the Force Publique (FP), whose job it was to ensure that rubber quotas were filled. Retaliation was swift for those who refused to comply. Those who dissented had their villages burned down, their children murdered, and wives raped. FP soldiers were ordered to bring back a hand for every bullet fired to ensure that ammunition was not wasted. Tribes were forced onto virtual reservations in their villages, pitting one group against the other, thereby destroying traditional trading practices.
Throughout DRC's history, the ruling elites have antagonized ethnic groups by supporting regional strong men who plunder resources -- sowing confusion, fear and insecurity in the process. No sense of statehood could possibly arise out of an exploitive system that continues to this day.
A General in the Congolese Army, Bosco Ntaganda, is under indictment by the International Criminal Court as a war criminal. He is not the first one. In lawless Congo, rebel leaders are accustomed to making deals with the government and remain untouchable. Some warlords have run for president, while other political leaders such as Abdoulaye Yerodia Ndombasi have been vice-president. Yerodia was nominated and installed by Joseph Kabila while publicly encouraging the Congolese population to kill ethnic Tutsis .
Ntaganda is no different from past and present warlords in DRC who protect powerful local, regional, and international interests. The latest interim report from the United Nations describes Ntaganda milking cows at his farm in Congo's Masisi. The government could easily arrest him.
Recent media hype has focused on Rwanda's alleged involvement in the M23 mutiny. Whether Rwanda meddles in Congo's affairs or not, Congo has failed to protect its territory and its citizens, remaining shamefully hostile to some of its own people, the Congolese Tutsis.
Without guaranteeing a sense of belonging and security for all its citizens, Congo should not anticipate or expect any guarantee of peace. With this fundamental failure, Congo has excelled in externalizing the blame to outsiders. Rwanda, Uganda, and the "International Community" become victims in the art of scapegoating.
Congo must take responsibility for its failures. Millions of innocents have lost their lives because ofpossible genocide, civil wars and underreported outbreaks of diseases due to lack of clean water and basic infrastructure.
Resentment of Congolese people of Rwandan ancestry, Banyamasisi and Banyamulenge who haveendured cyclical episodes of genocidal persecution, are at the heart of eastern Congo's instability. In 1998 thousands of Congolese Tutsis were lynched across the country. In 2004, close to 160Banyamulenge were killed and over 100 injured in the Gatumba refugee camp in Burundi. The perpetrators boasted about the killings in international media and nothing was done to bring them to justice. Hate speech against the Tutsi population has increased since the 1994 genocide which killed around 800,000.
There will be no progress without reconciliation.
With 68 million people and vast natural resources, DRC should be one of the largest economic engines on the planet. Untapped deposits of raw minerals are estimated to be worth in excess of $24 trillion. Unfortunately, Congo is the poorest country on earth with a shameful 300 USD per year per head, according to a 2011 Human Development Index ranking.
Unless competing tribal rivalries are reconciled, corrupt leaders will continue to benefit from the lack of a national identity. The army is dysfunctional, soldiers are not paid and often do not have enough to eat. Worse, the army has no regard for the citizenry it is sworn to protect. Without emotional, tribal, or national connections, there is no motivation for the army. It has proven impossible to govern Congo the way it is and it is doubtful another "neutral international force" can do the job when 20,000MONUSCO troops have failed.
Change must be fundamentally different from what has been tried before.
Georgianne Nienaber
Obadias Ndaba is an analyst on African affairs. Originally from DRC and then Rwanda, he has worked in Rwanda, Kenya and USA. See Obadias Ndaba speaking on population myths in Africa at Voice of America's Washington Forum.
Republished with the author's permission from Huffington Post.