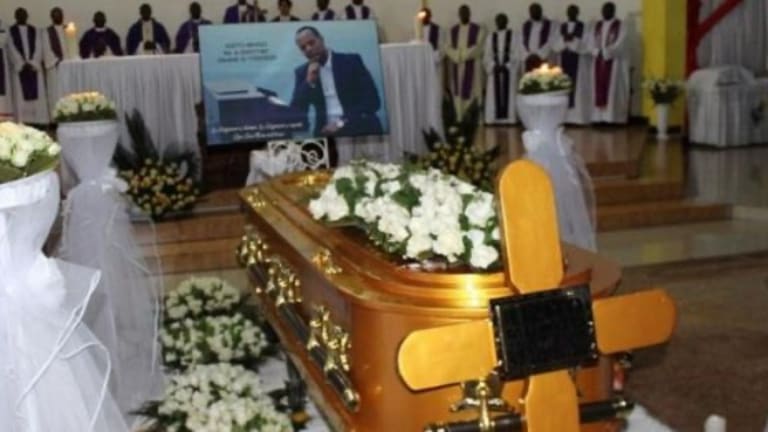 Kizito Mihigo and the Struggle for Truth and Reconciliation in Rwanda
Ann Garrison: Police apprehended Kizito at the Burundian border and days later reported that he'd hung himself in jail.
Wanda Dee: World Tours and the Business of Goddess Empire
A year ago Rwandan gospel singer Kizito Mihigo tried to flee Rwanda by crossing its southern border into Burundi. He had already spent four years in prison for recording a song in which he dared to say that the Rwandan Genocide was a tragedy for both of the country's two major ethnicities, Hutu and Tutsi, that each group massacred members of the other, and that only mutual compassion and forgiveness could lead to true reconciliation. The state had forbidden him to leave Rwanda upon his release and required him to regularly report to authorities who found multiple ways to harass him, made it difficult for him to make a living by canceling his concerts, and pressured him to spy on fellow Rwandan dissidents.
Police apprehended Kizito at the Burundian border and days later reported that he'd hung himself in jail. It's difficult to find anyone who believes that story outside Rwanda, but inside Rwanda, anyone who publicly questions it will no doubt become a victim of the same totalitarian state and its apparatus of force. President Paul Kagame and his Rwandan government rule by their legally codified and enforced history—that the 1994 Rwandan Genocide was "the genocide against the Tutsi," committed by Hutus, and that he ended it by leading his Tutsi army to victory in a four-year war in July 1994.
Police apprehended Kizito at the Burundian border and days later reported that he'd hung himself in jail.
In fact Kagame's Tutsi army was guilty of massacring Hutu people throughout that war, before, during, and after the final 100 days of massacres, and then in the Democratic Republic of Congo (DRC). Rwanda invaded DRC in 1996 and 1998 and it continues to occupy and plunder the country's mineral-rich Kivu Provinces with the diplomatic, political, and financial support of the United States, the UK, Canada, and other Western allies. The US is the Rwandan government's top bilateral donor and that's not likely to change with Samantha Power at the helm of USAID.
Shortly after the 1994 genocide, Israel stepped up to buttress Kagame's "genocide against the Tutsi" narrative and, eventually, his crusade to see it legally and criminally codified  internationally, as Holocaust denial is in many  European countries. In Belgium they succeeded , though there have been no prosecutions yet based on the law banning denial of "the genocide against the Tutsi."
In my 2013 interview  with Professor Edward S. Herman, co-author with David Peterson of The Politics of Genocide and Enduring Lies: Rwanda in the Propaganda System, 20 Years On, I asked him what the Israeli government and the Zionist movement get out of their identification with Rwanda.
He said, "The main thing they get is a reminder that holocausts exist. The Israeli government and the Zionist movement need that reminder of the Holocaust to justify their own policy, as they need the accusations of anti-Semitism. It's a false equation, but it keeps in mind the possibility of a holocaust and a reminder of what the Jewish people went through back at the time of the Nazis."
A sad irony of this story is that Kizito, a Tutsi himself, succeeded in fleeing across Rwanda's Burundian border in April 1994, at age 12, in hopes of joining Kagame's army to avenge the death of his parents at the hands of Hutu extremists. He wasn't able to become a child soldier, but after Kagame seized power, he returned to Rwanda and became a darling of the new regime. 
As a secondary school student he so excelled in music that he became the most popular liturgical organist and composer in Rwanda's Catholic Church. In 2001, he helped write the national anthem, then went to study at the Conservatoire de Paris  on a presidential scholarship. When he returned to Rwanda, his songs were played on the radio, and he performed the anthem at genocide memorials and other official ceremonies where the president and other state officials were present. His religious concerts attracted huge crowds, especially at Christmas and Easter, and he composed more than 400 songs. The president's wife, Jeannette Kagame, presented him with a "Celebrating Young Rwandan Achievers" award. He was even rumored to have been dating the president's daughter Ange, but later, after his fall from grace, to have said that he felt he should marry a Hutu in the interest of reconciliation.
He was brought up on preposterous charges that he was plotting to kill President Kagame.
Whether that was true or not, he rapidly fell out of favor when, in 2014, he recorded Igisobanuro Cy'urupfu(The Meaning of Death) , which was shared with English subtitles on Youtube. The song included these lyrics (translated from Kinyarwanda):
"Even though genocide orphaned me
Let it not make me lose empathy for others
Their lives too were brutally taken
But not qualified as genocide
Those brothers and sisters
They too are humans, I pray for them
Those brothers and sisters
They too are humans, I comfort them
Those brothers and sisters
They too are humans, I remember them"
He did not identify "those brothers and sisters" as Hutus, but that is clearly what he meant. Soon he was brought up on preposterous charges that he was plotting to kill President Kagame, and in 2015, he went to prison, where he wrote his book  "Rwanda: Embracing Reconciliation: To Live in Peace and Die Happy." He was released in September 2018, along with opposition leader Victoire Ingabire Umuhoza, who had also dared to say that the massacre of Hutu as well as Tutsi people had to be acknowledged for the country to achieve true reconciliation. Upon returning to Rwanda from the Netherlands in 2010 to attempt to run for president against Kagame, Victoire knew that she faced not only military dictatorship but also totalitarianism. "At some point," she said, "someone will have to break the first brick in the wall. Let this be my contribution."
Both Kizito and Victoire were released to such a highly surveilled and officially tormented "freedom" that Kizito finally tried to escape across the Burundian border—this time fleeing Kagame instead of fleeing to join his army—but didn't make it and died for trying.
Masses will be held this week to remember Kizito Mihigo on four continents, and there have been appeals to the Catholic Church to canonize him, although normally a candidate for Catholic sainthood must have been dead for five years to ensure that he or she has an enduring reputation among the faithful.
Ann Garrison
Black Star News