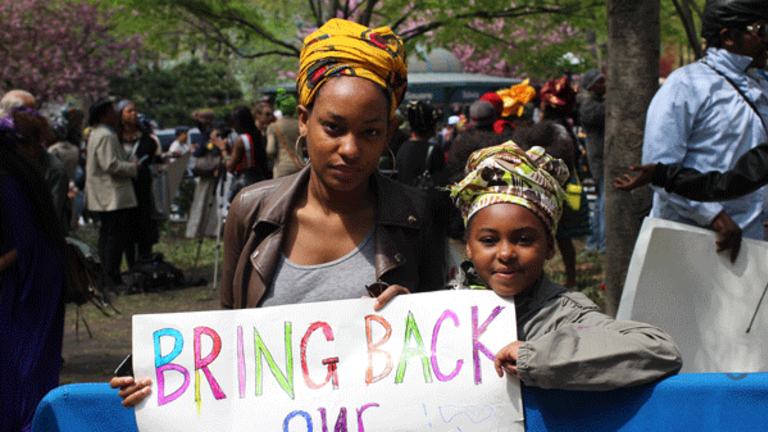 276 Missing Nigerian Girls Ignored by American Mainstream Media
Jasmyne Cannick: Los Angeles to hold Bring Back Our Girls Rally on Monday, May 5, 6 p.m., at the intersection of Crenshaw and King Boulevards. Organizers ask that you wear the color red, and wear your gele if you have one.
Los Angeles to hold Bring Back Our Girls Rally on Monday, May 5, 6 p.m., at the intersection of Crenshaw and King Boulevards. Organizers ask that you wear the color red, and wear your gele if you have one.
When Nigeria does or says anything considered remotely homophobic, the world reacts. Americans get beside themselves and do everything but fly to Nigeria to put a stop to it.
So what's America's excuse for the silence on the kidnapping of 276 Nigerian girls by the Boko Haram militia? I mean it's not like we're strangers to inserting our viewpoint and will internationally. In fact some might say, Americans have a responsibility to help find these girls considering the fact that they there were kidnapped by an Islamist group whose primary goal is to create a "pure" Muslim state ruled by Sharia law and to end "Westernization" in the process. The Westernization part, that'd be America.
Consider that in America when one white girl goes missing, it's breaking news. Here in Los Angeles our news outlets provide around the clock coverage until missing white girls are found.
Can you imagine if a rebel group went to a boarding school anywhere in America and kidnapped 276 white girls in one swoop? This country would not know what to do with itself. From CNN to Fox News, there would be non-stop coverage and you know I'm right. And unlike that Malaysia Airlines flight that disappeared into thin air and seemingly from the news media's coverage, in this scenario, the media would not let up until those 276 white girls were found.
While America's focus internationally seems to be concentrated on Russia's occupation of the Crimea region of the Ukraine with calls to invade Russia, there has been no national call demanding that the U.S. government intervene in Nigeria, which clearly needs help in negotiating the safe return of the girls. Seems to me some of that mass surveillance technology the American government loves to use domestically (and in secret) could actually do some good in Nigeria, Chad, and Cameroon right about now in the search for those girls.
Wednesday, the Daily Trust reported that most of the schoolgirls in Boko Haram captivity have been ferried abroad to Chad and Cameroon after they were married off to sect members for N2,000 each — the equivalent of $12.43 American dollars.
On Saturday, U.S. Secretary of State John Kerry called on Nigerian President Goodluck Jonathan to step up efforts to find the girls, who were kidnapped April 14 from a school in Chibok, in the country's rural northeast. But that's not hardly enough. We've seen what the U.S. government can get accomplished abroad when it really wants something to happen.
America has a moral obligation to say and do more, and we have an obligation to push our government to do so, especially in Los Angeles and Inglewood which are home to some of the largest numbers of Nigerians living in America.
According to reports, armed members of Boko Haram overwhelmed security guards at the all-girls school in Chibok, pulled the girls out of bed and forced them into trucks. The convoy of trucks then disappeared into the dense forest bordering Cameroon.
On Friday, Nigerian authorities updated the number of girls kidnapped to 276. At least 53 of the girls escaped, leaving 223 in the hands of their captors, police said.
Authorities said that the new figure for missing girls — 223 — could grow as police fill in spotty school enrollment records.
Will somebody please get CNN Headline News' Nancy Grace on the case? I know this isn't Aruba and these girls aren't white, but I'll be damned if Nancy Grace doesn't know how to stay on a story when it comes to missing women and girls. I'm just saying.
In Los Angeles on Monday, May 5, Angelenos, including myself, will come together in South Los Angeles to lift our voices up and provide some additional pressure to Secretary of State John Kerry and the U.S. government to do more to help ensure the safe return of the 276 girls.
On Monday, May 5 at 6 p.m. on the corner of Crenshaw and King Boulevards in front of the Baldwin Hills Crenshaw Mall stand in solidarity with a coalition of grandmothers, mothers, daughters, sisters, aunts, and the brothas who support them in calling much needed attention to this developing situation in Africa.