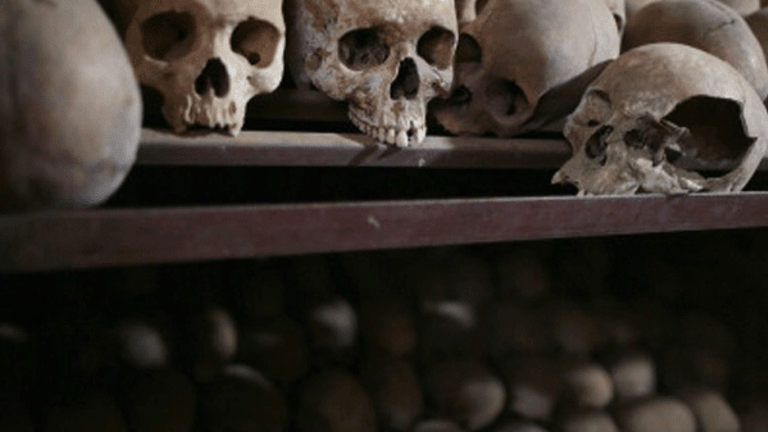 Rwanda Massacre Anniversary: Useful Tragedy Tales
Kathleen Wallace: The Rwandan tales will be used to justify all sorts of intervention amongst factions who happen to be taking up space on top of resources that are coveted.
Useful Tragedy Tales
It was 20 years ago, starting this April, that 800,000 (give or take) lost their lives during about 100 days in the nation of Rwanda. Events were set in motion long ago, under Belgian colonial rule. They wanted a strong profit out of this colony and sometimes wringing out trumped up hatred comes in handy for the occupiers. Middle level management torture is easier to carry out when you've got "others" to oversee. Artificial delineations were created and those who envision a horrible new reality seem to be able to strong-arm it into existence. Tutsi/Hutu became something grave, a designation that could kill. It's a fairly common practice, even trite…divide and conquer. Sometimes the whole seed just sprouts so many years later.
The powerfully horrific "We Wish to Inform You that Tomorrow We Will Be Killed With Our Families" by Philip Gourevitch does a masterful job transporting the reader to that window of depravity. There was a mundane dread that stalked those who tried to appeal for help and reason. The wording of that title was from a politely written note, full of assurance in regard to what was going to happen the next day. Word was getting out, but those with the power to actually assist ignored, or specifically avoided using the "g word" as that would imply some sort of need to intervene.
But now we get to hear the cautionary tales. The stories about what will happen if you don't show up on a white horse to help in other nations. Machetes everywhere! Boxes of them. Just waiting for willing hands. The white horse tales appeal to the need for clarity, a narrative of fairy tale. When plotting war, there will always be an element of the populace that needs a rinky-dink explanation. So they can smugly explain away collateral. These tales are for them. Others are just good with "we should take their oil (or insert other resource)." But those types you had at the word "take". The Rwandan tales will be used to justify all sorts of intervention amongst factions who happen to be taking up space on top of resources that are coveted. This one time it was pretty frigging obvious that some help would be in order, as in Rwanda, nothing was done. But when was the last time you poured yourself a nice cup of Rwandan crude? You can be certain it will be referenced as "what will happen" if we don't show up in those other regions, though. So the way things played out had a certain jaded usefulness.
And the foul open their mouths to explain. Madeleine Albright, who has been singled out for her exceptional stalling tactics during that time as Ambassador to the UN has said that it would have been impossible to alter this history, as it was "volcanic". Around 10,000 little eruptions every day for around 3 months, I guess. But just this one time, it was unavoidable. All other interventions will be just, needed, and worth it! Especially those sanctions that provide a nice and clean, largely invisible death.
The sickening disrespect for those slaughtered will be the use of this episode to justify continued colonial behavior, not to point out that it was actually the spark that ignited this particular genocide even if it took so many years. Ripples and all that.
Today Obama says "It was a deliberate and systematic effort by human beings to destroy other human beings." I'm not sure if that statement was crafted by artisans, like old world European ones that Obama went to after obtaining his Nobel. Did he ask "Can you mold me something out of bullshit, blood, and maybe old drone parts?" And the man from the Guild of Ironic Craftsman said "Aye, m'lord. I was born for it." And presented him with these pretty meaningless words? I'm fairly confident that's where Obama gets all of his speeches.
And the way things are done continue by those who would manipulate our best intentions into exactly what it is they want.
But for many, "the price was worth it" because they never pay it.
Kathleen Wallace
Counterpunch
Subscribe to LA Progressive's daily newsletter
* indicates required
Email Address *


First Name

Last Name

Email Format
Powered by MailChimp