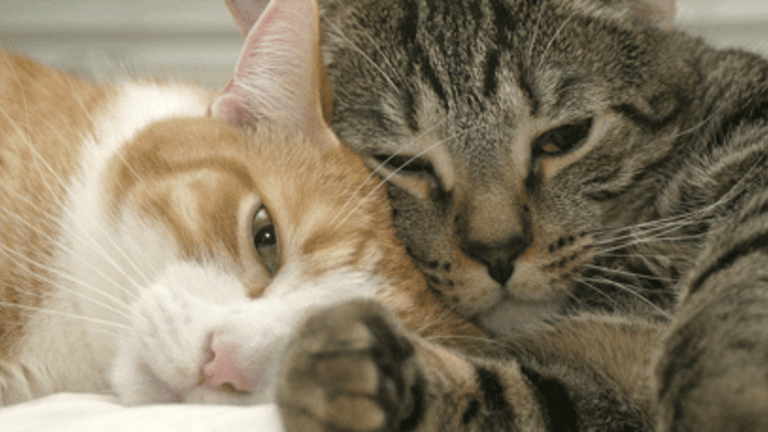 Why I Don't Support Public Radio: Cats and Dogs
Janis Schmidt: North Dakota is swimming in a sea of oil, yet does not have any dollars for homeless, abandoned cats, dogs, and people. You know, I haven't talked to a single person who has benefited from all this oil.
Shame on you, Public Radio, for not telling the real story behind all the homeless cats and dogs in North Dakota. I took in a stray cat a couple of winters ago when I heard this piteous meowing one night, - 20 below. The cat stayed and didn't want to go back outside.
Needless to say, my problem quickly multiplied to 15 cats. I could not find anyone or any agency to help me with this problem, an elderly, disabled woman, until a vet told me about TLC ND Animal Rescue. This woman took three of the cats, one a mama cat with four newborn kittens.
I asked her about how I couldn't get any help from Humane Society, Social Services, Sheriff, Human Services, County Commissioners, Police, or Health Dept, even though the cat situation is causing a health problem for me. "Can't you get any help from the state?"
"No, I have to pay for everything."
Even though I can't really afford it, I gave her $100, and told her what a total saint she was. I asked if she was aware of the bill going through Congress in North Dakota to make it a felony to abandon pets. Have you ever tried to find a home for an unwanted pet? No one will deal with it, not even the Humane Society or the sheriff's office or the Health Department.
"I have found that the ones who can most afford to help, refuse to or else are causing the problem."
"What do you mean?"
"The oil boom has caused a lot of strain on my little operation here. Cats and dogs are now running in packs and have all kinds of diseases."
"That should interest the Health Department"
"Well, it doesn't. They don't care about the homeless people that the oil boom has created. Some are people who come here, thinking there is work available, and find nothing. They come with their wives and pets. Then they have to find a way home. Some of them abandon not only their pets, but their wives."
"What??? What do you mean?"
"I mean I get calls from homeless women living in their cars who expect me to help them. And they have their pets as their only source of comfort. I seriously think this unstable, uncaring environment has caused some of them to become a little deranged, poor things, who feel so angered and threatened if I take their pet, that they have threatened my life."
"Wow! What does Governor Dalrymple think of that?"
"I have found myself becoming more cynical as I have gotten into this. The people who have the money and responsibility to do something, don't; whereas poor homeless women living in their cars take in homeless cats and dogs, the only source of comfort they have. They would rather see their dog eat than feed themselves."
Whereas the Governor would rather feed the oil corporations that feed the people. Now, how can our moronic Governor Dalrymple and the equally moronic legislation who just gave back $250 million dollars to the oil corporations to "encourage business in North Dakota" -- how can they justify not helping these women and their pets?"!!!!
The governor has proudly announced that he is keeping expenses down for the taxpayer. I would like to make a public statement here. If you have any unwanted cats, dogs, or horses that you can no longer take care, please that them to Governor Dalyrmple in Bismarck and drop them off at the Capitol Building. North Dakota is swimming in a sea of oil, yet does not have any dollars for homeless, abandoned cats, dogs, and people. You know, I haven't talked to a single person who has benefited from all this oil.
"I haven't even told you half of the evil to animals I have seen," she said. "Some truckers have pushed their dogs from a truck traveling 50 to 70 mph."
"My god! I think I will call Prairie Public and tell them about this."
I did. They had a very milk-toast show on April 17, 2013.
Ashley Thornberg, interviewer for Main Street, Prairie Public Radio, asked very banal questions, making sure not to step on any Big Oil toes.
"Did you grow up with pets?"
"How did this become a passion with you?"
"You are an animal rescue, not a shelter?"
"Trying to get established as 501 3-C?"
But this doesn't say much for public radio. Here I had my checkbook out all ready to donate, but I refuse to support a public radio station that can't tell the real story for fear of stepping on Big Oil's corporate toes. If public radio were a little more gutsy, maybe they wouldn't have to rely on corporate dollars for funding. Rather than give back millions to oil corporations, maybe some of those millions should have gone to animal rescues and shelters and to create shelters and homes for the homeless, including our animal homeless. Public radio is no longer for the public.
Here's my suggestions for what to do:
Donate as generously as you can to this saint of a woman, TLC ND Animal Rescue, P.O. Box 1132, Devils Lake, ND 58381, phone 701-662-4357.
We taxpayers need to occupy Bismarck and the governor's office with disabled seniors at the lead with our canes and walkers with which we need to work over the governor and legislators and boot them out of office and occupy those offices ourselves in the name of the people. We can have our grandchildren trailing along behind as bodyguards, and to listen and learn. I think we have a civic duty to do that because the people have suffered long enough in a state rolling in oil dollars.
It's time to take back our oil and our state, and to help the people of North Dakota.
Janis Schmidt
Thursday, 18 April 2013
Image: Big Stock Photo