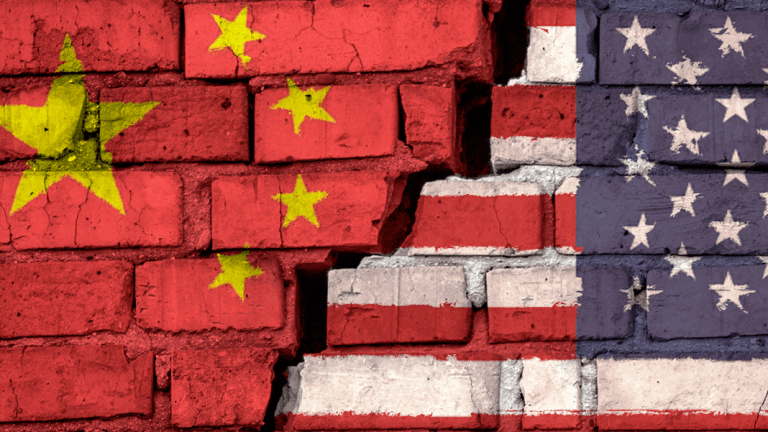 Asian Americans & Peace Allies Mobilize vs. Anti-China Aggression
Pivot To Peace was formed in response to the so-called "Pivot to Asia" announced in 2011, which has developed into a pivot toward war and confrontation.
Washington's most recent anti-China hostility and aggression got a strong counterpunch from Pivot to Peace co-founder Retired San Francisco Judge Julie Tang and Codepink on October 18. The Taiwan Policy Act, which made it out of the Senate Foreign Relations Subcommittee recently, would recognize Taiwan diplomatically as a de facto nation, not a part of One China, as established by existing treaty law. It would also add $16.5 billion to an already enormous – and illegal – amount of US military aid to Taiwan. Pivot To Peace and Codepink are fighting to stop it.
"The US is engulfing itself in a war in the Pacific, which neither China nor Taiwan want," Tang declared. She cited a recent poll by the Chicago Council on Global Affairs that "sixty percent of US residents agree the US needs to learn to live with China." With the Taiwan Policy Act, Tang said, "the US is appointing itself to implement a range of Taiwan's policies – military and civilian aspects – meaning Taiwan is now being colonized, again.
Taiwan has been part of China for hundreds of years, since the Qing Dynasty of the 17th century. Imperial Japan grabbed it as booty in 1895, after defeating China in the Sino-Japanese War. China regained control at the end of World War 2; then the ROC government under the defeated Kuomintang party (KMT) withdrew to Taiwan where its leader Chiang Kai-shek ruled until the 1980s. Chiang always claimed Taiwan as part of China.
"A war in the Pacific would have horrendous consequences, and would not be easy for the US to win," Tang said. "There is so much corruption – in a wheeler-dealer fashion – in this act. The sponsors were pushing for the interests of Boeing, for Taiwan to buy 16 Boeing airplanes; Taiwan couldn't say no."
Wang Wulan, leader of the Taiwan Labor Party, said the Taiwan Policy Act is "typical hegemonism and imperialism – filling their own pockets… In the name of 'helping Taiwan' the US wants to make Taiwan a 'major non-NATO ally' – to make it an arsenal at the front of the war theater… The US government is trying to cause regional tension. China's government has been constantly incited to take action."
Two other panel members spoke. Professor Wei Yu of New York's Hunter College/City University of NY, said "we're trying to stop a war that has already started in east Asia." Hideki Yoshikawa, a leader of Okinawan efforts to stop construction of US military bases there, said the US is stoking tension between China and Japan, which is trying to intensify militarization of Okinawa. Those bases help form a US "noose" hanging over China.
Repeating Provocations to Escalate Tensions
Codepink said "long before Russia invaded Ukraine, the US funneled weapons to Ukraine to escalate tension with Russia. Now Congress is about to repeat the same scenario with Taiwan. The Taiwan Policy Act risks further inflaming US-China relations by funneling [billions] in weapons and military training to Taiwan to prepare for war with China."
In August, Julie Tang led a San Francisco rally to protest Nancy Pelosi's trip to Taiwan, calling it "reckless and unreasonable" with "no apparent usefulness or benefit to Americans or the world." She didn't mention that Pelosi met with Taiwan leader Tsai Ing-wen, hoping to transfer a substantial portion of Taiwan's enormous semiconductor industry to the US. Pelosi and her husband own a large stake in the US semiconductor industry. In 2017, Tang helped co-found the Comfort Women Justice Coalition that built the Comfort Women Memorial in remembrance of the girls and women sexually enslaved by the imperial Japanese Army.
Retired Judge Tang's leadership in the fight against anti-Asian hate was recently recognized at the Smithsonian National Museum in Washington. Theodore Gonzalves, curator of Asian Pacific American History at Smithsonian, adopted a banner saying "Fight the Virus, NOT the People," as part of a six-month showing at the museum.
Retired Judge Julie Tang was the lead organizer who initiated and led the march. In addition to the Asian community, members of Veterans For Peace, Code Pink, ANSWER (Act Now to Stop War and End Racism), and the CWJC (Central West Justice Center). 
Part of a Global and National Movement
Peace rallies are emerging everywhere. "'Yankees, Go Home': US-China Rift Rattles South Korea" was the banner headline of the NY Times international section October 19. It reported a protest of thousands of South Koreans who fear war between the US and China will impact them. The article quoted a resident of a tiny hamlet 135 miles south of Seoul: "Now, if there is war, our village will become the first target because of that machine up there." She pointed at the THAAD missile system perched on a hill above the village.
"​THAAD has brought nothing but harm to South Korea, causing economic damage and heightening tensions," ​said ​Kang Hyunwook, another ​protester quoted in the article. "If South Korea sides with one party in the rivalry between the US and China, we could suffer the fate of Ukraine." THAAD stands for Terminal High Altitude Area Defense System. The US calls it an "anti-missile" system, and says it's deployed against North Korea. The Chinese government considers it an offensive weapon against China, and calls for its removal.
In Europe, large strikes are surging across the continent. "Tens of Thousands March in Paris to Protest Rising Living Costs," reported the NY Times October 16. The demonstration occurred on the heels of strikes at oil refineries, adding to a tense political atmosphere, the report said. Jean-Luc Mélanchon, leader of the opposition "France Unbowed" party (La France Insoumise), vowed to bring a vote of no confidence against the Macron government over the crisis. In Britain, Prime Minister Liz Truss announced her resignation October 20 after just six weeks in office, following the ouster of Boris Johnson, NATO's principal "cheerleader" in goading Ukraine to reject peace talks with Russia. The UK foreign minister was forced to resign in mid-October in the wake of widespread strikes against the government's failed economic policies responding to surging inflation. Strong anti-NATO strikes have also hit Italy; thousands of Germans and Czechs have mobilized against the austerity forced on them by western sanctions against Russian gas, oil and wheat.
Pivot To Peace was formed in response to the so-called "Pivot to Asia" announced in 2011, which has developed into a pivot toward war and confrontation. Pivot to Peace insists that the government and mass media turn away from the anti-China Cold War. Its goal is to educate and mobilize public opinion about the benefits of a policy that facilitates cooperation and mutual respect between the United States and China. Pivot to Peace is a coalition including military veterans, public sector workers, professors, healthcare professionals, public officials, legal professionals and others who are concerned about the future of relations between our country and China.
In its mission statement Pivot To Peace says "We reject the escalation towards global conflict and instead urge peace and cooperation with China. We believe in the fair and open communication of information about China, its economic, social, and political affairs, free of the biases and distortions which dominate much of mainstream media in the United States. We support the frank exchange of views based on facts and evidence, rather than fear mongering and the revival of old racist stereotypes and Cold War political bugbears. We want to build support for peace and prosperity and a shared future of mutually beneficial development for both the American and Chinese people. We believe that friendship and engagement between our countries is the better path towards that future.
In the United States, protests have taken place in dozens of cities during the week of October 15 to 22. The actions targeted U.S. aggression against China, Cuba, Iraq, Russia, Somalia and Syria, from Venezuela to Palestine to North Korea ‒ "any U.S. action against any country attempting to stay independent of the US."
A Minneapolis Anti-War Committee (AWC) speaker, Autumn Lake, denounced the decades-long effort led by the United States to isolate and undermine the People's Republic of China. She said "the US has long spread anti-Chinese propaganda, accusing the People's Republic of human rights violations, of suppressing right-wing 'pro-democracy' protests, and even outright genocide." She said accusations of genocide of ethnic minority Uyghur Muslims in China, spread by the US government and corporate media propaganda machine, are part of a long-term project of manufacturing consent for a "humanitarian intervention" in China.
Mike Madden of Minneapolis Veterans for Peace and the Assange Defense Committee spoke of the history of NATO intervention in Ukraine and the rest of Eastern Europe. He said it's critical for anti-imperialists to fight back against US efforts to escalate the war in Ukraine and lead the world into another World War. "Perhaps the most common adjective used to describe the Russian invasion of Ukraine has been 'unprovoked'," Madden said. "In fact, it was deliberately provoked."
The Bronx Anti-War Coalition organized a demonstration in the heart of the South Bronx in New York City. The rally on Fordham Plaza centered local community leaders speaking from La Peña del Bronx, TBS New Direction and United We Stand, United We Stronger, who proclaimed, "Where's the $60 billion+ for the Bronx?"
A wide range of groups were involved in these protests. In Minnesota, it was Antiwar Advocates of Minnesota, the Anti-War Committee, Bikers Riding Against Police Brutality, the Climate Justice Committee, Freedom Road Socialist Organization, Minnesota Immigrant Rights Action Committee, Minnesota War Tax Resistance, Minnesota Workers United, Movement for a People's Democracy, the Party for Socialism and Liberation, Socialist Action, Socialist Party USA, St. Paul Eastside Neighbors for Peace, Twin Cities Assange Defense, Twin Cities Coalition for Justice 4 Jamar Clark, Twin Cities CPUSA, Twin Cities Nonviolent, Veterans for Peace, Welfare Rights Committee, and Women Against Military Madness.
In the Bronx, speakers were from Black Alliance for Peace, Amazon Labor Union, A Call to Action on Puerto Rico/Puerto Rico Not For Sale, Cuba Sí Coalition, Bronx Green Party, Haiti Liberté, People's Power Assembly, Struggle/La Lucha, United National Antiwar Coalition, Workers World Party, and Workers Assembly Against Racism.
Up to now the war makers in Washington have been virtually unanimous in calling for more war. Their sponsors in the military-industrial complex and the energy companies – together with their stenographers in the mainstream media – have made it all too easy to stick together for war. But the fissures in their NATO coalition in Europe, and the surging antiwar sentiment across Europe, Asia and the US, suggest the unanimity will not last.