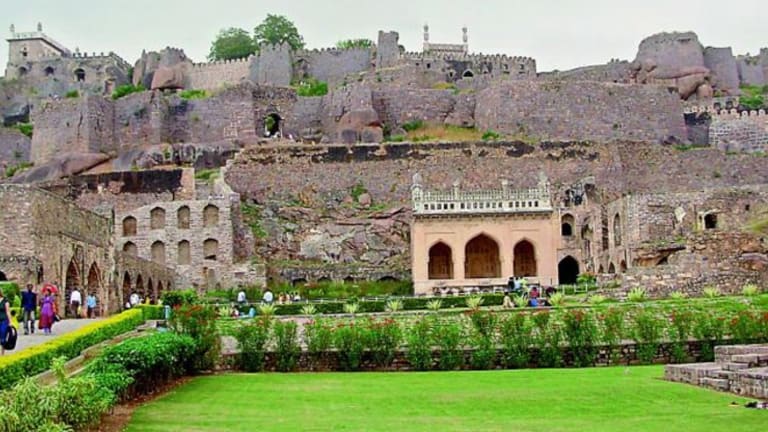 Remembering My Khala and Hyderabad's Hidden Massacre
I think of my aunt and her colonial history, much of it shrouded in secrecy – the civilian resistance, the death squads, and the mass graves – as we watch scenes unfolding in Ukraine with the advance of the Russian military.
On February 8, 2022, I buried my aunt, Majeeda Viquar, and I recalled the tumultuous history and circumstances she endured in her lifetime. She was born a colonial subject of the British Raj in Hyderabad, but died in Kissimmee, Florida, as an American citizen on stolen lands.
I think of my aunt and her colonial history, much of it shrouded in secrecy – the civilian resistance, the death squads, and the mass graves – as we watch scenes unfolding in Ukraine with the advance of the Russian military. Ukranian men answering the call to defend their country, lining up at the border of Poland to enter their country. This moment replicates so many others when an invading army encroaches upon the independence and sovereignty of its neighbors or those across the planet.
Central Florida's Kissimmee Valley region was previously inhabited by a Native American tribe called the Jororo. The word "Kissimmee'' originates from the language of the Jororo people, meaning "long water." Approximately 350,000 people lived in Florida prior to the Spanish colonizers' arrival in 1513. In the centuries to follow, war, disease, oppression, and slavery decimated the Native American population in what became the "sunshine" state of Florida.
Meanwhile, in 1599, on the other side of the world, Muhammad Quli Qutb Shah established Hyderabad, India. His rule set in motion the long term presence of Muslims in the south central India to flourish and establish their own institutions, including businesses, universities, hospitals, and libraries. The Qutb Shahi dynasty built a fortified citadel known as Golconda, which over the years thrived from the nearby diamond mines. In 2014, UNESCO listed Golconda on the site of Monuments and Forts of the Deccan Sultanate. The diamond mines there attracted Europeans, who sought to colonize India. Hyderabad was one of the sought-after cities, because of its geostrategic location and hub of economic activity.
In the 1930's, the Nizam of Hyderabad Mir Osman Ali Khan set up Begumpet Airport for Deccan Airways, one of the earlier airlines in British India. The seeds for independence were also brewing. For example in 1930, Mahatma Gandhi led thousands of people on 240-mile march to the sea to pick up a pinch of salt. The massive display of civil disobedience was in response to a British colonial rule, which criminalized for anyone in India to have salt that was not purchased from the government monopoly. His actions ignited similar acts of civil disobedience for Indians to collect and make their own salt. At this time, Hyderabad was prospering, but the discontents for independence from the British Raj were also reverberating.
It was shortly afterward in 1942 that my maternal grandparents had their first daughter, my aunt known in Urdu as khala. Majeeda Viquar was born a colonial subject of the British Raj. She would be the first of six children. My mother was the fourth child. In 1947, native Indians expelled the British through direct action from riots to non-violent protests and mass movements.
In 1948, the Indian army encroached on the city walls of the predominantly Muslim district of the sovereign state of Hyderabad and annexed the once independent state within India. For India's Hindu architects an independent Muslim-ruled state could not exist in central India. The rising tide of communalism in India is not new to my family. Religion, ethnicity and nationalism are used to sow strife and conflict between groups by their colonial masters. We know this history from what my grandmothers told us as it was wiped from the history books.
I recollect this moment especially as we watch scenes unfolding in Ukraine with the advance of the Russian military. This moment replicates so many others when an invading army encroaches upon the independence and sovereignty of its neighbors or those across the planet.
In 1948, women jumped into wells to their death to avoid rape by brutal Indian army soldiers. This history and the trauma that women endured before and after Partition all across India were largely forgotten. Today even reputable news outlets conveniently turn a blind eye to the blunt force trauma that the Indian army inflicts on women, but especially Muslim women in Kashmir. In 2020, the Kashmir Media Service published a report indicating that Indian forces have sexually assault and gang-raped more than 11,000 women in Indian-occupied Kashmir in the past three decades. The report also documents that 2,342 women have also been killed by the Indian army forces during the same period.
In Hyderabad in 1948, like in Ukraine now, civilian men went into the streets with kitchen knives to protect their houses from the foreign army to no avail. My grandmother and aunts told me of the Indian army's encroachment, but never discussed the details, because they were too painful. Years later, I would focus the study of my undergraduate honors thesis on the cultural and religious representations in Indian partition literature. Under the supervision of another Muslim woman from India's diaspora, Dr. Ananya Kabir, I combed through library collections at the University of California at Berkeley to document the struggles of women who suffered at the hands of the Indian army.
When my khala died, I remembered the fall of Hyderabad. At least 500,000 people died during the Indian Partition in 1947. The government appointed Pandit Sunderlal to investigate what had happened in Hyderabad. His team provided a conservative estimate of 27,000 to 40,000 people dying during the fall of Hyderabad in 1948.
The fall of Hyderabad has been clouded in secrecy even to today. In September and October 1948 after Independence, tens of thousands of people were killed in central India where my mother's family lived. Indian army soldiers lined up and shot them. The government-commissioned report of what happened was never published. The Indian government did what it does best with these sorts of things: cover up their crimes. To this day, the government peddles the lies that uprising happened because of the failure of the Nizam's rule and not the truth that the Indian army conquered, killed, looted, raped, and shot on sight at anyone who defended their homeland and their sovereignty. Historian Sunil Purushotham from the University of Cambridge obtained a copy of the government's Sunderlal report, which stated that the soldiers encouraged, persuaded and in some cases compelled the Hindu mob to loot Muslim shops and houses. BBC reporter Mike Thomson wrote in 2013 about "Hyderabad 1948: India's Hidden Massacre":
The backlash was said to have been in response to many years of intimidation and violence against Hindus by the Razakars.

In confidential notes attached to the Sunderlal report, its authors detailed the gruesome nature of the Hindu revenge: "In many places we were shown wells still full of corpses that were rotting. In one such we counted 11 bodies, which included that of a woman with a small child sticking to her breast."

And it went on: "We saw remnants of corpses lying in ditches. At several places the bodies had been burnt and we would see the charred bones and skulls still lying there."
My aunt was six years old at the fall of Hyderabad. I'm sure she remembered all of it vividly, but she never spoke of it. We didn't press her. She completed her studies at Majeedia High School in Hyderabad at the age of 14. She then completed her undergraduate studies in Biological Studies and master's degree in Zoology at the University of Karachi in Pakistan.
When conditions become worse for Muslim in India, my grandparents and their remaining children in India moved to Pakistan. Majeeda Aunty used to teach in Lasbela in the Balochistan district outside of the teeming, metropolitan city of Karachi. Lasbela had one of the highest rates of poverty in the world. Many children suffered from malnourishment due to extreme heat and drought conditions. Teaching children from impoverished backgrounds and helping them think of a future to improve their communities, lives and livelihoods is what motivated her. Neither the harsh conditions, the rough climate or extreme poverty deterred her. She served as the Headmistress of the school.
My khala would travel by public bus several hours back and forth. She taught science to thousands of students in a remote area of Balochistan. She could have worked in other less impoverished places, but worked with a sense of duty to teach in Lasbela, because she had a deep passion for education and instructing young minds in the most disadvantaged location. That commute to Lasbela by bus ruined her lungs, though. She would be exposed to road pollution and second hand smoke for hours each day and later developed emphysema.
I told my friend, Juveria, how my aunt died from this emphysema. Her family was from Hyderabad also. She said her grandmother died the same way from the pollution in India that destroyed her lungs. She spent her last months through the aid of medical grade oxygen.
My khala came to the United States in 1994. She taught me how to cross stitch and do embroidery. She also had my grandfather give me his stamp collection from his decades of working for the Indian police and intelligence. She would also teach us how to cook. When my siblings and I would go to college, she would make shami kebabs, spring rolls and samosas and send them to us when we came back to visit in Orlando, so when we returned back we could focus more on our studies instead of cooking.
My khala recognized that I liked to be left alone and read all the time. I was called names like "nerd," "brainiac," and "geek" by various odd people. When I complained to my khala about this name-calling, she told me people always like to do "halla gulla." I don't know how to translate "halla gulla," but I understood it to be an inferior form of life existence and ambition.
My aunt's English was not strong enough to teach in post-secondary schools in America. She ended up working as a retail associate at gifts shops in South Orlando's tourism corridor until her health declined so she couldn't work. My khala developed emphysema as a result of the second hand smoke and road pollution from her time in Pakistan. She could have lived another 6-8 years if her lungs had been better. She had a cough that pained me each time I heard it from emphysema. The environmental law that I studied and taught was not a mere abstraction to me, it was the weak lungs my aunt had from particulate air pollution. A few months ago she developed pneumonia. She was COViD negative at the time. In the past few months her condition deteriorated further, and she subsisted with the aid of medical oxygen.
I was scared to visit my aunt as I was teaching and exposed to hundreds of students, and my three young children going to school could have been carriers of COViD-19. Every week someone in their classes was getting COViD. I would quarantine them, send them back and be told again someone in the school had caught it.
I wished I could help my khala out more. I explained this feeling to my neighbor four days before my Khala died. My neighbor started crying as she said the same thing happened to her when her own mother was sick and her kids were small. My neighbor said she wanted to go visit her mother in her final months and help her father in western Tennessee in the 1980s, but her kids were too small. She now cares for her husband who has Parkinson's Disease.
The benefit of having a large extended family is that my khala's other siblings and their spouses and my cousins could help my aunt in her final months with more physical assistance which end of life care requires. When my uncle called me to say that my aunt had died. I told my husband to clear his schedule in the afternoon for the funeral. I sat in the garage and canceled and rescheduled my meetings. The next morning, I messaged two of my kid's teachers that they would not be in school due to a death in the family. I told my son to send an email from my phone to my youngest daughter's school.
There are a lot of days I don't want to work or do anything especially during the pandemic, because the pain of loss and the fear of losing are so great. But I would think of my aunt and how she worked and sacrificed, especially when she was younger. She understood how easily irritated I could be, because she had that same characteristic.
Luckily, I didn't have to teach that Tuesday of my aunt's funeral. It was a painful irony that the only day in years that I cleared out my schedule was to perform my aunt's funeral rites of the ghusl, do the janaza prayer, and attend the burial. We go to so many funerals now that when I told my son to get ready to go to masjid, he asks, "Who died now?" I thought of Emily Dickinson "Because I could not stop for Death."
I went back to work the next day as if nothing happened, because I didn't want to process the loss. I didn't want to ask for any bereavement days and wasn't even sure if my aunt's death would qualify for bereavement.
As far back as I can remember, I would commonly be told, "You are being like Majeeda Aunty" or the dozen other variations of it when I was in a state of mind that I could not be reasoned with. From my aunt, I learned the most fundamental truths of life, which are that you can say what you want, those words can land as they may, and people can deal with it. So while I grieve her passing, I also carry her legacy.
Joseph Campbell wrote: "The earth must be broken to bring forth life. If the seed does not die there is no plant. Bread results from the death of wheat. Life lives on lives."