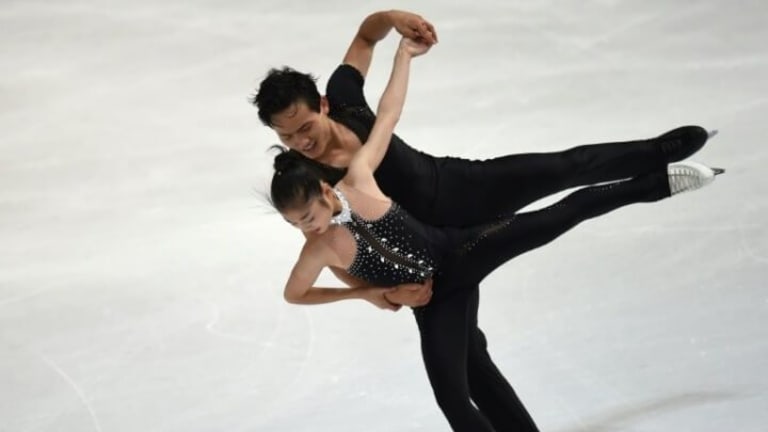 Sport as Diplomacy
Ted Vaill: To hear the North Korean figure skating team of Ryom Tae Ok and Kim JU Sik dance on the ice to the Beatles song "A Day in the Life" at the 2018 PyeongChang Winter Olympics reveals that North Koreans are not so different from us as some may think.
In 1971, an American table tennis team met with some Chinese ping pong players at an international tournament in Nagoya, Japan. At that time, China was deeply mired in the destructive Cultural Revolution, but what resulted from that chance meeting was "ping pong diplomacy": an invitation to the nine-player American team to come to the People's Republic of China (PRC) for several exhibition matches with Chinese teams in April, 1971. It was a resounding success and also one of the inspirations behind the famous movie Forrest Gump.
In July of that year, National Security Advisor Henry Kissinger and his assistant, Winston Lord, made a secret trip to Beijing (then known as Peking) to meet Mao Zedong and his second in command, Zhou En-lai, to pave the way for the visit in 1972 of President Richard Nixon to China, and the lessening of tensions between these two superpowers. Soon after, the PRC replaced Taiwan as China's representative on the U.N. Security Council, and American sanctions against the PRC were lifted.
By 1976, the Cultural Revolution was running its course, Mao and Zhou died within weeks of each other, and a struggle for power ensued. By 1978, Deng Xiaoping had emerged as the preeminent power in China, and the following year he visited President Jimmy Carter in the U.S., and paved the way for the opening of China to the West. In 1980, I was Secretary and a member of the Board of Directors of the American Alpine Club, the national mountaineering organization, and a member of its "International Cooperation Committee". The committee was charged with improving relations between American mountaineers and China, a country whose mountains had been closed to foreigners for the past 48 years.
Suddenly, later that year, the PRC announced that nine mountainous areas in China and Tibet were now open to visits by foreign mountain climbers. Accordingly, a number of American teams journeyed to China in 1981 to explore these areas. Famed American mountaineer Allen Steck and I led a trekking group to the beautiful Siguniang Range in the Tibetan Autonomous District of Sichuan Province east of the Yangtze River and west of Chengdu in October, 1981.
Upon our return to Beijing, I extended an invitation to the Communist Party head of the Chinese Mountaineering Association, Shih Chan-chun, to visit the U.S to speak at the American Alpine Club's Annual Meeting in Los Angeles in December, 1981, all expenses paid. Shih had led the successful 1975 Chinese expedition that climbed Mt. Everest from the Chinese side, leaving a bust of Mao and a huge tripod on the summit to prove they made it, and he ascended 24,790 foot high Minya Konka near the Siguniang Range in 1959.
Visiting the U.S. as Our Guest
I picked up Shih and his interpreter/security minder at LAX in early December, 1981, his first trip outside
China. He was a houseguest at my Malibu home, toured an American supermarket (and was amazed that it had a whole isle dedicated just to dog food), and experienced American culture in LA, Las Vegas and San Francisco. He also spoke to a packed audience at the AAC convention in downtown LA, showing pictures of Chinese mountain ranges and peaks no Americans had ever even heard of.
During the meeting, I arranged a meeting between Shih and American climber Terris Moore, who made the first ascent of Minya Konka in 1932. Many in the West disputed China's claim of having climbed Minya Konka in 1959. In a closed door session, Shih and Moore talked about their visits to the summit of Minya Konka, and when they emerged from the room, they shook hands in front of reporters and announced that they each accepted the summit visits of the other team.
Visiting China as Guests of the Chinese Government
At the end of his triumphant stay in the U.S., Shih invited our eight-year-old identical twin daughters to visit China the next year, as guests of the Chinese government. My wife and I were also invited. In August, 1982, we journeyed to Hong Kong, and entered China, flying first to Beijing. When we arrived, we were told that all of China was now open to us. Where did we want to go?
At this time, a fierce debate was going on in China, with the conservatives arguing that the PRC could not allow foreigners to visit the sensitive areas where many of the most famous mountains in China were located. The Chinese moderates argued that the mountains did not move, and if the PRC wanted tourist dollars from mountaineers and trekkers, they had to open those areas.
The moderates won, and for almost a month my family and I were allowed to visit many areas of China previously closed to foreigners. We flew to Urumqi, capital of Xinjiang Province, in China's far west, north of Tibet and south of the Soviet Union's Siberia, a politically sensitive, largely Muslim area. Since there were no tourist hotels in Urumqi, we stayed at Deng Xiaoping's personal compound, visited the mountains of the Bogda Shan and Tian Shan ranges, and the Muslim city of Turpan on the edge of the Takla Makan desert, one of the lowest and hottest spots on earth.
At the same time, we were treated to lavish banquets, complete with wonderful Chinese food and potent mao tai toasts. At the banquets, my daughters, blue eyed and blond, would sing a nostalgic Chinese song in perfect Chinese that a Chinese-American friend had taught them, to the delight of the Chinese audiences. At that time, the Chinese policy for its citizens was "one child only", to stop their exploding population. The only exception was twins, an act of nature that was not subject to the PRC's harsh policy (recently abandoned), and the Chinese were enthralled with our twins, a gift from God (or nature).
The trip was a great success, and while in Beijing I signed an agreement for Allen Steck and I to lead an expedition to make the first ascent the next year of Celestial Peak, a difficult 17,500 foot rock tower in the Siguniang Range (we returned in 1983 to make the first ascent of a 6,000 foot face on this peak). In 1985, with the help of photos provided by Shih Chan-chun, I wrote an article in The Alpine Journal on "Mountaineering in China: 100 Years of Ascents Remain". By 2018, every range depicted in those photographs had been visited and climbed in by the world's mountain climbers, and China has taken its place as one of the world's great modern superpowers.
Sport as Diplomacy
All this recounting of history is a preamble to what is happening today: how sport is working to open doors to heal the greatest nuclear threat in today's world, North Korea's relationship with the U.S. and its neighbors and cultural soul mates in South Korea. Although the two countries on the Korean peninsula have been separated by wildly different political systems, a Western democracy and a Stalinist Communist dictatorship, culturally the two Koreas are very much alike. Almost every South Korean family has relatives living under Kim Jong-un's repressive dictatorship, and it is almost impossible to tell the difference between the two peoples, except for their formal dress.
To hear the North Korean figure skating team of Ryom Tae Ok and Kim Ju Sik dance on the ice to the Beatles song "A Day in the Life" at the 2018 PyeongChang Winter Olympics reveals that North Koreans are not so different from us as some may think. And Kim Jong-Un himself attended boarding school in Switzerland as a teenager from 1992-2000, and almost certainly speaks English. One might think of North Korea as a desperate country, looking for some way to bridge the tensions created by our dear leader Trumputin over the past year with his bellicose rhetoric, and by the intercontinental missiles launched by the North Koreans, and their nuclear program.
And the unified Korean female hockey team in the Olympics has opened the door a little further to future diplomatic efforts to lessen tensions between North Korea and the rest of the world. There has even been an invitation for the President of South Korea, Moon Jae-in, to visit North Korea's capital, Pyongyang, to start diplomatic talks with Kim. (I personally think that Panmunjom in the 48th Parallel demilitarized zone between the two countries would be a better starting place for such negotiations.)
How Trumputin will react to this diplomatic effort remains to be seen. Some critics believe that Trumputin wants to provoke a war with North Korea, which he could use to lessen the Constitutional rights and freedoms of Americans in the process of going to a war footing, as a prelude to seizing Hitler-like power in the U.S.
Hopefully this is just alarmist thinking, and will not lead to the Second Korean War, or the Third World War, and that the diplomatic efforts now blooming will come to fruition.
Ted Vaill