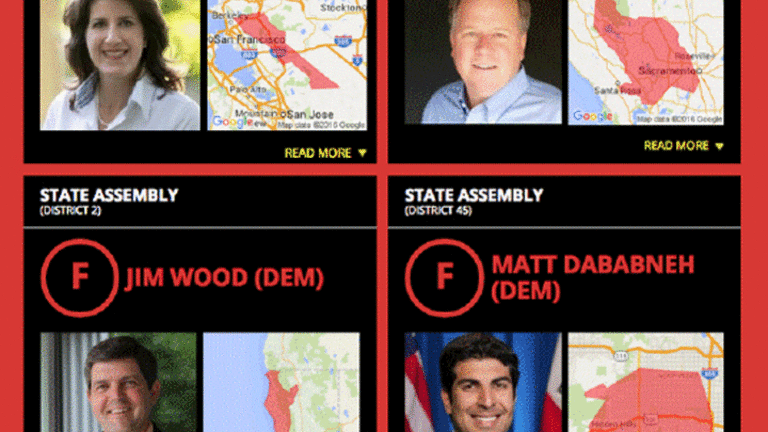 New California Accountability Report Cards Flunk Many Democrats
Ana Beatriz Cholo: In a handful of districts, some Democrats are teaming up with the Chamber of Commerce and the Republican Party to get elected.
California is often perceived politically as a sea of solid "blue" – a state, with its Democratic governor and Democratic-controlled legislature, that has become synonymous with progress.
"Not so fast!" says a coalition of groups concerned that Democrats, while they have the edge in this state, are taking voters for granted.
Last week, the Courage Campaign, which leads a new accountability project whose members include the Alliance of Californians for Community Empowerment Action (ACCE), Progressive Kick, Presente.org and ColorOfChange, released the People's Report Card of California. This scorecard examines every assembly member's vote on 25 critical bills from the previous year. The report card measures whether legislators voted to prioritize the needs of their constituents over corporations or special interest groups. Its genesis came late last year when Governor Jerry Brown was trying to push through two big climate-change bills, says Eddie Kurtz, the Courage Campaign's executive director.
"This was the rare policy where the governor was championing progressive legislation that even had the support of President Obama. But this group of Democrats stood up against him and took their talking points from Big Oil," Kurtz says.
"The bottom line is that with two landmark climate-change bills, California would have led the world in taking on climate change, but these Democrats blocked it," Kurtz says. "When that happened, none other than theSacramento Bee came out and editorialized that Big Oil owns Sacramento."
In a handful of districts, some Democrats are teaming up with the Chamber of Commerce and the Republican Party to get elected.
"There is this problem of Democrats who don't vote like Democrats," he adds.
Democratic political consultant Steve Maviglio agrees. He says the labels of "moderate" and "business friendly" aren't accurate descriptions of legislators that are elected as Democrats but then, as he explains, "vote to undermine the principles of the Democratic Party."
"There's nothing "moderate" about siding with Big Oil over the fast-growing clean energy industry, or by sticking up for Big Tobacco instead of the health of the state's citizens," Maviglio says.
He doesn't believe the Democratic Party has veered to the right. Rather, he says that in a handful of districts, some Democrats are teaming up with the Chamber of Commerce and the Republican Party to get elected.
Due to recent changes in election rules and legislative term limits, a nonpartisan "top two" primary system now sometimes pits two Democrats against one another in the general election, with one being less progressive and backed by large corporations. The result is that when corporate-backed Democrats win, they are eager to serve their benefactors.
On September. 11, 2015, the Sacramento Beeeditorialized by asking, "How long will this blue state let oil remain king?" The piece said about 20 Assembly Democrats identify themselves as moderates, "though the definition in this case has less to do with wavering on social issues and more to do with owing one's elections to campaign spending by big business interests."
According to the editorial, "The gutting of Senate Bill 350 is sobering, for Californians and the nation." It adds that a compromise would have moved the needle on the issue of climate change, but, instead, "the oil industry got members of Gov. Jerry Brown's own party to force movement on the biggest culprit in climate change out of the bill." The measure ended up being stripped of provisions that would have forced a 50 percent reduction in petroleum use by 2030.
Assembly Speaker Anthony Rendon has a more optimistic view of the state's current political landscape.
"Just in the past year, the legislature has passed landmark minimum wage and paid family leave legislation, the earned income tax credit to put more money in the hands of California's most vulnerable workers, and some of the toughest tobacco regulations in the country," Rendon said in a statement. "I'd say progressive ideals are thriving in California."
The Courage Campaign coalition highlights the voting records of all 80 Assembly members and 40 state senators. They were tracked and rated across a number of issue areas critical to progressives, ranging from climate change, economic opportunity, health care and racial justice. Cross-referencing was done by comparing the district's voter records.
Kurtz points to Sebastian Ridley-Thomas as a prime example of a Democratic lawmaker who received an "F" and landed in the CourageScore.org's "Assembly Hall of Shame," because his votes betrayed his constituents' interests. Ridley-Thomas' District 54, an economically and racially diverse area that encompasses Culver City, View Park, Windsor Hills, Ladera Heights and parts of West and Southwest Los Angeles, is considered by the campaign to be the state's seventh most progressive district. Yet, according to Kurtz, Ridley-Thomas, who received money from Chevron, "is completely out of step with the values of his constituents. He is completely aligned with corporate interests and he is the worst one in our rankings."
Ridley-Thomas, who calls himself a "progressive pragmatist," was elected in 2013. When asked about the scorecard, the Assemblyman said he thinks it's worthwhile to have this debate.
"It makes people aware of what legislators are doing in Sacramento," he said in a telephone interview.
Ridley-Thomas said he has voted on approximately 3,000 pieces of legislation and "given each the best attention and scrutiny at the time to make the most informed decision in the interests of my constituents and all Californians." But he also pushed back on the scorecard and pointed out that it was he who carried legislation, Assembly Bill 815, to tax shippers and oil refiners for gasoline spill prevention, liability and cleanup.
Other Democrats who landed in the Assembly Hall of Shame include: Tom Daly, (Anaheim); Jim Frazier (Oakley); Jim Cooper (Elk Grove); Cheryl Brown (San Bernardino); Patrick O'Donnell (Long Beach); Luis Alejo (Salinas); Mike Gipson (Carson); Bill Dodd (Napa); Jim Wood (Healdsburg); and Matt Dababneh (Encino).
Only a handful of legislators made it to the top of the class with an "A+" grade. They are: Tony Thurmond (Richmond); David Chiu (San Francisco); Mark Stone (Monterey Bay); Patty Lopez (San Fernando); Anthony Rendon (Lakewood); and Toni Atkins (San Diego).
Ana Beatriz Cholo
Capital & Main