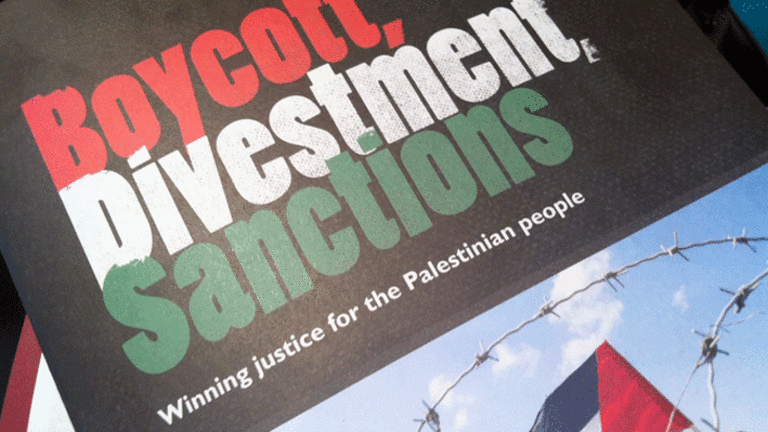 Bloom's Anti-Free Speech Bill Heads to Appropriations: Assembly Judiciary Staff Calls It Unconstitutional
Marcy Winograd: Stay tuned for an epic political battle uniting progressive Jews with their Muslim and Christian brothers and sisters—organizing together to say "not in our name" as Bloom and the Israel lobby lean on lawmakers fearful of being branded anti-Semitic. Anti-Free Speech Bill
Our lawmakers in Sacramento aren't making much sense.
On the one hand, the California Assembly Judiciary Committee voted unanimously in April—over protests from activists (like me) jamming phone lines and others testifying in opposition at the committee's tense, yet fascinating hearing—to pass Assemblyman Richard Bloom's (D-Santa Monica) "Anti-BDS Act of 2016." The bill (AB2844), similar to legislation the Israel lobby is pushing in several states, bars state and local government contracts with private companies boycotting Israel or its illegal occupation of the West Bank—and requires the California attorney general and local governments keep a blacklist of Israel boycotters.
Bloom, who represents the 50th Assembly District (Malibu to Beverly Hills), has introduced a host of progressive bills—to ban fracking, free the captive orcas, outlaw toxins from personal care products—but his bill to effectively censor debate on Israel Palestine is not progressive. In fact, the Assembly Judiciary Committee staff issued a damning critical analysis of Bloom's attempt to deny business contracts to Israel's boycotters, "…the government cannot condition a benefit on the recipient's willingness to forgo a constitutional right …"
But on the other hand ...
The Judiciary Committee passed the bill—after Bloom, Santa Monica's former mayor who beat rival candidate Betsy Butler by a mere 200 votes in 2012, agreed to accept the committee's staff recommendations to amend the bill and consider Chair Mark Stone' (D-Santa Cruz) directive to change the bill's title: California Combatting the Boycott, Divestment, Sanctions Act of 2016." Stone said the committee didn't like the bill's title—Bloom said he didn't know what else to call it.
Stay tuned for an epic political battle uniting progressive Jews with their Muslim and Christian brothers and sisters—organizing together to say "not in our name" as Bloom and the Israel lobby lean on lawmakers fearful of being branded anti-Semitic.
More importantly, Committee staff said the bill was unconstitutional in its current form because the First Amendment protects freedom of speech, which includes boycotts.
"It is difficult to imagine legislation more clearly calculated to have a chilling impact of (sic) the exercise of protected speech," reads the staff analysis.
Good point—according to those who testified before the Judiciary Committee in opposition to Bloom's bill, which is also co-sponsored by State Senators Ben Allen (D-Santa Monica) and Hannah-Beth Jackson (D-Santa Barbara), among others. Countering testimony from pro-Israel groups that urged the Committee to thwart anti-Semitism, David Mandel, a volunteer human rights lawyer and member of Jewish Voice for Peace said, "This bill is still full of language aimed squarely at stigmatizing and suppressing critics of Israeli policy …"
Mandel pointed out the amendments called for the term "boycott of Israel" which "appears in the bill 14 times" to be replaced by a 31-word phrase: "discriminatory business practices in furtherance of a boycott of a sovereign nation, including, but not limited to, the State of Israel."
Now, that's a mouthful—which leaves critics wondering if the attorney general might also be required to keep a government blacklist of Armenian private companies boycotting Turkey or Northern Irish companies boycotting England—a blacklist that would surely undermine freedom of speech.
And what about Veolia, the French company with multi-million dollar government contracts in transportation (Sacramento, San Francisco, Los Angeles, San Diego) and wastewater treatment (Palm Springs)? Long the target of BDS campaigns, Veolia sold off its Israeli assets in 2015 to cease operating a segregated bus system in the occupied West Bank. Would Veolia count as a boycotter? Technically yes, according to the language in Bloom's bill, which defines a boycotter as any company "in compliance with a boycott of Israel."
And what about G4S, the world's largest private security company contracting with the State of California to provide border security? It announced the sale of its Israeli assets after the Palestinian rights advocates protested G4S servicing Israeli prisons in the West Bank that allegedly used torture—oh, and also allegedly detained teens as young as 12 without charge.
Veolia, G4S—the BDS, strange bedfellows, indeed, if united in their defense of free speech.
What's an Assembly committee to do?
How can it make something unconstitutional constitutional?
How can it rip up First Amendment rights while preserving them?
Hmm ....
One answer, according to the Judiciary Committee's staff report, is to amend the bill to reaffirm California's Unruh Civil Rights Act, which bars discrimination on the basis of sex, race, religion, and national origin.
The Unruh Civil Rights Act, however, is aimed only at Californians, particularly consumers experiencing discrimination in housing and public accommodations (restaurants, movie theaters, etc.)—and doesn't apply to private companies boycotting a country because its political policies involve colonial settlements with segregated apartheid roads that never lead to a two-state solution.
Moreover, BDS is not about religion or national origin—as it does not call for boycotting Jews (most Jews, including this one, do not live in Israel) or for boycotting a national origin (20% of Israel is Palestinian), but instead calls for the end of the Israeli occupation and discriminatory practices inside Israel. Additionally, BDS calls for the right of return for hundreds of thousands of Palestinians Israel's founders banished to refugee camps in 1948 when establishing a Jewish state and proclaiming it "the land without a people for a people without a land."
Never mind the million people already living there.
Never mind the olive trees.
Never mind the Arabic street names.
Palestinians call 1948 the Nakba, meaning catastrophe—a time of deep sorrow, of ethnic cleansing, of the loss of their homeland.
They mind.
In the coming weeks, the Legislative Counsel is expected to incorporate the staff's amendments, which include scrapping Bloom's punishment for companies filing false "I am not an Israel boycotter" certifications when bidding on government contracts. Bloom's bill imposed a "draconian" $250,000 fine or twice the amount of a contract the company never received.
Gutting a draconian punishment, however, in no way excuses the Assembly Judiciary Committee passing this bill on to the Appropriations Committee, overriding the objections of dozens of organizations, among them the Bill of Rights Defense Committee, Center for Constitutional Rights, American Friends Service Committee—and testimony from David McLeary, a member of Jewish Voice for Peace and a University of California graduate student who asked the Committee members why they weren't interested in protecting the rights of Israel's critics—Muslims and Jews, like himself, featured on a creepy poster tacked up on a wall at UC Berkeley. Listing six names, the poster read, "The following students and faculty at UC Berkeley have allied themselves with Palestinian terrorists …"
Nary a peep from the committee's Assembly members, except from the Chair who asked for copies of the poster, which McCleary said the sergeant-at-arms hadn't allowed him to distribute earlier—and Assemblyman John Wagner (R-Orange County) who tore into McCleary for somehow being "self-serving" and declared discrimination against Muslims non-existent because he, Wagner, hadn't read about hate crimes against Muslims in the newspaper.
None of the other committee members were rabid like Wagner, though Assemblywoman Cristina Garcia (D-Downey) disappointed opponents of the bill when she reversed her NO vote cast only a week earlier as Chair of the Committee on Accountability and Administrative Review. Falling in line at the Judiciary Committee, Garcia gushed over Bloom, thanking him for accepting the recommended amendments. Garcia—one of the state's few Latina lawmakers—is, like Bloom, up for re-election this year.
While Bloom's opponents—activists connected through a statewide list serve—are working overtime to defeat AB2844 as an attack on free speech– these defenders of the First Amendment understand the anti-BDS forces are desperate to stop a growing global movement for Palestinian rights. Since the BDS call was issued in 2005, some 170 organizations representing Palestinian civil society and thousands of organizations worldwide have endorsed the initiative and undertaken boycott, divestment, or sanction campaigns to demand Israel end its occupation—in violation of international law—of the West Bank, East Jerusalem and Gaza (Israel controls Gaza's air, land and sea space) and repeal its Jim Crow laws that, among other forms of discrimination, restrict where Palestinians may live inside Israel.
Churches voting for divestment and/or boycotts include: World Council of Churches; Church of England; Episcopal Church; United Methodist Church; Presbyterian Church; Unitarian Universalists. UC student governments voting for divestment include: Berkeley, Irvine, Riverside, San Diego, Los Angeles, Santa Cruz, Davis—and this month Merced. Dansk—the largest bank in Denmark—announced in 2014 it would not do business with Israeli banks, and the largest trade union in Ireland voted in 2008 to boycott Israeli goods. Rocker Roger Waters will not perform in Israel, nor will Carlos Santana, Bono, Snoop Dog or Elvis Costello.
In speaking before the Assembly Judiciary Committee, Bloom framed the issue as a high-stakes lobbying campaign for Israel's survival as a Jewish state, stressing the importance of saving Israel from destruction. But the word "destruction" connotes war and violence, while BDS represents the opposite—a non-violent response to occupation, not a call to carnage.
Next stop for Bloom's anti-BDS Act is the Assembly Appropriations Committee, chaired by gig-worker advocate Assemblywoman Lorena Gonzalez of San Diego, home to State Senator Marty Block, the head of the Legislative Jewish Caucus. Launched in 2014 by 11 members of the legislature, the caucus (now numbering 12) promotes Capitol Knesset, strategy sessions named after the Israeli parliament. In launching the caucus, Block told the Sacramento Bee the caucus would form a political action group to support Israel-friendly candidates.
When I called the Capitol office of Speaker Anthony Rendon (D-South Gate) to urge Rendon—the most powerful man in the Assembly—to kill the bill, a legislative aide told me Rendon believes in empowering his committee chairs—and that it will be up to the chairs to first decide the fate of Bloom's bill before Rendon becomes involved.
Hmm …
Stay tuned for an epic political battle uniting progressive Jews with their Muslim and Christian brothers and sisters—organizing together to say "not in our name" as Bloom and the Israel lobby lean on lawmakers fearful of being branded anti-Semitic. In the meantime, contact your assembly person to urge a NO vote when Bloom's bill—however amended to make the unconstitutional a little less unconstitutional—reaches the assembly floor.
To find your assembly representative, visit here.
To listen to the 4/19/16 hearing on AB2844, click here.
Marcy Winograd