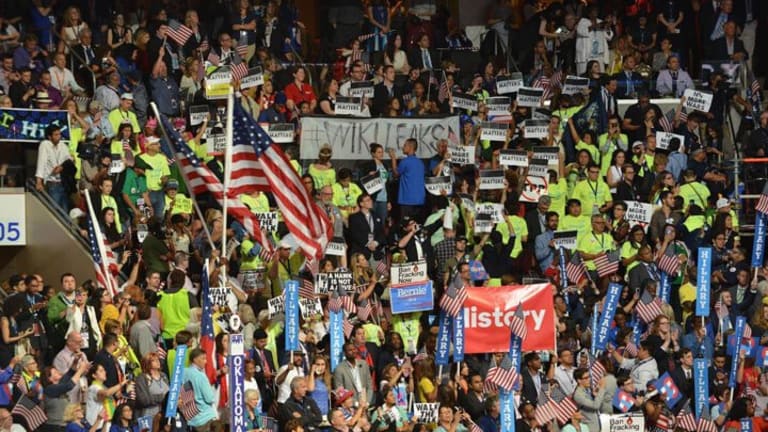 How to "Feel the Bern" in 2017
Lauren Steiner: I am skeptical about the party's ability to change and am part of a new campaign started by former campaign staffers and super volunteers to recruit Bernie to start a new people's party.
Many Bernie Sanders supporters, volunteers, and national convention delegates were disappointed when Bernie did not win the Democratic nomination for President. While it's not productive to re-litigate the primaries, most of us are certain that had Bernie been the nominee, he would have beaten Donald Trump soundly. Alas, that is not the situation we are faced with going into 2017.
After Bernie lost the nomination, he quickly pivoted into action mode, launching a new organization, Our Revolution, to support progressive candidates and ballot initiatives. The Bernie network mobilized, and we scored major victories.
Next, Bernie was appointed chair of the new Outreach Committee of the Democratic Party, quite a feat seeing as he is still not a party member. Many of us who supported Bernie because of his stands on the issues are taking a wait and see attitude about the Democratic Party. Will Bernie be able to transform it into one that represents the 99% and not the 1%? Or will he be shepherding progressives into a corporate party only to be co-opted or stymied?
The election of Chuck Schumer, who raises more money from Wall Street than any other senator, to lead Senate Democrats, and the re-election of Nancy Pelosi, who thinks the Democrats did nothing wrong during the campaign, to lead House Democrats, are not good signs. And if the party does not choose reformer and major Sanders surrogate Keith Ellison to head the DNC next month, we will have our answer.
I am skeptical about the party's ability to change and am part of a new campaign started by former campaign staffers and super volunteers to recruit Bernie to start a new people's party.
I am skeptical about the party's ability to change and am part of a new campaign started by former campaign staffers and super volunteers to recruit Bernie to start a new people's party. I will write more about this after we launch. In the meantime, read this excellent article by Nick Brana laying out the case for it. And "like" our Facebook page to join the campaign or just follow our progress.
How are other Sanders supporters feeling the Bern in 2017? Some have gone into the Green Party and are trying to build up that party. Others like me are continuing to work on the issues we were working on before the campaign: fighting fracking, fossil fuel infrastructure projects, education privatization, corporate trade deals, and racial injustice, etc. And we will also be fighting to keep the victories we have already won that will no doubt be threatened under a Trump presidency, such as net neutrality, Medicare and Medicaid. Implementing the idea he advanced in his stump speech to mobilize the grassroots on behalf of policies, Senator Sanders has reached out to Democratic colleagues to organize rallies on January 15 to fight cuts in health care.

Still others are following Bernie's lead in running for local offices and taking over their state Democratic parties. Here is an article about the pushback faced in Michigan, Florida and Nebraska, just to name a few states. Here in California, we have important elections coming up this weekend, January 7 and 8, in which many Bernie delegates and volunteers are running.
These Assembly District Election Meetings (ADEMs) are held every two years to elect seven women and seven men to be Assembly District Delegates (ADDs) for their area. These elected delegates represent one-third of the delegates to the state party. ADDs are responsible for planning and attending informational meetings throughout the region and working with other delegates to represent their community. They are also elected by voters in their district to vote on behalf of the community they represent at Regional Meetings and the California Democratic Convention. Those who are also elected to serve as Executive Board members are responsible for representing their community at the semi-annual executive board meetings. These delegates vote on the state party platform, resolutions, and propositions, and elect the party chair. For a complete description, please watch this short YouYube video.

Most Bernie delegate candidates are not career party people who are committed primarily to their own advancement in the party. Many are activists or concerned citizens who just joined the party for the first time, because they were inspired by Bernie Sanders and agreed with him on the issues that need to be tackled, be they income and wealth inequality, climate change, single-payer health care, corporate trade deals, or other issues Bernie has championed.
As lead organizer of Los Angeles for Bernie, I saw first hand how hard these individuals campaigned for Bernie here in California. Even after he conceded and endorsed Hillary two weeks before the convention, our Bernie delegates went to Philadelphia to fight for Bernie's issues. Unlike the Hillary delegates, who were there to party and enjoy a pre-scripted dog and pony show, we Bernie delegates worked hard every day to promote important issues to the rest of the delegates and to the world via the 15,000 media outlets that were there.
I wrote about our TPP protests at the convention here. There was not an article written on the TPP since that convention that did not feature a photo of us holding our "No TPP" signs on the convention floor. We feel that Bernie and his delegates were instrumental in the defeat of the TPP. Those who were not delegates but just ardent Sanders supporters also went to Philly to join the protests on the streets.
This is the level of dedication and commitment that Bernie delegates and volunteers will bring to the Democratic Party here in California. The best opportunity to advance progressive issues will be on the state level, seeing as Trump and the GOP have a majority on the federal level. Bernie has proven this just this week when he stood with New York Governor Andrew Cuomo who announced a proposal to provide free public college to New York residents whose family income is less than $125,000.
In California, we do not have to worry about Republicans. While Democrats make up a super majority of the state legislature, we do have corporate Democrats who take money from Big Oil, Big Pharma, Big Ag and other special interests. The establishment candidate for state party chair took $12,500 a month from Big Pharma to oppose Proposition 61, the ballot initiative that would have reduced prescription drug prices for 14% of Californians. The California Nurses Union is supporting his opponent, the reform candidate.
Since Big Pharma spent $127 million to defeat Prop. 61, you can be sure they and the insurance industry lobby will pull out all the stops to defeat the single-payer health care bill the nurses union and Health Care for All will be pushing forward. We need Bernie people in the party to fight for this and other progressive policies, like banning fracking and providing tuition-free college.
So if you really want to do something to defeat the Trump agenda and continue to fight for Bernie's issues, I urge you to go out and vote this weekend in the ADEMs. If you #DemExited after the primary or if you are registered Green or No Party Preference, you can re-register right there the same day. These individuals plan to fight for you. Will you help them get there?
With pride, I give you my list of endorsements for ADEM by district. To find out what Assembly District you are in, go here. To find the location of your meeting and to read all the candidates statements, go here. I would look for activists and people who are involved in issue organizations not just people who brag about being lifetime members of the party and cite all the offices they've held. To see other progressive candidates, go here. You can vote for seven men and seven women. Many of these people I've listed are running on slates, so when you go to vote, please check out their slates. If you know of any other Bernie people I have missed, please feel free to name them in the comments of this article.
ASSEMBLY DISTRICT/CANDIDATE
1 – Nicole Lutkemuller
2 – Robert Shearer
3 – Lorena Monroe, Pamela Stowe, Norma Wilcox, William Bynum
4 - Ava Kennedy, Gretchen Pemberton, Natalie Higley, Greg Adams, Desiree Rojas
5 – Amy Champ
6 – John Shaban
7 – Robert Longer, Justin Garcia
8 – Jennifer Barker, Paul Woods
9 - Gina Barkalow Kay
10 – Mary Hubert, Alice Chan
13 – Kari Khory
14 – Susan George
15 – Alex White
17 – Ben Becker
18 - Paul Himmelstein, Michael Fortes, Jeromey Shafer, and Gabrielle Dolphin
19 - Amy Erb
20 - Raisa Donato, Cullen Tiernen
24 – Cari Templeton, Johanes Muenzel, Margaret Okuzumi, Kenneth Carpenter
29 – Erik Eriksen
31 – Angel Rodriquez, Albert Fernandez
32 – Jessie Mendoza
34 – Neel Sannappa
35 – Heidi Harmon, Nicholas Andre
36 – Margaret Finnstrom, Isaac Lieberman
39 – Michelle Boley
40 – Jody Isenberg, Christine Ocampo, James Albert
41 – Sheila Condit, Meg Pinsonneault, Jason Schadenwald
42 – Joey Aszterbaum, Patrick Weiss, Samer Kassab
43 – Katrina Bergstrom, Alex Calleros
44 – Melissa Deyman, Karen Stevens, Noemi Tungui
45 – Noah Neumark
46 – Amber Blomgren, Judith Klapper, Jon Schnitzer
47 – Glenda Barillas, Bobbi Jo Chavarria, Gilda Gularte
49 – Bobbie McGowan
50 – Erica Feresten, Kerry Westcott, Pamela Chinawah, Amanda Hyde (but not the rest of her slate)
51 – Mishna Hernandez, Eden McFadden, Jeanine Rohn
52– Mike Wilson
53 – Nancy Kim, Dan Gordon
54 – Jeanna Harris, Robert Leahy
55 – Carol Levers
57 – Zenaida Huerta, Henry Huerta, Roberto Alvarez
60 – Fryda Gonzales, Jacob Daruvala
62 – Alexis Edelstein
63 – Marcia Martin, Diana Parmeter
64 – Tiffany Smith, Maria Estrada
66 – Margie Hoyt, Audrey Wong, Brian Carolus, Brian Hitchcok
67 – Travis Traber
68 – Nicholas Seider, Iyad Afalqa
69 – Ivan Enriquez
70 – Carrie Scoville, Lisa Kato, and Andrew Swetland
71 – Elizabeth Lavertu, Pierre Beauregard
73 – William Summerville
74 – Anne Mohr
76 – Marggie Castellano, Elizabeth Warren, Christopher Barroso
77 – Paul Sasso
78 – Jonathan Petterson, Lynn Morski
79 – Jose Cabellero
Lauren Steiner