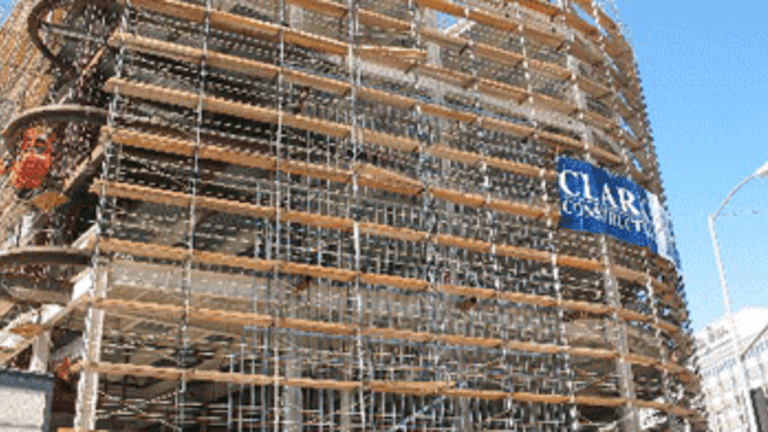 RIP, Community Redevelopment Agency
Madeline Janis: What went wrong? Why couldn't redevelopment agencies reach a compromise with the state legislature — which, after all – was only trying to find a way to save public education and other essential public services?
On February 1, 2012, I will be out of a job. That's because at 12:01 a.m., more than 400 California redevelopment agencies will go out of business, including the Los Angeles Community Redevelopment Agency (LACRA), where I have served as a volunteer (meaning unpaid) commissioner for nine-and-a-half years. California's $6 billion annual economic development program used by cities to revitalize distressed neighborhoods will disappear.
This is happening because of the legislature's adoption of Assembly Bill 26X, which was upheld by the California Supreme Court on December 29, 2011. While the consequences for me are different than for the hundreds of LACRA employees who will eventually lose their livelihoods, it's still a personal blow.
Because, for nine-and-a-half years I have devoted a significant amount of volunteer time to making redevelopment a winning proposition for low-income communities in Los Angeles. While I admit that I have not always been successful, I believe that my efforts have helped to improve the lives of thousands of Angelenos.
It wasn't supposed to end this way. Under a compromise proposal, AB 27X, the legislature and governor said that redevelopment agencies could continue their important work, so long as they made a minimum $1.7 billion contribution to help alleviate the state budget crisis. Unfortunately, some of the agencies got greedy and challenged the constitutionality of AB 26X. The state Supreme Court said that while AB 26X was legal, AB 27X was – oops – unconstitutional. Which for the redevelopment agencies was kind of a perfect storm of bad news. Instead of a half/full cup compromise, the agencies – and the cities they support – got nothing.
What went wrong? Why couldn't redevelopment agencies reach a compromise with the state legislature — which, after all – was only trying to find a way to save public education and other essential public services?
Let's start with the reasons for the failures of the last year. In January, 2011, when the governor proposed eliminating redevelopment agencies, city officials could have – but didn't – immediately reach out to the low-income community leaders, churches, unions, environmentalists and affordable housing advocates who have always strongly supported public investment in community revitalization.
They could have worked with these groups to come up with a few compromises, such as agreeing to stop funding stadiums and golf courses, and to focus the funding on truly essential items like affordable housing, the creation of good jobs in poor communities and transit-oriented development to reduce our carbon footprint. They could have also shown the governor and legislature that a broad range of Californians believe in a vision for economic development, especially one that can help lift us out of this Great Recession.
Unfortunately, while there were some notable efforts to reach out to some constituencies, most interested parties decided to go it alone. The California Redevelopment Association fought the reforms. The affordable housing developers tried to focus on saving only their pieces of the pie. The top 10 California cities tried to come together but mostly fought amongst themselves.
So what's next? First, let's take a moment to celebrate the successes of redevelopment over the past 65 years since it was first created in 1945, under Governor Earl Warren. Billions were invested to dramatically rebuild dilapidated downtowns, such as those in Los Angeles, San Jose, San Francisco and San Diego. This created millions of jobs for Californians and hundreds of thousands of low-income housing units for growing numbers of homeless or near-homeless families living on the streets of Los Angeles and other urban centers.
In the last 10 years, redevelopment agencies – especially Los Angeles' – placed a greater emphasis on the creation of living wage jobs and construction careers for area residents, as well as deeper investment in affordable housing and key amenities in impoverished neighborhoods. There were a number of stand-out projects such as the Pacoima Plaza project, which created hundreds of living-wage jobs at a Costco store built on an abandoned industrial Brownfield site in the blue collar community of Pacoima.
Second, the legislature needs to act quickly to give cities a new tool to help create good jobs, affordable housing and more sustainable communities; to help cities support the 99 percent who are suffering from this Great Recession. This time, let's scratch the word "redevelopment." In 2012, California neighborhoods—while distressed—are by and large "developed" and don't need to be flattened, cleared or recreated, as that word implies.
How about a newly created Community Revitalization Law that gives cities a set of practical tools to implement the mandates of Senate Bill 375 – California's sustainable land-use law – and AB 32– California's celebrated climate change amelioration bill? And – while we're at it – let's make sure that we focus our energies on creating living-wage jobs, affordable housing for everyone and that we put a big sign on the door that says, Our House Is Your House.
Madeline Janis|
The Frying Pan