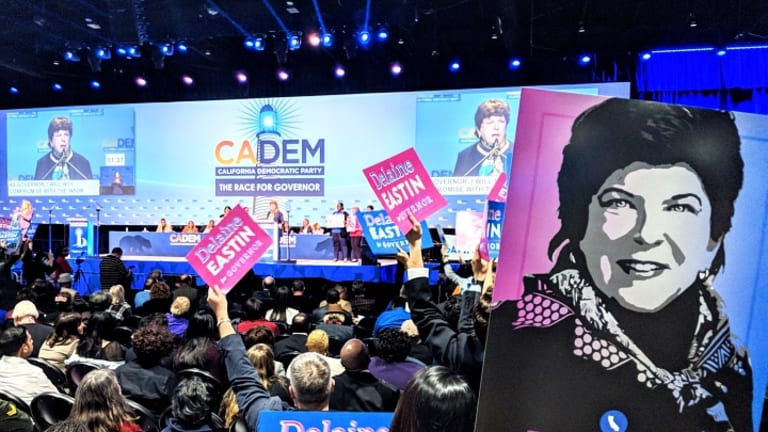 Delaine Eastin: The Best Choice to Lead the California Democratic Party
Amar Shergill: Delaine had a reputation for competent, no-nonsense leadership. She keeps her word and honors her commitments. That's exactly what we need in the Party.
I am pleased to endorse Delaine Eastin as candidate for Chair of the California Democratic Party. She is a proven leader with the skills to lead Democrats and can be trusted to keep her word on the reforms necessary to reinvigorate democracy within the Party.
As Chair of the CDP Progressive Caucus, I take very seriously the task of vetting candidates and choosing to endorse those that support policies that decrease suffering and help make people's lives better. I have turned down Assemblymembers, Senators, and Congressional Representatives in their requests for endorsement because they were not committed to progressive policies. An endorsement is a statement of values that I do not provide unless it is earned.
Delaine had a reputation for competent, no-nonsense leadership. She keeps her word and honors her commitments. That's exactly what we need in the Party.
The task of endorsing a candidate for Chair of the Democratic Party is unlike most endorsements because the candidate's ability to lead a political organization is just as important as their policy positions. Delaine Eastin was California's first and only woman to be elected Superintendent of Public Instruction, leading a staff of over 3,000. In managing that organization and in running two successful statewide campaigns, Delaine had a reputation for competent, no-nonsense leadership. She keeps her word and honors her commitments. That's exactly what we need in the Party.
Delaine is progressive and will ensure that progressive candidates are given every opportunity to be supported by the Party. She is a corporate-free candidate and has committed to ending the Party's reliance on corporate money that blocks our efforts in the legislature and in propositions. Delaine envisions a Party that does not take fossil fuel money, law enforcement money, private prison money, or UBER/Lyft money but does act in accordance with the values that attract the small dollar contributions that are powering the most dynamic campaigns in the nation.
Delaine's reputation for transparency and honesty may be the most crucial aspect of her campaign. Leaders will make mistakes and, when they do, we expect them to promptly address the error, express contrition, and commit to doing better. In her campaign and throughout her career, Delaine has done exactly that. This stands in stark contrast with the incumbent Chair, Rusty Hicks. He has shown repeatedly that he does not keep his word to delegates, will avoid accountability when his failures are exposed, and, when challenged, say things that simply are not true. I trust Delaine to do her best to fulfil her commitments, explain when she comes up short, and to be honest in doing so.
An undervalued aspect of Delaine's campaign is her willingness to tackle the exceedingly difficult task of reforming the Party itself from what amounts to an elected monarchy to a truly democratic institution that lives its values. Under the Party's current structure, the Chair controls every party appointment and all of the financial decisions. We have seen Rusty Hicks wield this power to ignore specific directions from delegates not to take fossil fuel money, break his own pledge to the sexual assault survivors of former Chair Eric Bauman, and avoid answering basic questions on his failures. Delaine has described a process to divest power from the Chair's position, share appointment power, and bring more voices into financial decisions. This will breathe new life into the Party and encourage activists to remain engaged.
Finally, I value Delaine's commitment to invest in expanding our Democratic voter base. This past election, Democrats in California lost congressional seats in places where we should be winning. The losses are directly attributable to a failure to invest in emerging voting communities. Whether Hmongs and Sikhs in the central valley, or Korean and Vietnamese in Orange County, or Latinos statewide, the Party has not taken time to listen to non-voters and communicate with them in ways they understand and using themes they appreciate. I asked Rusty to lead on this when he began his term. He failed to do so and still has not addressed this troublesome gap in political strategy. When half of all congressional seats lost in the last election came from California, it is not an exaggeration to state that another failure could result in the loss of the Congressional Democratic majority. Delaine Eastin is our best chance to protect that majority.
Democrats across the country are depending on California to rebound in the next congressional election and the people of our state are relying on us to elect a Chair that puts us in position to do so. Delaine Eastin is the experienced, reliable, and credible leader California Democrats deserve.
Amar Shergill