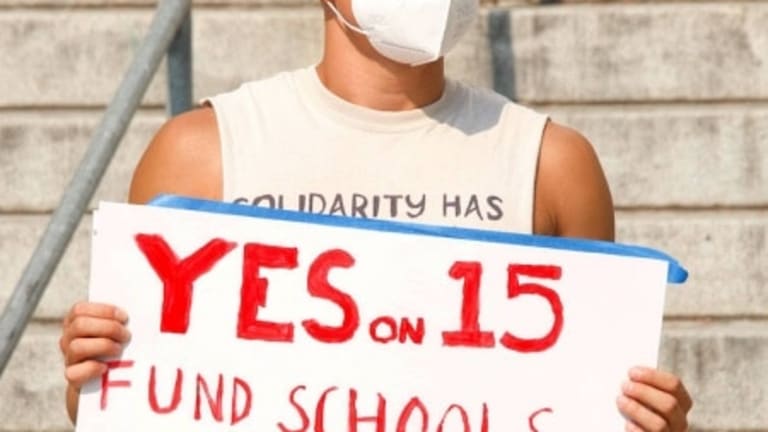 The Fight for Prop 15 Isn't Over. It's Just Begun.
Many of us worked hard this year trying to pass Proposition 15, which would have taxed commercial properties worth over $3 million and given the proceeds - some $12 billion a year - to local governments and schools. Post-mortems have begun trickling in about why Prop. 15 suffered defeat, some of which lay the groundwork for arguing Prop. 15 should be abandoned in the future, lest proponents alienate potential Democratic voters. This argument should be ignored.
Protection of property tax rates is deeply ingrained into the political DNA of California, and Prop. 15's opposition milked this fact for all it was worth. Nevertheless, Prop. 15 ended up a couple percentage points away from significantly taxing the rich and permanently returning large amounts of money to the public. That's a victory to be proud of - one to build on and fight for again.
Protection of property tax rates is deeply ingrained into the political DNA of California, and Prop. 15's opposition milked this fact for all it was worth.
Prop. 15 proposed to alter laws created by a different ballot measure, Prop. 13, which passed back in 1978. Prop. 13 came at a time when property values, and consequently property taxes, were skyrocketing statewide. The Prop. 13 campaign used stories of elderly people being forced out of their lifelong homes because they could no longer afford to pay their taxes to gin up support for the measure, which locked in property taxes at 1978 levels, with only minor increases allowed each year. In a bold but under-publicized move, commercial properties snuck their way into Prop. 13, and ever since Californians have lost out on a massive source of revenue as many of the state's largest corporations pay a fraction of what they should in property taxes.
 Prop. 13 sparked a nationwide wave of anti-tax measures and helped launch Ronald Reagan's national political career. Since its passage, mainstream Democrats have remained terrified of touching the protections it provides. Even ideas like this year's Prop. 15, which only impacted commercial properties and didn't touch homeowner's taxes, have consistently been viewed as impossible simply because they might be perceived as attempting to weaken Prop. 13.
 You can already see this general outlook reflected in some mainstream media post-mortems on the Prop. 15 campaign. Take the Sacramento Bee'srecent post-mortem. The piece claims that Prop. 15 gave Republicans fuel to beat Democrats in local races statewide, and uses a state assembly race on the Central Coast as proof.
The Bee focuses on a race between an incumbent Republican named Jordan Cunningham, who beat a Democrat challenger with 55.1% of the vote. The Bee suggests that Prop. 15 was a crucial element to Cunningham's win. Yet the percentage of votes received by Cunningham was less than the percentage Cunningham won by in 2018, when Prop. 15 wasn't on the ballot. Why ignore this basic fact? It's perhaps worth noting that the Bee had a vested interest in Prop. 15's outcome, as it would have paid higher property taxes if Prop. 15 passed.
 Such post-mortems clearly have a subtext - Democrats would do well to leave Prop. 13 alone and simply leave $12 billion on the table, letting the money instead go towards increasing the profits of some of the state's largest corporations. If Democrats try to reform Prop. 13, the argument goes, their candidates will lose elections statewide. This argument is wrong for a several reasons.
First off, despite the Bee's claims to the contrary, there is simply no conclusive proof that Prop. 15 caused the loss of any Democratic candidates this election season. I'd propose a variety of other reasons - being out of touch with the working class, running on an anti-Trump platform rather than a positive message of what they wanted to achieve, and being afraid to stand up for bold initiatives like universal healthcare and a statewide Green New Deal. Either way, without further evidence, no one should be convinced at this point that Prop. 15 caused a single Democrat to lose in California this year.
Second, state demographics are changing rapidly. The consensus on why Prop. 15 lost: while Prop. 15 didn't touch homeowners property taxes, the opposition managed to convince folks that it would. But homeownership rates are declining in the state, making the argument increasingly less likely to gain traction. In addition, a Californians continue to age, fewer residents will be voting who were alive when 1978's Prop. 13 passed, or even know what it is. Playing on homeowner fears of increased property tax rates simply will not resonate with younger people who disproportionately rent and have no historical bais against altering Prop. 13.
Finally, an opportunity exists to more openly appeal to the state's working class if Prop. 15 were to appear on the ballot again. Those in charge of the Prop. 15 campaign took a relatively conservative approach, focusing on the measure's ability to raise money for governments and schools. What the campaign didn't do as much, however, was name the enemy - the massive corporations located in the state making massive profits on the backs of its residents.
If the Bernie Sanders campaigns taught us anything, it's that the left needs to start naming the enemy. Sanders did just that when he joined Disney workers in demanding that Disney pay a living wage to its Southern California workers in 2018. Interestingly enough, Disney was one of the primary beneficiaries of Prop. 15's failure, as the corporation pays a fraction of the property taxes it should on its Anaheim facilities.
The Democratic Socialists of America launched their own statewide campaign and PAC in support of Prop. 15, and it led with a simple phrase: "Tax the Rich." While this phrase might not work for suburban homeowners, it resonates far more with working-class communities in cities and rural areas throughout the state. Prop. 15 should come back to the ballot stronger than ever in the future, and shouldn't be afraid to lead its fight with a similar message.
Don't let the dour post-mortems fool you. The fight for Prop. 15 isn't over - it's just begun.
C.R. Mills
The California Fighter
C.R. Mills is a writer whose work has appeared in Shelterforce, New Politics, and The Sacramento Bee.