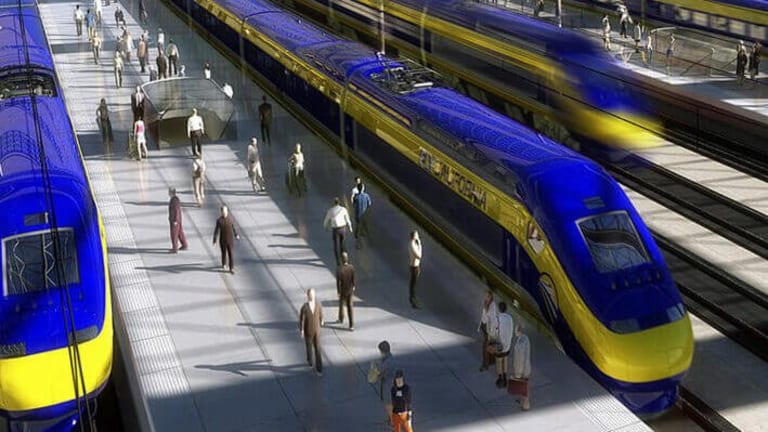 I Hear the High-Speed Train a Comin', It's Rolling Round the Bend
Rosemary Jenkins: On January 6th, ground was broken in Fresno to begin construction on this HSR project whose purpose is to create transportation that is faster, uses cleaner and more efficient energy, will transport passengers from northern to southern California at a fee that would dwarf that of flying.
Last Saturday a community meeting was held on high-speed rail (HSR) and how its installation would affect the Northeast Valley. Though rather chaotic, the meeting was well-attended and offered a variety of opportunities for people to share their thoughts. Among those in attendance were many staffers from Assemblymember Patty Lopez' office as well as Lopez herself; a representative from Congressmember Adam Schiff's office; and the Mayor of the City of San Fernando, Joel Fajardo—this assured there were listeners in high places.
The goal was to inform and educate the citizenry within Assembly District 39 and, most of all, to acquire input from them, ideas vital to helping Ms. Lopez when she votes on any bills or amendments regarding this HSR project.
No question, there are many genuine concerns to be considered:
How will HSR affect the environment?
Will it interfere with the survival and prosperity of wildlife which depend on certain territories for food and migration?
Will it disrupt access to small businesses along the way?
What about noise pollution? The proposed erection of a 20-foot wall in certain locations could divide communities (sometimes along old ethnic lines, a situation which could bring back previous tensions). This is of particular concern for the City of San Fernando.
What about earthquake considerations? How will construction affect faults, fissures, and increase the frequency of temblors?
What about water wells which many depend on for potable water and, in many cases, for irrigation?
Certainly future environmental impact reports (EIRs) are obligated to factor in all these apprehensions. The final report is expected by late 2016 or early 2017 but preliminary EIR reports have been asked to be expedited by a joint request from LA City and County. It should be clear, then, how necessary and time-sensitive our input is. Such town hall meetings can help fulfill the need to express both one's anxieties and suggestions and to hear answers.
In the meantime, unfortunately, this audience was led to believe that it is still possible to reverse the people's previous decision (2008) by undoing this venture altogether. In fact, on January 6th of this year, ground was broken in Fresno to begin construction on this HSR project whose purpose is to create transportation that is faster, uses cleaner and more efficient energy, will transport passengers from northern to southern California at a fee that would dwarf that of flying. An average HSR fare between these two cities is projected to range from $59 to $138 one way (compare the variety of current air fare costs).
The reality, there is no turning around.
Another shortcoming for the meeting, as I saw it, was that, despite frequent requests, there were no explanations of the pro's and con's of the four options for placement of the rail pathways through parts of central and southern California.
There are, at this point, four routes which have been designed and presented for public comment. In turn, there will be four different conclusions as to how each will affect the environment surrounding the several rail lanes:
In my opinion, SR 14 is the longest and most negatively impactful. It would travel right through the cities of San Fernando, Pacoima, and Sylmar and would not only be a longer route but would also be the most intrusive, disruptive, and costly . Furthermore, the meeting should have demanded that should SR 14 ultimately be chosen by the powers that be, the segment bordering the three cities must, without any additional supplemental alterations, be tunneled underground.
What was very helpful and informative at the gathering was the chart provided by Pacoima Beautiful (an important partner in maintaining a healthy environment for our community).
SR 14 would produce deleterious effects in the Northeast Valley, affecting 13,700 structures (many subject to eminent domain) and 18,784 residences.
Option E3 would create a considerably lower adverse impact, affecting 4,027 structures and 4,161 residences.
Options E1 and E2 would fall in between the other two.
It should be apparent, based upon the above information, that E3 is the least harmful (keeping in mind that no one option is perfect).
Governor Brown has set for the State an admirable goal of producing at least half of our power from renewable energy. In addition to HSR's primary objective, the project will, unquestionably, generate many other positive side-effects. Written into the project is the incontrovertible promise to small businesses by the California HSR Authority for them to play a significant role in actively constructing this system. As it currently stands, small businesses will receive at least 30% of contracts while disadvantaged small businesses will get 10% with 3% pledged to disadvantaged veterans!
With this information, we should easily be able to conclude just how great a boost to our economy this program can and will be. It will create a greater tax base whose revenues can also be utilized for other priorities. Phase 1 (the San Francisco to Los Angeles route expected to take about 2 hours 40 minutes) will be completed in little more than a decade, having incrementally benefitted all Californians along the way and would clearly be better than the use of automobiles and planes for this purpose. Phase 2 would extend this development to San Diego in the south and Sacramento in the north some years later.
In the end, I would suggest that you keep yourselves abreast of future meetings and legislative proceedings and decisions—regardless of where you now live. It would also be so helpful if you could attend one of these forums so that our regulators can learn from your own insights and suggestions.
Rosemary Jenkins