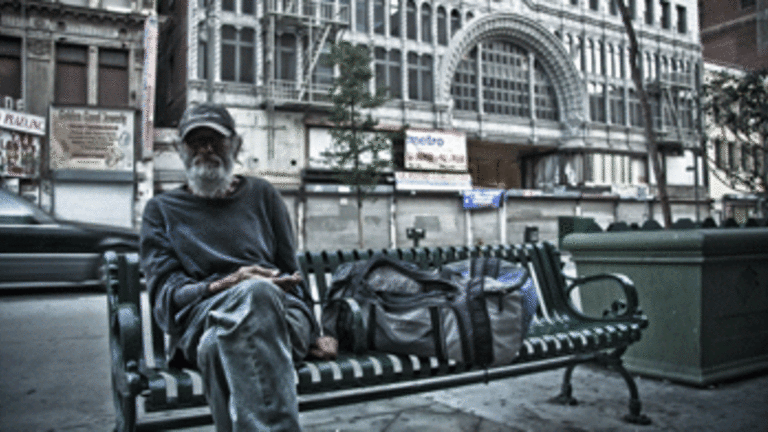 Homeless in Los Angeles
Jerry Drucker: In all of Los Angeles County, except for Glendale, Pasadena and Long Beach, which conduct their own census counts, the 2011 census count of the homeless was 51,340, 3% less than 2009 at 52,931.
The first meeting of the year for Valley Democrats United produced what most members enthusiastically claimed was 'the best meeting ever for the club.'
Normally, one would think the issue of 'Homelessness in Los Angeles' would not inspire much enthusiasm, but the club president, Brad Parker, initiated the meeting with a powerful personal story of a homeless individual telling a tale of homelessness that was heart rending and compelling.
Four very informative experts on the subject of the Homeless in Los Angeles County were the guest speakers on the panel: Michael Arnold, Executive Director of the Los Angeles Homeless Services Authority (LAHSA) - Ruth Schwartz, Founder and Executive Director of Shelter Partnership - David Sapp, Staff Attorney of ACLU of Southern California - Susie Shannon, Executive Director of Poverty Matters.
Giving an overview of LAHSA, Mike Arnold explained the agency's Mission Statement: "To support, create and sustain solutions to homelessness in Los Angeles County by providing leadership, advocacy, planning, and management of program funding."
The supportive cost for housing residents is $605 a month. The typical public cost for similar homeless persons is $2,897, five times greater than their counterparts that are housed. The larger figure includes different types of jailing, Sheriff and Police, Paramedics, Public Health, Mental Health, private hospitals - ER, DPSS food stamps and other services that add to the cost.
On January 25-27, 2011, the Los Angeles homeless count (largest in the nation) took place. The count takes place every other year, with the support of 4,000 volunteers.
The census covers more than 4,000 square miles, all of Los Angeles County, except for the cities of Glendale, Pasadena and Long Beach, which conducted their own census counts. In 2011 the census count of the homeless was 51,340, 3% less than 2009 at 52,931. A looming problem that Arnold brought up was homeless veterans.
Ruth Schwartz explained that Shelter Partnership is dedicated to alleviating, preventing and ending homelessness by assisting in the development of short-term and transitional housing programs, affordable housing, and supportive services for the homeless and potentially homeless throughout Los Angeles County.
Shelter Partnership Inc. is a nonprofit organization developing resources for the growing number of homeless families and individuals in L. A. County. Since 1985, Shelter Partnership has provided support to hundreds of agencies, free of charge. In addition, Shelter Partnership is a resource to public agencies, the business community, local and national media and community members involved in issues of homelessness and the creation of permanent, affordable housing.
The ACLU representative, attorney David Sapp, explained how the organization had worked with the homeless population on various issues. A question came up regarding 'veteran's rights,' opening up a discussion with Sapp of an ongoing legal battle between veterans and available VA housing in West Los Angeles. The ACLU is leading a class action suit over the VA owned and unused buildings on the property, against the Department of Veterans Affairs.
400 acres of land had been donated in 1888 in what became West Los Angeles, for U.S. Veterans to "establish, construct and permanently maintain" a branch of a national home for veterans, according to the original deed. For close to 100 years that's what happened: permanent veterans facilities were built, including a post office, a trolley system and housing for 4,000 vets.
During the Vietnam War era, the vets were kicked out. Today, the facility's abandoned buildings can't be occupied by the veterans they were built for in the first place. The VA leased parts of the property to businesses. Last September, the VA canceled three leases, but other businesses still exist, including a public golf course, a college baseball stadium, a theater, and practice fields for a private school.
The Executive Director of Poverty Matters, Susie Shannon, has been a community organizer, a Housing Advocate with LA Coalition to End Hunger and Homelessness, and she was the Co-Producer/Director of the anti-war documentary, "Back From Iraq: The U.S. Soldier Speaks." Shannon has testified before Congress Representative Maxine Waters on the housing crisis for the homeless and poor families in Los Angeles. Her specialty is finding housing for the homeless and low income residents in Los Angeles, often experiencing the most challenging of situations.
A question from the audience: "How can I help a homeless person that I see on my street? Where do I start?" The answer: Call 211. 211 LA County is a private, nonprofit organization, formerly known as INFO LINE of Los Angeles. It is the largest information and referral service in the nation. Since 1981 211 LA County has provided free, confidential services 24 hours a day, 7 days a week in English, Spanish and more than 140 other languages via a tele-interpreting service.
Apparently, few people seem aware of the availability and workings of 211. All the panelists agreed that 211 is the best starting place for referral services in finding the correct agency or special needs for a homeless person or family and for that matter any individual seeking help or assistance. The next meeting of Valley Democrats United should invite a representative of 211 to speak about their outreach program.
Jerry Drucker
Valley Dems United Newsletter, Margie Murray, Editor