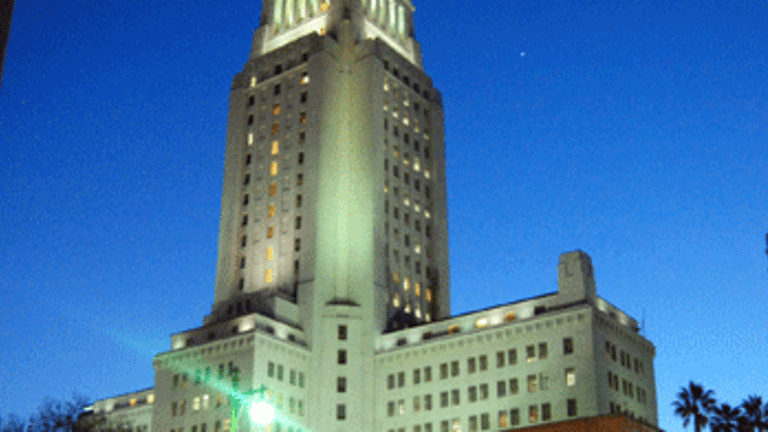 LA 's Mayor Race: Campaign in Search of a Front-Runner
Stephen Box: Eight of the twelve registered candidates for Mayor of LA participated in a candidate forum at the Holman United Methodist Church, giving powerful testimony to the claim of some that politics is theatre.
Eight of the twelve registered candidates for Mayor of LA participated in a candidate forum at the Holman United Methodist Church, giving powerful testimony to the claim of some that politics is theatre.
The candidates took to the stage one at a time, giving the opening act a bit of an advantage while the last three hopefuls faced a weary audience that had dwindled in size and faded in enthusiasm.
Councilwoman Jan Perry was first up and she was strong, invoking her relationships with Mayor Tom Bradley, Councilman Gil Lindsay, Councilman Mike Woo, Councilwoman Rita Walters and the spirit of transformation that they represent.
Perry set the tone for the evening, speaking less of her accomplishments and skills, instead focusing on establishing common ground connections to the past and positioning a greater vision for the future.
"I am fighting for something greater than myself," Perry stated, pausing as the audience gave an Amen, "I'm fighting to build housing for people who need more affordable housing, I'm fighting for people who are mentally and physically ill, I'm fighting for people who need jobs and training, I'm fighting for our children and for a seat on the School Board."
Perry was a tough act to follow, but Austin Beutner has been paying attention to the critics and refining his performance, even showing up early and working the room. Beutner told his personal story in a style similar to Perry, from humble beginnings to success through hard work to inspired opportunities to change the world, first in the Clinton administration and now in Los Angeles.
Beutner stands out as the candidate who embraces the "business ethos" as the tool for restyling the City of Los Angeles. He pointed out that in the real world, leaders have to get things done, they can't take credit for the ideas of others, they can't blame others, and they can't make promises without delivering.
"I've lived a charmed life. Then I experienced a life-threatening crisis that motivated me to look for an opportunity to give back," said Beutner, of the mountain bike incident that left him in a hospital with a broken neck. "We're blessed, we're the most diverse city in the country. We need to work together to make that work for us in this city."
Councilwoman Wendy Greuel filled the stage with a performance worthy of a headliner, telling her story in a style that was less about her and more about establishing common ground with the audience.
Greuel also invoked the spirits of Mayor Bradley, HUD Secretary Henry Cisneros, and Governor Cuomo and then added street cred by pointing out her work with the creative legends behind DreamWorks Studios.
"I'm here because I want to transform Los Angeles," Greuel explained, "I'm here because I want to give back and because I want to move forward. I'm standing here today because of everything that Los Angeles has given to me."
Greuel peppered her time on stage with shoutouts to the audience and to the community, concluding with her statement "There is nothing better about Los Angeles than the people in this room and that's why I'm running for Mayor of Los Angeles."
Councilman Eric Garcetti thanked anyone within thanking range, including the other candidates, and then raised the stakes by invoking the spirit of Moses as he led his people to the promised land, explaining "And God showed him the way!"
Garcetti is a polished speaker and he worked from a tightly crafted script, one that was packed with scriptural references, shoutouts to the host organizations, claims to a local multi-generational legacy and the most unique connection to Mayor Tom Bradley.
"I was watching television with my Grandfather when Mayor Bradley came on. My Grandfather said 'I know that man' and I was impressed. 'You know the Mayor?" I asked and he said "Yes, when he was a police officer in Boyle Heights, he arrested me!"
Garcetti echoed Greuel in telling a story of his experience during the "unrest" and laying claim to the street cred that comes with experience during the tough times and a shared vision of the future.
"If we confront that which we fear the most," Garcetti concluded, "we will indeed go to the Promised Land."
YJ Draiman, a relatively unknown candidate for Mayor, found himself in a prime position on the lineup with an audience that was his to lose and he faced that opportunity by driving people from the room with a forceful presentation that was almost punitive in its delivery.
In a clear demonstration of his disconnect from the audience, he passed on opportunities to relax and revel in the supportive nature, instead punching campaign bullet points at the audience as if they were challenges to those responsible for standing in the way of success.
Kevin James found himself in the unenviable position of addressing a restless audience and he turned it around by wrangling their discontent and rallying them around his observation, "As the sixth speaker, I get to listen to the others talk about what's wrong with LA and now we get to talk about solutions."
James matched Greuel for charisma and energy, putting his years as a talk show host to work as he engaged the audience in a journey that started by looking at the City Hall insiders and declaring "You can't solve the problems with the same level of thinking that got you here."
The audience responded to James, applauding loudly when he talked about his intention to conduct a Mayoral Radio Show each Sunday, offering the community at large an opportunity to call in and talk about the issues that matter to the public.
For all the issues that were addressed during the evening, James earned the loudest audience approval when he spoke of his intention to search surrounding communities to find the best engineers, "I know they're out there, I've driven on their streets!" and to bring them to Los Angeles so that we can finally install manhole covers that are flush with the surface of the streets.
Addie M. Miller filled the stage, both with her effusive personality and with her extravagant wardrobe including yellow plumed hat. Miller's monologue grew in intensity as she spoke, resulting in an entertaining but confusing diatribe.
"I can walk this city, I know every alley, I know every street, this is my home," Miller exclaimed, "You can't come here and tell me you came here in '75 or '65 and that you know this city. This is my home!"
Ted Crissell was the final of eight Mayoral candidates and he was gracious in his acknowledgement of the audience's fortitude, abbreviating his comments to quick pitches.
"I'll work for free and I'll sell things we don't need," he explained when talking about the city's budget," I'll audit every department in the city!"
LA's ensemble of Mayoral Candidates is full of great talent and their performance was worthy of an entertainment town, full of great improvisation and a wee bit of upstaging.
Jan Perry played the role of Organizer, Austin Beutner took the role of Salesman, Wendy Greuel was a natural as Cheerleader, Eric Garcetti was well-cast as the Historian, Kevin James was the Entertainer, Abbie was a Mystery, and Ted was a Bargain.
Perry knew her audience, Beutner knew his lines, Greuel filled the stage, Garcetti used his props well, James matched Greuel in an award-winning performance, Miller has the patter down, and Crissell can throw a punch line.
Collectively, these are the characters that are looking for their spotlight and finding their places on the proverbial stage of Los Angeles.
We, the audience, are in the rare position of not just casting the lead role, but of writing the script of an epic tale of triumph. That or simply sitting back and hoping that the upcoming performance of Los Angeles 2013 is a comedy, not a tragedy.
There are four other certified Mayoral candidates standing in the wings, and they did not appear at the forum. They are Jose F. Di Raimondo, Malcolm Mays, David "Zuma Dogg" Saltsburg, and Rick S. Young.
The Candidate Forum was hosted by the Crenshaw Chamber of Commerce, along with the Black Business Association, the Greater Los Angeles African American Chamber of Commerce, the Recycling Black Dollars, and the West LA Community Development Corporation.
Stephen Box
CityWatch