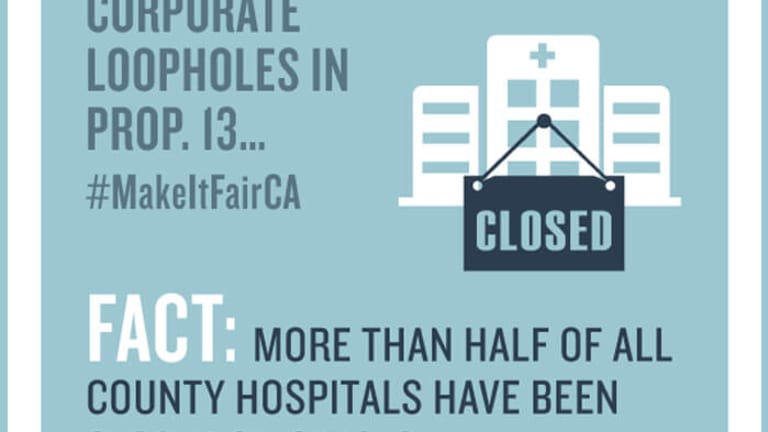 Prop 13: Supporting the Split-Roll Concept
Back in the late 1970s, my husband and I had recently married and purchased our first (and only) home.
It was at that time that Howard Jarvis introduced a California statewide initiative (which was voted on and eventually became a State Constitutional Amendment). Its goal, among other things, was to limit the amount of property tax to "one percent of the full cash value of [affected] property" and "to decrease property taxes by assessing property value at their 1975 value and restricted annual increases of assessed value of real property to an inflation factor, not to exceed 2% per year." Higher reassessment would be forbidden except when improvements were made to the property, and then increased taxation would only be assessed on the improvements.
Not being as savvy as we are now, my husband and I fully supported it. I could not understand at the time why anyone would be against it. Without question, our family has benefitted greatly. In fact, I am not sure had it not been for Proposition 13—later held to be constitutional by SCOTUS—if we could afford a property tax assessment on our home now based on current values.
I don't think the majority of voters were sufficiently informed back in 1978 about how these provisions would disproportionately favor business. 
Unfortunately, I don't think the majority of voters were sufficiently informed back in 1978 about how these provisions would disproportionately favor business. Think of companies like Walmart, Target, Best Buy, and many mid-sized enterprises which have seen the value of their respective companies multiply geometrically and yet, each is currently being taxed—if they were doing business in California at the time—at 1975 levels. For example, Chevron's new assessment under SCA 5 (Senate Constitutional Amendment) would bring in at least $100,000 every year in additional revenues over what it is now paying should this amendment be approved by both a two-thirds legislative majority and a simple majority of the electorate!
Understand that the majority of business properties are already being taxed at contemporary values. SCA 5 would target "big corporations and wealthy commercial property owners" that currently do not pay their fair share and would feel the brunt of the new taxation—not the little guys, like you and me.
The current law allows loopholes for many companies to change ownership without being re-valued. Homeowners, on the other hand and quite ironically, are the ones who have to pay current market values on new home purchases—placing the onus on the residential owner over big business, the companies which can well afford to pay higher taxes while still making a comfortable, "healthy" profit.
What has been introduced at the State level is a bill whose goal is to remedy this disparity. Pre-1978 homeowners (with 1975 valuations) would continue to benefit from Proposition 13 legislation. However, the bill (if enacted into law) would target big business with what is called split roll property taxes. Such enterprises would pay their fair business share while the vast majority of homeowners (often the older among us) would not be taxed out of their homes—a situation that genuinely engenders fear in a lot of our seniors and the working poor.
This bill, authored by State Senators Loni Hancock and Holly Mitchell, will be placed on the November 2016 ballot if the State legislature approves it. If approved by a voting majority of the electorate, residents (including renters), agricultural property, and small businesses would not be adversely affected—as is only right. Out of concern for the needs of small businesses, they would be exempt for the first half million dollars in costs for fixtures and equipment for their companies.
Primary supporters of SCA 5 are the Make It Fair and Evolve campaigns which have partnered with a number of unions and other activist organizations and individuals, including civil rights, religious, and community groups as well as national and local leadership.
Previously, Assemblymembers Raúl Bocanegra and Tom Ammiano introduced a measure (which narrowly lost at the Sacramento level) which "would have curbed the ability of businesses to divvy up property ownership in a manner that helps [them] avoid tax reassessment when a building changes hands." SCA 5 includes these provisions but goes beyond the earlier bill by making sure that businesses are appropriately taxed—producing revenues from which all Californians and local governments at every level would benefit.
In addition to what has been stated above, SCA 5 (the Property Tax Fairness Amendment) would accomplish the following:
 It would distribute revenue among cities, counties, and school districts, the latter receiving a share over-and-above Proposition 98 mandates.
Transparency and accountability for this new revenue would be closely overseen.
Additional revenues will not go to the State's General Fund but to the localities where the needs are so great.
There will be a 2-year phase-in for assessors (beginning re-valuations on the oldest properties which have not been re-assessed for the longest period of time; for example, a property valued in 1980 would be revalued before one evaluated in 2002).
A 3-year phase-in for taxpayers who are the most under-assessed while the next group would be given a 2-year phase-in.
A 5-year phase-in for the small businesses operated by owners and worth less than 3 million dollars.
Loopholes, that gave a break to larger businesses and the wealthier property-owners, would be eliminated.
Think of the new revenues that will be brought in to California as a result. If approved, it is estimated that nine billion dollars could be accrued for schools and local governments. Ours is a state that is currently in desperate need of substantial funding to underwrite programs that are indisputably crucial and consequential to all of us—and passage of this bill would do just that. Programs like early education, schools, mental and general health programs, infrastructure, environmental projects (the list goes on) would be grateful beneficiaries.
The next State Senate committee vote on this piece of legislation is scheduled for some time in July. It is essential that we contact our respective State Senators (and Assemblymembers) as soon as possible (and even repeatedly) to encourage them to support SCA 5 whose results will, without question, prove invaluable to the entire State and all its constituents.
For more information, please contact Make It Fair and EvolveCA.
Rosemary Jenkins