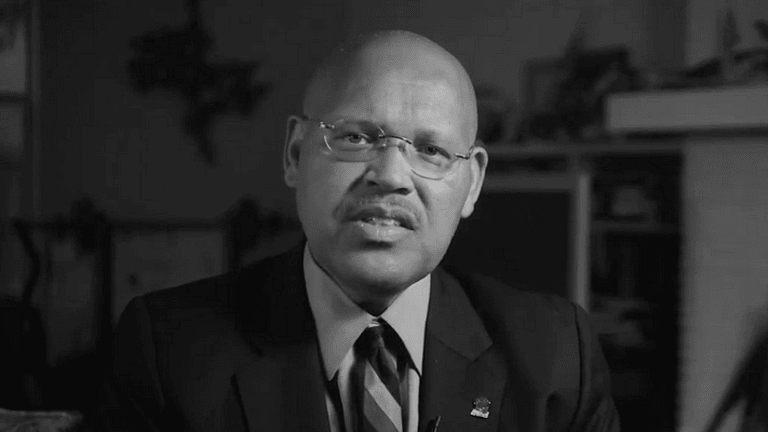 Pasadena City Councilmember John Kennedy Remembered
Grieving and shocked community turned out on the steps of City Hall to remember John J, Kennedy.
Just shy of a 100 grieving and shocked community turned out on the steps of City Hall to remember John J, Kennedy. News spread around town on Thursday that Pasadena had lost one of its most treasured sons.
At times there were moments of laughter and other expressions of deep sorrow. All were still processing the news. Most were unsuspecting, while others close to him suspected he hadn't been his usual gregarious and energetic self — lately.
His love and dedication to Pasadena are irreplaceable.
Of the many memories shared and remarks made by Council Member Tyrone Hampton Jr, Assemblymember Chris Holden, Brandon Lamar, Craig Washington Vice President of the Tournament of Roses, Mother Betty Joe Ford — long-time District 3 resident Joan Reid shared a story about him taking time to speak with her 11-year-old grandson.
"I just want to say, as a parent, as a mother in this community, as a sister, just watching John when he was very young. And at that time, we saw this light in him that stood out from the rest." Articulating how the community wrapped its arms around Kennedy, Reid mentioned how she and her sorority sisters supported him, "our sorority sponsored him many times to support his education. We weren't just talking about academics, we were talking about his education.
There was no doubt about Kennedy being book smart, but Reid commented on how he moved about in the community. She said, "We watched him get on the streets, as he stopped to talk to somebody because, you know, John would stop and talk to you."
Kennedy had an unwavering commitment to young people. "He influenced little people." Reid said. Reflecting on a visitation to her Jackson Street home, Reid was not only his constituent, she was his neighbor. She continued, " I think about my grandchildren who watched him come to the door. And the last time he came, my grandson, who is now 11, sent him through a battery of questions."
Gathering herself, "And I mean, real questions. Why are you in this office? What are you going to do? How did you get there? I mean, he ran him through a battery of questions. We were amazed."
Smiling, she said, "John took the time to answer those questions." He told the young lad, "I want to see you in this position one day."
She concluded with, "John had to figure out what his path was. And believe me, he was challenged by many of us. But he figured it out. He kept the course. Because there are a lot of 11 year old boys and girls watching to see what we all do."
The advice from the saged grandmother to the crowd, "Our work is not done. And if you think it's done, look at the little people who are watching. Listen to what they have to say. Because their future depends on us paying attention. Don't dismiss them — John did not."
Wrapping up her eulogy of her beloved councilmember, Reid offered, "And now I can tell my grandson when we remark this to him, he will remember that day that John didn't just say, oh, kind of like, Go away, go away. He stopped. He listened. And he answered him."
Kennedy was first elected to the council for District 3 in 2013.
He also served on the city's Finance Committee, was chair of the Public Safety Committee, and was one of three representatives from the city to the Burbank-Glendale-Pasadena Airport Authority.
Kennedy began his work in politics at a young age as student-body president at Blair High School and then student senator at the University of Southern California, from which he earned dual degrees in international relations and economics.
Kennedy worked for the city of Pasadena in the finance, city attorney, police and public works departments and has also served on boards such as the Pasadena Police Foundation, Tom Bradley Legacy Foundation at UCLA, Library Task Force for Alternate Funding, the Community Health Alliance of Pasadena, Community Development Committee, and the Developers' Selection Committee for Heritage Square Senior Housing Development.
Kennedy ran his own management consulting business in the private sector.
Flags at all city facilities have been lowered to half-staff at the request of Mayor Gordo and the City Council.
The city also announced it has canceled the Monday, July 25 City Council meeting in honor of Kennedy.
Kennedy's family has requested that in lieu of flowers, contributions be made to a scholarship fund in the Kennedy family name at the Pasadena Community Foundation.
Too emotional to speak over the phone, Patrice McKenzie Marshall said via text message, "Pasadena has lost one of its most stalwart public servants today with the passing of Councilmember John Kennedy."
Adding, "His leadership, advocacy, and courage were reflections of his love for Pasadena. John will certainly be missed."
Rest well, John.
Agape.