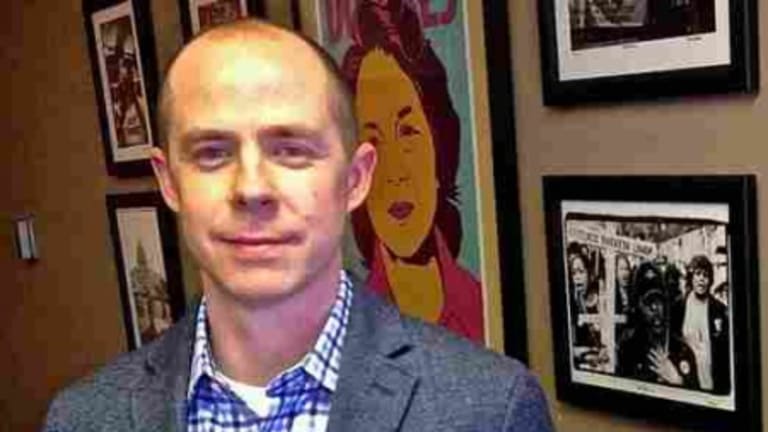 Reject Climate Hypocrisy in the California Democratic Party. #RejectRusty
RL Miller and Amar Shergill: A Sierra Club investigation revealed that Hicks had broken his pledge and contradicted the clear instructions of the Party by taking over $330,000 from Sempra Energy.
The people of California cannot afford another four years of Democratic Party leadership from politicians who speak loudly in public about environmental issues while quietly accepting fossil-fuel money used to defeat climate advocates. The vast majority of Democratic voters understand that our climate is in crisis and that we must act now. There comes a time when we can no longer compromise, when the costs of half measures are too high, and we must demand commitment to progress, truth, and equity from our political leaders instead of the false promise of short-term gains. The California Democratic Party (CDP) has arrived at such a moment. We will not accept another term with Rusty Hicks as CDP Chair after he broke his word and broke faith with Democrats and party delegates by accepting $330,000 of fossil fuel money. 
During Hicks' campaign for CDP Chair in 2019, he signed the 'No Fossil Fuel Money Pledge,' as part of an ongoing advocacy project of Climate Hawks Vote, Sunrise Movement, 350.org, Oil Change International, and other green groups. Over 3,000 elected officials from across the country, including Joe Biden and Kamala Harris, have signaled their independence from fossil fuel corporations by affirming that they will not take political contributions from fossil fuel entities that poison our water, pollute our air, and use their money to block legislation that will protect the environment for future generations. That pledge originated in the California Democratic Party Environmental Caucus in 2017. Hicks signed the pledge in 2019 and broke it in 2020.
A Sierra Club investigation revealed that Hicks had broken his pledge and contradicted the clear instructions of the Party by taking over $330,000 from Sempra Energy.
In February 2020, Rusty Hicks approved a recommendation from a CDP Ad Hoc Committee, not to solicit fossil fuel contributions to the Party. This represented a year-long process of consensus building in the Party and thoughtful discussions about ensuring that the Party acted consistently with the values espoused in its Party Platform. Notably, the committee expanded on a decision of a prior party chair not to take oil money, and broadened the prohibition on dirty money to include all fossil fuel money, i.e., natural gas and coal. Chair Hicks accepted the recommendation without objection but did not adhere to it. 
After the 2020 elections, a Sierra Club investigation revealed that Hicks had broken his pledge and contradicted the clear instructions of the Party by taking over $330,000 from Sempra Energy -- a fossil fuel entity -- after promising not to take fossil fuel money. Since this information became public, he has refused to apologize or even show contrition for his actions. Although Hicks has not explained whom he spoke with to get the money, or what he promised them in return, we know that fossil fuel money always comes with conditions.
Sempra Energy is the parent of Southern California Gas, found responsible for the worst methane blowout in US history, the Aliso Canyon blowout in Los Angeles' hilly suburbs. Sempra is also the parent of San Diego Gas & Electric, which has been actively thwarting renewable energy growth in San Diego. Currently, Sempra is lobbying the Biden administration for a permit to move natural gas to an export terminal in Baja California. In short, Sempra is a negligent fossil fuel entity actively working to subvert California's climate goals and continuing to put human lives at risk for increased profits.
The entire unedited Hicks audio is available at this link
Our democracy is drowning in a tidal wave of dirty fossil fuel money. California Democrats have decided that fossil fuel money contradicts our values and is a danger to the future habitability of our state and the planet. Consider that in 2019 and 2020, as Hicks used his tenure to bring in fossil fuel money, the mass casualties of the Camp fires were still fresh in the collective psyche of all Californians. Hicks pushed that human suffering aside and, as we experienced two of the hottest years in the history of the planet, he allowed fossil fuel money to flood the Party and oppose any meaningful reform.
As dirty fossil fuel contributions flow through the Chair and into the Party, frontline communities are facing not only the larger scale climate crisis, but localized emissions from refineries, oil drilling, and other pollutants in their neighborhoods. Instead of centering vulnerable communities in our fight for environmental justice, Hicks is exacerbating environmental racism by taking money from fossil fuel companies that harm our most vulnerable communities, including low-income communities and communities of color.
Worse, Hicks is now telling delegates, in his campaign for re-election as Party Chair, that when the February 2020 Committee Report banned contributions from the 'Fossil Fuel Industry' what they actually meant was the far more restrictive term 'Oil Industry.' That campaign claim cannot be justified under any reasonable understanding of the actual words of the report or the work of progressive delegates, led by RL Miller, to change and broaden the existing ban on oil money to include all fossil fuel money. Hicks is engaging in the game of 'alternative facts' that have no place in our Party. 
We have explained to Hicks directly that he has failed us and that he needs to improve his behavior. His only response has been to deny any wrongdoing and to recommend a committee to review the issue in the Party in a few years. Beyond the insincerity and ineffectiveness of yet another 'blue-ribbon panel', Hicks' actions demonstrate an attempt to thwart the will of the Party he purports to lead.
We have resolved not to accept any more institutional abuse from Hicks. He has breached our trust and has refused to do better. Instead, we are going directly to the people of California. If you believe that the California Democratic Party should reject fossil fuel money as part of its fight to protect the environment for current and future generations please contact Governor Newsom and any voting delegates you know, especially those listed here.
Call on them to state publicly that they will not support Hicks' re-election campaign as Chair of the CDP. The time has come for us all to stop compromising our future.
RL Miller and Amar Shergill
RL Miller
Chair, Environmental Caucus of the California Democratic Party
Member, Democratic National Committee
CDP Chair Rusty Hicks: On an Island in His Own Party: How is the Chair of the Democratic Party the only leader still on record saying he does not want to count these votes? @AmarShergillCA#CountEveryVotehttps://t.co/F6d6kzIopbpic.twitter.com/I7AXFk10zL
— Dick and Sharon (@DickandSharon) March 4, 2021
" target="_blank" rel="noreferrer noopener">Amar Shergill
Chair, Progressive Caucus of the California Democratic Party
Executive Board Member, California Democratic Party