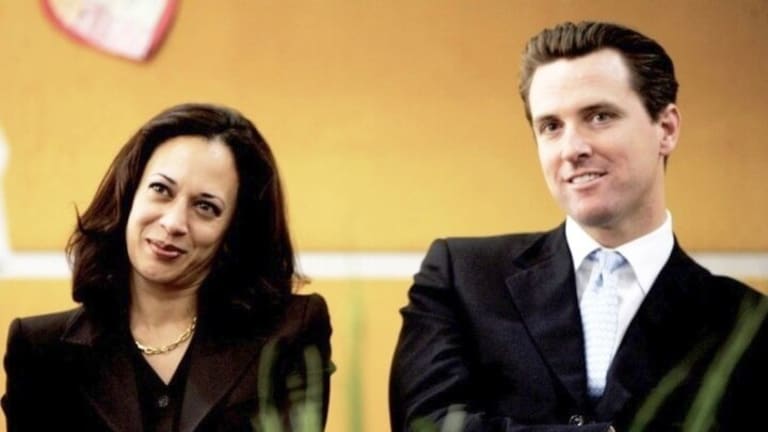 San Francisco's Politically Successful "Moderates"
Randy Shaw: Newsom could get the majority of progressive votes in the June statewide primary. Even though in San Francisco he remains a "moderate."
What do Senator Dianne Feinstein, Senator Kamala Harris, Democratic Minority Leader Nancy Pelosi, Governor front runner Gavin Newsom, State Senator Scott Wiener, former State Senator and mayoral candidate Mark Leno and Assembly member David Chiu all have in common? All rose politically from San Francisco's "moderate" political camp.
This success is remarkable for a city whose political control is often described as seesawing between "progressives" and "moderates." It also raises questions about how San Francisco politicians get defined and installed in a political camp—a process that has limited the ambitions of local progressives.
Harris, Chiu and Newsom
Senator Kamala Harris has quickly become the national darling of progressives. While she gained support on the left for aggressively criticizing Trump, her backing of Bernie Sanders' single-payer bill has unequivocally stamped Harris as a progressive champion.
Yet Harris' political career emerged from her hitching her wagon to Willie Brown, an anathema to Bay Guardian progressives. Harris went from having a personal relationship with Brown to winning election as San Francisco District Attorney with Brown's strong support.
Harris was never aligned with San Francisco progressives. Today, they are solidly behind her. Yet the record of other local progressives says that if Harris had aligned with them at the start of her career she would not be a U.S.Senator and a talked about future presidential candidate today.
David Chiu offers another interesting case. I was talking to someone a few weeks ago about the then upcoming housing vote and they asked me who in the Assembly was more progressive than Chiu.
We couldn't think of a single member.
Chiu got his start as the hand-picked successor to progressive supervisor Aaron Peskin. He had a solidly progressive voting record on the Board but alienated Chinatown progressives over his attacks against them in his 2011 mayor's race. Chiu's support for a weak short-term rental law during his Assembly race against David Campos further consigned him to the "moderate" camp.
But the "moderate" Chiu is the Assembly member most responsible for the passage of the landmark housing package other than Speaker Anthony Rendon. That was a huge progressive victory.
Like Mark Leno, Chiu has gone from being a San Francisco "moderate" to among the most progressive members of the state legislature. Yet in local political circles, he remains a "moderate."
Gavin Newsom's political career was also launched by Willie Brown. Newsom was never a "progressive" either as supervisor or mayor. Newsom's historic support for gay marriage was truly progressive but on tenants' rights legislation he was closely aligned with the real estate industry (Newsom vetoed legislation to stop the displacement of hundreds of rent-controlled tenants at Trinity Plaza).
Today, Newsom's strong backing of a single-payer bill in California has solidly installed him in the progressive camp. Adding to his progressive credentials is his support for marijuana legalization. The pot industry has already contributed over $300,000 to his campaign and he is clearly their chosen candidate.
Newsom could get the majority of progressive votes in the June statewide primary. Even though in San Francisco he remains a "moderate."
Impact on Future SF Races
District 6: Haney v. Trauss
San Francisco's fluid and subjective labeling of candidates will get a good test in the District 6 supervisor's race and the 2019 mayor's contest.
I wrote about the D6 race in July before Sunny Angulo decided not to run. With her out, Matt Haney will get every single endorsement from the city's progressive establishment and likely some "moderate" backing.
I know both candidates and they are likely to vote overwhelmingly the same at the Board. But Sonja Trauss is an anathema to many San Francisco progressives for her strong support of new housing (in San Francisco, believing that the housing shortage impacts rents puts you in the "moderate" camp). So Trauss will be the "moderate" against Haney the "progressive" in what remains a very progressive district.
I wrote in my prior piece that Haney's support from CNN commentator and prominent progressive Van Jones would "positively influence D6 voters." Jones attended Haney's filing ceremony last Tuesday. His support will increase Matt's moderate support.
2019 Mayor's Race
Who will be the "progressive" and "moderates" in San Francisco's 2019 mayor's race?
Mark Leno has announced his candidacy. His progressive voting record in Sacramento would seem to put him in the local progressive camp. But Leno did not endorse David Campos in his Assembly race against Chiu. He also endorsed Scott Wiener over progressive favorite Jane Kim in the 2016 State Senate race. In addition, Leno was not associated with progressives while a San Francisco supervisor.
Leno will have to work for progressive support in 2019.
If David Chiu runs for mayor, he will be a "moderate" despite his strong progressive voting record in Sacramento or how he cast the vast majority of his votes as a supervisor.
Two other potential candidates, Mark Farrell and Carmen Chu, are clearly "moderates."
When I wrote about the mayor's race last January, I described Aaron Peskin as the strongest progressive choice in a field otherwise without one. But Peskin has endorsed Leno and will not be running.
Many want Jane Kim to run. But Kim lacks the money for a mayoral run, and Rose Pak is no longer around to help. Dennis Herrera has not ruled out a mayoral challenge. People who know his record recognize that he has been the nation's most progressive city attorney for years; but whether rank and file progressive voters see Herrera as their candidate is unclear.
While political clubs, consultants and the media prefer keeping the "progressive" and "moderate" labels in San Francisco, they now do more to confuse than educate voters.
Randy Shaw
Beyond Chron