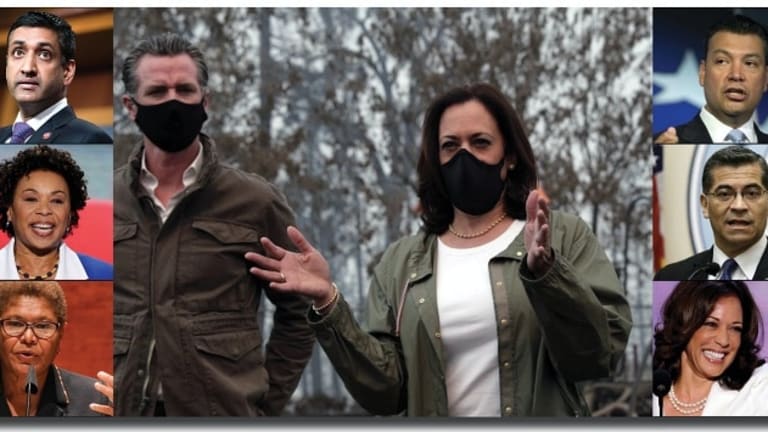 Who Will Gavin Pick?
Dick Price: Our survey asked which candidate readers would like to see named, and then which they think the governor will actually pick.
Now that Kamala Harris has been elected vice president, the battle is on to see who will take her seat as California's junior senator.
Note that with Donald Trump still barricaded in the White House, trashing the place as best he can before he's dragged out the door, contemplating who California Governor Gavin Newsom will name to replace Kamala seems a quaint return to politics as usual.
To help him decide, LA Progressive conducted a two-part survey of its readers this past weekend to gauge where the more progressive end of the political spectrum comes down on this choice. We asked which candidate readers would like to see named, and then which they think the governor will actually pick.
In the second part, which we'll report on later, we asked reader views on who's most responsible for the Democratic Party's woeful showing in the election earlier this month.
Not surprisingly given who reads LA Progressive, most favored among survey respondents were three progressive stalwarts: Ro Khanna (25.1%), Barbara Lee (22.5%), and Karen Bass (19.6%).
Ro Khanna, U.S. House, 17th Congressional District. Elected to represent Silicon Valley in Congress in 2016, this relative newcomer to elective office rose to considerable prominence in the progressive community as national co-chair of Vermont Sen. Bernie Sanders presidential campaign this year. Just 44 and the child of South Asian immigrants, Khanna could serve in Senate for decades, as has Sen. Dianne Feinstein and did Sen. Barbara Boxer.
Barbara Lee, U.S. House, 13th Congressional District. Widely admired in progressive and leftist circles for her singular vote against launching the failed Iraq war in 2001 and her strong civil rights record, Lee has represented Oakland for two decades in Congress and before that in the state legislature. At 74, her age might count against her--or perhaps that's an advantage, as it will give all potential younger candidates a level playing ground in two years when Kamala's term will end.
Karen Bass, U.S. House, 37th Congressional District. Currently chairing the Congressional Black Congress, Bass is a much admired figure in Los Angeles for her work as a community organizer who rose to become the first Black woman elected to be State Assembly speaker. With her strong voice on criminal justice reform issues in Congress, her national profile soared recently when it seemed that she was being considered to be Joe Biden's vice presidential pick.
Black political organizations, both national and statewide, are pushing hard to see a Black woman replace Harris, a descendent of Jamaican and Indian immigrant parents, whose departure from the Senate will leave Republican Sen. Tim Scott of South Carolina as the only Black face in an otherwise endlessly lily white body. Black Lives Matter has launched a petition supporting Representatives Lee and Bass, with California's State Legislative Black Caucus and Democracy for America weighing in as well.
Who's the Likely Pick?
Respondents shuffled the pack when indicating which candidates Newsom will actually pick, with Karen Bass (20.1%) still riding high, but with newcomers Alex Padilla (18.8%) and Xavier Becerra (15.3%) climbing—and Barbara Lee (10.9%) and Ro Khanna (8.7%) falling back into the pack.
Alex Padilla, California Secretary of State. As a 47-year-old native Angeleno, Padilla would bring both youth and geographic diversity—California has been represented by Bay Area senators for nearly three decades. Just as Black organizations are demanding that a Black woman replace the departing Black woman, Latino organizations are pressing the point that California is nearly 40% Latino, which should be reflected in the state's Senate pair.
Xavier Becerra, California Attorney General. A long-time former Congressional representative from Northeast Los Angeles and the first Latino elected to his current post, Becerra has won recent nationwide prominence for taking on the Trump administration by filing over 100 lawsuits to block its endless overreaches. Like Padilla, Becerra has won statewide office, and like Bass and Lee, he has experience in both the State Legislature and Congress, where he chaired the House Democratic Caucus before being named to replace Harris as Attorney General. His name is also being bandied about as a possible Attorney General in the Biden administration.
Among the names readers chided us for leaving off our list of possibilities were Katie Porter, the electric one-term congresswoman from Orange County; Loretta Sanchez, the 20-year former congresswoman, also from Orange County, who dislodged the troglodyte Bob Dornan; and Katie Hill, the former Antelope Valley representative, who was driven from office by a scurrilous social media campaign launched by her former husband.
Also missing from our list was the possibility that Newsom would resign and have Democratic Lt. Gov. Eleni Kounalakis appoint him to Harris's seat, which Democratic elder statesman Willie Brown recently put forward. As fanciful as that suggestion might be, it points to the perplexities Newsom faces. No matter what choice he makes, he will lose friends among the overlooked possibilities while alienating powerful forces lobbying on their behalf.
Brown also points out that Newsom's current challenges as governor are overwhelming in the face of the rampaging pandemic and the economic meltdown it is causing. Plus, as senator he would enjoy a longer political life—a virtually lifelong one, should he want—as a senator, rather than as a term-limited governor.
And, should Joe Biden serve just one presidential term, as seems likely, Kamala Harris would be in a strong position to succeed him—Garrison Keillor suggests, perhaps in jest, that Democrats just skip the 2024 primaries, put her at the top of the ticket, and be done with it. At currently just 53, Newsom would then still be in a strong position to the second president from California in, say, 2032.
Also noteworthy is the complete absence of L.A. Mayor Eric Garcetti, who was on the survey's list of possibilities but who received not a single favorable vote from the 290 survey respondents and only a few votes as likely to be named. Biden administration watchers have suggested that Garcetti might be on the short list for Transportation Secretary, among several other possibilities.
Los Angeles Times columnist Steve Lopez points out that Garcetti faces the same daunting pandemic-induced challenges here in L.A. that Newsom faces statewide. With only two years left in this office and no clear path for where his ambitious might take him next, he has seen his popularity sink with local advocacy groups, witnessed in our survey. It's entirely possible that the mayor is already packed and practicing his good-bye, good-riddance speech.
Identity
Much of the conversation about handicapping Newsom's choice has revolved around gender, race and ethnicity considerations, as the Senate is so overwhelmingly white and male, more so as the single woman of color is now departing.
Survey responses ranged from several who were outraged that such identity issues were raised at all, to those who held that they were crucial for this state in this point in history, to more central positions that gender, race, ethnicity, but also policy must be considered.
Among those arguing against considering identity were these:
"No. That's only for virtue-signaling idiots. It's the person's character and position on the issues, not color or sex. We just got rid of corrupt DA Jackie Lacey, who was a woman of color. This crap needs to go away forever."
and
"I don't mean to sound non-progressive, but I don't care at all about race or gender; I'm policy-driven. The Democrats have mastered the art of giving us identity politics without substance and I say to heck with it."
Arguing for a Black woman to replace a Black woman was this:
"Black women are the backbone of the Democratic party, yet the most marginalized class in the country. Our representation in the Senate is paramount because we don't just advocate for ourselves. We advocate for everyone. We've been doing it."
And this
"The Senate badly needs a mixture of gender and race that more closely mirrors the makeup of the population."
More responses fell in the middle, arguing that it's not enough to check the ethnic and gender boxes, but that we need an actual progressive to replace Kamala, not another corporatist Democrat:
"Race and gender do matter, but only if the person chosen also has a progressive platform. Medicare for All, tuition-free college and vocational training, criminal justice reform, and a Green New Deal are all must haves. "Expanded access" is an empty phrase, as is "affordable."
And
"What's important is not race or gender, but qualifications and a will to serve the real needs of all people. Our nation is changing rapidly, but our leadership is lagging behind. Justice and fair play, decent wages and housing, education costs are soaring out of reach for the average worker."
His Choice
So, Governor Newsom has an interesting challenge ahead of himself, balancing his own political ambitions against the desires for representation by various California constituencies against the needs for a powerful West Coast progressive presence in the Senate.
It's a perplexing challenge, but at least we're not talking about presidential love letters to North Korean dictators or pardons for confessed influence peddlers.
Wednesday night, the Supreme Court showed that elections have consequences in ruling that New York Gov. Andrew Cuomo can't order sensible pandemic shutdown restrictions on houses of worship at a time when a thousand Americans a day are dying, with new Justice Amy Coney "Covid-19" Barrett casting the deciding vote and rumored to have written the unsigned opinion.
If Democrats somehow manage to win both Georgia runoffs—with Jon Democrats Ossoff and Raphael Warnock defeating Republicans David Perdue and Kelly Loeffler—Newsom's pick will play a pivotal role in helping the Biden administration to move forward. But even without those victories, California needs a strong, progressive voice in the Senate for the battles ahead in an extraordinarily partisan Mitch McConnell-run upper house.
It's a perplexing challenge, but at least we're not talking about presidential love letters to North Korean dictators or pardons for confessed influence peddlers.
Soon, we'll recap the second half of the survey where we asked readers their thoughts on who was most responsible for the Democratic Party's disappointing showing in the recent elections, centrist Democrats or the Party's progressive wing.
Dick Price
Editor, LA Progressive