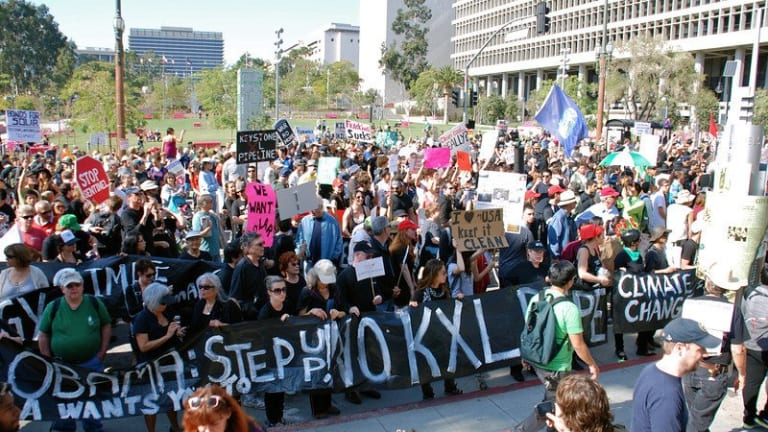 For the Climate, For Clean Energy and Healthy Communities, We March on March 1st
Climate Action March: Thousands are expected to march after a 9:00 a.m. rally at the Great Lawn at Wilmington Waterfront Park.
Wild weather, extreme storms, melting of the Arctic glaciers: the pattern is unmistakable. Record drought ravages California and Australia, Typhoon Haiyan kills 6,000 people in the Philippines, 25 out-of-season tornadoes leave a trail of destruction in one Illinois fall day. The climate has officially gone haywire.
A recent report funded by the Central Intelligence Agency says the climate extremes we're now seeing are early warnings of more disasters to come. "Unexpected changes in regional weather are likely to define the new climate normal," says Michael McElroy, Gilbert Butler Professor of Environmental Studies at Harvard University.
The vast majority of scientific academies agree that the burning of fossil fuels is contributing to more intense heat waves, extreme weather, rising of sea levels, ocean acidification, and the melting of the glaciers. No wonder Secretary of State John Kerry's finally admitted recently to students and civic leaders in Jakarta: "Climate change is the world's largest weapon of mass destruction."
To add gravitas to this proclamation, Secretary Kerry must make the National Interest Determination that turning on the spigot for 830,000 barrels per day of more climate destabilizing, ecosystem poisoning tar sands oil through the Keystone XL pipeline is not in the interest of the US. He and President Obama should then lead the world in signing international accords that pledge to reduce the levels of greenhouse gases.
We need to keep the fossil fuels in the ground. For that matter, Governor Jerry Brown should make good on his proclamations on the necessity to confront the growing climate crisis by instituting a moratorium on hydraulic fracturing, or fracking. This extreme well-stimulation technique not only employed in the Bakken Oil Boom of North Dakota, and the Marcellus Shale Natural Gas Boom on the Eastern Seaboard, but here in California as well. Fracking is happening now on the Monterey Shale formation between OC and the Bay Area, offshore of the California Coast including Huntington Beach and Santa Barbara, and proposed in a number of areas in Southern California, including Carson and Brea.
Blasted at high pressure miles underground, millions of gallons of precious fresh water laden with sand and plastic balls, mixed in a toxic soup of chemicals, fracture the shale and release [methane] gas and [dirty and volatile] oil. Instead of moving toward energy efficiency and conservation, added toproven clean and renewable technologies of wind, water, and solar, we keep pumping the earth dry of its stores of carbon, all for the burning for electricity and transportation. We thus heat the atmosphere, waste and pollute ground and ocean water, industrializing rural landscapes, and causing earthquakes from disposal of wastewater in deep wells.
LA is setting a great example of taking action for the Governor, voting Friday on a moratorium against this dangerous practice, as fracking continues unabated with threats to the Baldwin Hills, Venice Beach, South LA and beyond.
So, what can average citizens do to take action on climate change? We have a voice, we have boots on the ground, and we need to step out and let people know that we don't have any time left to confront this mounting crisis.
On Saturday, hundreds of people will rally for clean energy and healthy communities in Wilmington-Port of LA—one of the most fossil-fuel polluted communities in the country. As part of a coast-to-coast Great March for Climate Action, demonstrators will march from the Port through the streets to downtown LA, speaking out to impacted communities and demanding government action against climate change.
The march starts in Wilmington because it has the largest concentration of dirty oil refineries in California. They process650,000 barrels per day of crude oil every day, pouring pollution into the local, regional and national environment. This,coupled with air pollution from the Ports of LA and Long Beach and the trucks moving to- and fro- on the freeways, impacts the local neighborhoods, primarily working class people of color, who suffer disproportional rates of asthma and cancer.
California's greenhouse gas plan requires almost zero refinery emissions reductions despite hopes the plan would clean up refinery greenhouse gases and the smog-forming toxics emitted from burning fossil fuels. And with the uptick in fracking the Monterey Shale and a plan to import tar sands oil from Canada, via leaky and oft-exploding rail cars, to the Valero Refinery in Wilmington, how can we ever hope to stabilize the climate and clean up our communities?
Thousands are expected to march after a 9:00 a.m. rally with celebrities, politicians, and activists at the Great Lawn at Wilmington Waterfront Park in Los Angeles Harbor. Also planned are a Native American Sunrise prayer, a Climate Action Fair at the 2.5-mile mark, and an evening closing ceremony in the Exposition Park/USC area at Mercado La Paloma, 6:00 p.m., with Aztec Dancers and a recorded speech by Bill McKibben, the guru of the climate movement.
This is the second year in a row a wide array of environmental, humanitarian, religious, political, labor, civil rights, and community organizations, led by SoCal Climate Action Coalition 350, Sierra Club, and Food & Water Watch, have come together in Southern California to demand action on climate change. Last year, over 100 groups supported the "Forward on Climate LA" March and Rally that brought 2,000 people into the streets of downtown Los Angeles to tell President Obama to take action on climate change.
Hundreds will then continue their journey for 3,000 miles towards Washington D.C., launching the coast-to-coast Great March for Climate Action. They will reach out to everyday citizens along the way on how they can fight climate change in their daily lives.
March 1st, speak out to Sec. Kerry, Pres. Obama, Your Congressmembers, Gov. Brown, Mayor Garcetti and LA City Council on the LA Launch of the coast-to-coast Great March for Climate Action, beginning in the shadow of the Port of LA Refineries. More Info: https://j.mp/GreatMarchWU
Jack Eidt
Publisher WilderUtopia and Co-Founder SoCal Climate Action Coalition 350