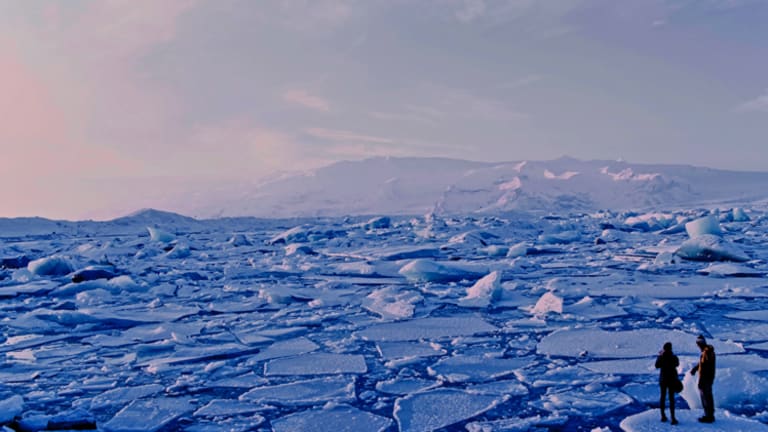 Environmentalists Denounce COP 26 Climate Forum as Blah, Blah, Blah
Mark Friedman: The United States, which has trumpeted its regained climate leadership at the summit, has not joined any pledges as the talks draw to a close.
The U.N. climate summit in Glasgow concluded with massive protests against the do-nothing, hypocritical remarks by US President Biden, UK president Johnson and others.
Activists staged a walkout Nov. 12 in response to late decisions made by negotiators to severely weaken commitments in the final agreement. While the earlier draft of the unbinding Glasgow Agreement called for "phasing-out of coal and subsidies for fossil fuels," the new draft calls for the phaseout of "unabated coal power and of inefficient subsidies for fossil fuels."
COP26 Coalition spokesperson Asad Rehman told media. "We should not call it a Glasgow pact, we should call it the Glasgow suicide pact for the poorest in the world," says Rehman. "They're ramming through so many loopholes that it makes a mockery of these climate negotiations." Rehman was part of a group of members from U.N. constituencies that took over one of the main negotiation rooms inside COP26 this morning to issue a "people's declaration" in light of the weakened language.
Indigenous leaders and climate justice activists denounced the draft agreement as a failure and that will make it impossible for what climate scientists say is crucial to do to contain global heating to 1.5 degrees Celsius, or 2.7 degrees Fahrenheit, above preindustrial levels.
Rehman added "In fact, it heads us closer to 3 degrees, where governments turn their backs on the poorest and the most vulnerable in the world, unable to even meet the paltry $100 billion. They're ramming through so many loopholes that it makes a mockery of these climate negotiations."
The United States, which has trumpeted its regained climate leadership at the summit, has not joined any pledges as the talks draw to a close
"We issued our own People's Declaration, calling on what we actually want to see outside this COP: countries to commit to their fair share of effort, strong binding targets with real zero by 2030, meeting the $100 billion, but actually recognizing that we need trillions if we're going to have a real, just transition that leaves no one behind, recognizing that the reality of this climate crisis means that we need adaptation and loss and damage for the poorest and most vulnerable, and that rich countries need to take responsibility and liability for the damage that they're doing. We know that it is the polluters and big businesses who helped draft some of these clauses, so this was our attempt, as people, drafting our declaration as a rallying call both from the inside and the outside." (it has been reported that over 700 lobbyists and representatives of Big Oil are lobbying the conference to reduce impacts on their profits.)
"We're absolutely fed up. We're absolutely frustrated by the slow pace of action, by the inaction and by the way that the U.K. presidency has hosted this COP to silence our voices…. our movement is getting stronger and stronger. We're uniting trade unions and Indigenous, women and students, young and old. And we're building the movement that is needed. We know that this change will only happen when we, as ordinary people, lead this change and force our governments to act in our interests."
He and others pointed out that the U.K. is hypocritical, that it cannot be a climate leader when it's greenlighting more gas and oil licenses in the North Sea, when it's turned its back on the poorest with the COVID vaccine apartheid, when it's cut its overseas development aid but it's handing out billions and billions to fossil fuel subsidies. The same can be said of the US at COP26.
Critiques of COP26 from activists both inside and outside its walls range from business as usual to abject failure. The United Kingdom's shambolic management of the event, its strict visa requirements and its failure to deliver on its promised, pre-COP vaccination plan for attendees from nations with low vaccine availability have made this summit the whitest, most privileged COP in its 30-year history.
While widespread access challenges have prevented thousands from participating, over 500 oil, gas and coal lobbyists have been given the red-carpet treatment. If they were a nation, according to a new Global Witness report, they would be the largest delegation at COP26.
US declined to join promise to end coal mining and to compensate poor countries for climate damage.
The United States, which has trumpeted its regained climate leadership at the summit, has not joined any pledges as the talks draw to a close.
"If the Biden administration wants to be serious about its promise to demonstrate US climate leadership, it must first clean up its own back yard," said Steven Feit, senior attorney at the Center for International Environmental Law.
18-year-old Swedish climate activist Greta Thunberg spoke on Nov. 8 at the rally of 100,000 in Glasgow organized by Fridays for Future, an international movement of students which grew out of her climate strike outside the Swedish parliament that began in 2018.
It is not a secret that COP26 is a failure. It should be obvious that we cannot solve a crisis with the same methods that got us into it in the first place. And more and more people are starting to realize this. Many are starting to ask themselves, "What will it take for the people in power to wake up?"
But let's be clear: They are already awake. They know exactly what they are doing. They know exactly what priceless values they are sacrificing to maintain business as usual. The leaders are not doing nothing; they are actively creating loopholes and shaping frameworks to benefit themselves and to continue profiting from this destructive system. This is an active choice by the leaders to continue to let the exploitation of people and nature and the destruction of present and future living conditions to take place.
The COP has turned into a PR event where leaders are giving beautiful speeches and announcing fancy commitments and targets, while behind the curtains the governments of the Global North countries are still refusing to take any drastic climate action. It seems like their main goal is to continue to fight for the status quo.
This is not a conference. This is now a Global North greenwash festival, a two-week-long celebration of business as usual and blah, blah, blah. The most affected people in the most affected areas still remain unheard, and the voices of future generations are drowning in their greenwash and empty words and promises. But the facts do not lie, and we know that our emperors are naked."
And the climate and ecological crisis, of course, doesn't exist in a vacuum. It is directly tied to other crises and injustices that date back to colonialism and beyond, crises based on the idea that some people are worth more than others, and therefore had the right to steal others — to exploit others and to steal their land and resources. And it is very naive of us to think that we could solve this crisis without addressing the root cause of it.
Others commented about failed conclusions despite potential.
Dr. Sarah Marie Jordaan Assistant professor, School of Advanced International Studies & Environmental Health and Engineering, Johns Hopkins University
"Present pledges are known not to be on track towards meeting the Paris goals of 1.5 to 2.0 degrees Celsius. This type of pledge can contribute on the order of 0.25 degrees Celsius by 2030—and more if methane emissions are cut by 50 percent. The global methane pledge does fall short of this at 30 percent, so we know that the contribution will be less. But I do want to emphasize that technology goals, such as renewable portfolio standards, and such technology goals as we're talking about here, can actually be exceeded."
Dr. Michael Oppenheimer Director, Center for Policy Research on Energy and the Environment, Princeton University 
"The pledges that countries have made so far are nowhere near enough to avoid one-and-a-half degrees of warming. And if we're to judge by actually how much has started to be implemented by the major emitter countries, you're even further behind."
Many youth activists and those from some of the most vulnerable countries took a bleaker view, however. Vanessa Nakate, a climate activist from Uganda, said: "Even if leaders stuck to the promises they have made here in Glasgow, it would not prevent the destruction of communities like mine. Right now, at 1.2C of global warming, drought and flooding are killing people in Uganda. Only immediate, drastic emissions cuts will give us hope of safety, and world leaders have failed to rise to the moment."
She said the scale of the climate movement was increasing:
"People are joining our movement. 100,000 people from all different backgrounds came to the streets in Glasgow during Cop and the pressure for change is building."
Rachel Kennerley, climate campaigner at Friends of the Earth, criticised the UK government as host nation of the talks.
"The road to 1.5C just got harder when these talks should have cleared the way to making it a whole lot easier. The UK government cunningly curated announcements throughout this fortnight so that it seemed rapid progress was being made. Here we are though, and the Glasgow get-out clause means that leaders failed to phase out fossil fuels and the richest countries won't pay historic climate debt."
Summary of the Pact
The Glasgow Climate Pact is incremental progress and not the breakthrough moment needed to curb the worst impacts of climate change.
The final text notes that the current national climate plans, nationally determined contributions (NDCs) in the jargon, are far from what is needed for 1.5°C. It also requests that countries come back next year with new updated plans.
The Pact also states that the use of unabated coal should be phased down and not a "phase out" of coal, as should subsidies for fossil fuels. The wording is weak, according to every environmentalist quoted in the international media.
 Rich countries continued to ignore their historical responsibility
While developing countries have called for funding to pay for "loss and damage", such as the costs of the impacts of cyclones and sea level rise. Small island states and climate-vulnerable countries say the historical emissions of the major polluters have caused these impacts and therefore funding is needed.
Big capitalist countries led by the US and EU, have refused to take any liability for these loss and damages, and vetoed the creation of a new "Glasgow Loss and Damage Facility", a way of supporting vulnerable nations, despite it being called for by most countries.
Loopholes in carbon market rules undermine progress
By throwing a lifeline to the fossil fuel industry, allowing them to claim "carbon offsets" and carry-on business as (nearly) usual. (I guess the 700 representatives of the fossil fuel industry in Glasgow got what they wanted-mf)
Thank climate activists for the progress
It is clear that wealthy, powerful countries are moving too slowly and they have made a political decision to not support a major change in both greenhouse gas emissions and funding to help income-poor countries to adapt to climate change and leapfrog the fossil fuel age.
But they are being pushed hard by their populations and particularly climate campaigners. Indeed, we saw huge protests with both the youth Fridays for Future march and the Saturday Global Day of Action massively exceeding expected numbers.
Mark Friedman