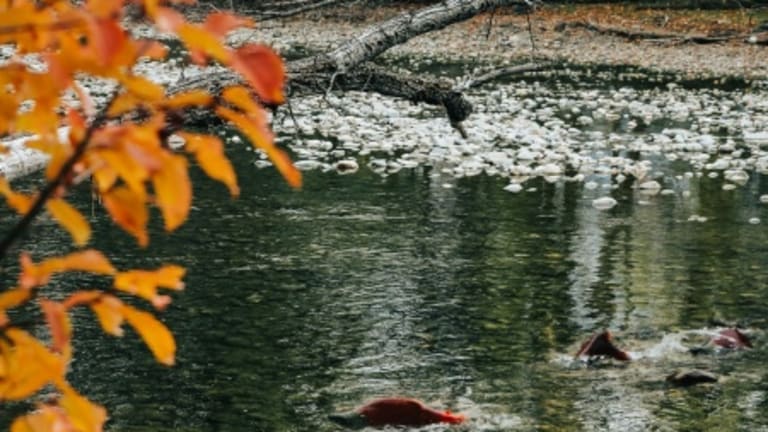 Heal Salmon Nation: Local Solutions, Collective Crises
April Short: Morton and the healer network will focus on opening up and calling in more people. "We're really looking for people to bring their gifts to the table."
As the planetary climate crisis worsens, mass industrialized food systems fray and the social upheaval of racist and outmoded systems shatters preconceived notions about how our society sustains itself, it is more necessary than ever for local economies to become self-regenerative and community-oriented.
In the bioregion that stretches from Northern California to the North Slope of Alaska, known by many Indigenous groups as "Salmon Nation," there is an upswell of creative solutions to heal many of the problems facing humanity today.
In British Columbia, a solar-powered, regenerative chicken farming system could help to pave the way for a new standard for raising poultry worldwide. In California and Oregon, generations of Indigenous-led activism has pushed forward a historic deal between the two state governments to remove a series of dams along the Klamath River.
Morton and the healer network will focus on opening up and calling in more people. "We're really looking for people to bring their gifts to the table."
In Portland, Oregon, and throughout the Pacific Northwest, BIPOC (Black, Indigenous, and People of Color) farmers are working to localize grain production and honor Indigenous food heritages. Throughout the region, scientists, activists and Indigenous leaders have gathered in an effort to end engineered fish farms, which have had detrimental environmental consequences.
Traditional healers from a range of backgrounds and lineages across the Salmon Nation region have also joined hands to address mental health, trauma and socio-political disconnect.
Organizers from these and many other breakthrough projects were among the presenters for a free online event called The Festival of What Works, which took place in November. The event was livestreamed via Facebook complete with a keynote address, workshops, film screenings, musical performances and panel discussions.
The Festival of What Works was hosted by a newly launched eco-trust network that has adopted the name Salmon Nation. The organization seeks to connect, amplify, and fund people and projects in the Pacific Northwest that are already doing transformative work to bring economic and social resilience in their communities and are working to heal relationships with the planet and between individuals.
Ian Gill, documentary filmmaker, former director of Ecotrust Canada and a co-creator of Salmon Nation, says that when faced with the realities of the human-caused climate disaster, food system issues, economic realities and social disparities—many of which have been exacerbated by the COVID-19 pandemic—the founders of Salmon Nation decided to focus on what is working.
They created the Festival of What Works as a way to zero in on practical, replicable healing concepts as well as launch the Salmon Nation eco-trust publicly. They now plan to hold the festival annually, adds Gill.
Cheryl Chen, partner/bricolage for Salmon Nation, says Salmon Nation's creators see it as an "innovation ecosystem."
"It's about creating a platform for stories that flow, and a synergistic way to create a movement to turn the corner on climate change, and alter the trajectory humanity is on."
Chen has worked for years with NGO foundations and says she is impassioned about the Salmon Nation project's aim to accelerate existing, grassroots initiatives, rather than take a more hierarchical or top-down approach to help communities.
"I like that Salmon Nation is not coming in to save these communities or telling them what they need; instead, it's asking how we can empower communities to say and do what works [for them]," she says. "The idea is to have this decentralized uprising, [which is] led by local grassroots people, to change our bioregion. Many people are already doing the needed work, and it's just a matter of connecting [these] people. A lot of what Salmon Nation aims to do is to create cross-pollination between communities."
One example Chen gives of an initiative Salmon Nation aims to support is the growing movement to localize grain production.
"There used to be 20,000 flour mills in the country, now there are just 20, and they're completely centralized, commoditized and industrialized," she says. "What we're doing with massive industrial systems like that is harming the Earth. It's not supporting farmers adequately, it's creating flour that's actually toxic and leads to celiac disease due to the pesticides used to grow the wheat… Many of the systems we have now are just really extractive in each step of the way, and what we're trying to do is create, regenerate, and keep value in place."
Small, regional grain farms and flour mills, she says, are a radical way of rethinking the food supply chains that could challenge the current unsustainable models. And Indigenous groups, as well as independent farmers, have already started to create regional grain farms and flour mills in the Pacific Northwest. Chen says two strong examples of this are the Cairnspring Mills in Washington and Hillside Grain mill in Idaho.
"They're [Cairnspring Mills and Hillside Grain] taking non-commodity grains that are meant to grow in each region, specific to the region's climate, and working directly with farmers to make sure they get a fair price," she says. "And they're managing the land in sustainable, equitable ways."
In the current food supply chain, a crop that is grown in one area often gets packed and shipped across the continent, or overseas. To be profitable, that system requires massive crop yields and quick crop turnarounds—which means Big Ag style monocrop farming, chemical fertilizers and pesticides, all of which threatens biodiversity and comes with direct environmental costs such as deforestation, water pollution, and soil that is stripped of its natural carbon sequestering capabilities.
The constant packaging and shipping of agricultural goods more than thousands of miles also lead to significant environmental costs. This model, which is the basis for most of the industrialized world's current food systems, is costly and it is wreaking havoc on the environment. This system is also notorious for its inhumane labor practices, and in just 50-or-so years, the agricultural takeover by giant food conglomerates has forced the majority of America's small family farmers out of business.
"The idea of localizing supply chains, shipping grain from one part of Washington to a mill in another part of the same state, for example, has huge potential," Chen says. "And Salmon Nation asks, how do we blueprint that and create 20 of those local systems, up and down the bioregion, and share lessons learned, what works, resources and knowhow, to accelerate regenerative development across the bioregion?"
Salmon Nation is funded as a public benefit LLC, and the organization is funded by investors and grants and has raised $2 million to expand its efforts in the coming year.
"We are currently mostly grant-funded but we also have investors who are not your typical investors," Chen says. "They invest in the Salmon Nation Trust with no expectations of monetary return but instead expectations of 'return' in the form of the public benefit impact we would create in the bioregion.
Moreover, these 'investors' defer to the Salmon Nation trustees to determine if we are, indeed, making progress on public benefit impact. This shifts traditional business/corporate power dynamics from individuals with high financial capital toward the people who have high trust across the bioregion, built over a lifetime of work and service."
The organization also has a board of trustees that includes:
It also includes educators and artists like Stone Gossard, a founding member of the band Pearl Jam and Thomas Purce, who served as president of Evergreen State College for 15 years. Also on the board are well-known politicians, business owners and entrepreneurs and activists—including three-term Oregon governor John Kitzhaber, co-founder of Newman's Own Organics, Nell Newman, and Spencer Biddle Beebe, founder of Ecotrust and co-founder of Conservation International, among others.
Behind the conception of Salmon Nation is a network of people who are already pioneers in community-led innovation, which the organization calls the "raven network." The so-dubbed ravens include the activists, artists, Indigenous leaders and entrepreneurs behind projects stretching across the region.
Donna Morton, one of Salmon Nation's ravens, is a sustainability-focused entrepreneur and healer based in British Columbia. She is co-founder of Change Finance and has decades of experience in sustainability work, economic policy, social justice and human rights related innovation.
She also helped to conceive a healer network within the Salmon Nation organization, which brings healers from a range of backgrounds together to share wisdom and support one another. She says at this time in history, trauma is a common theme for many people, and there is a need for healing to become a core value built into organizations and woven through the fabrics of society.
"[With this recent election], it's very clear that what America needs, maybe more than anything else, is an effort to help people heal across divides, from the pain of the last four years," she says. "And everyone needs healing. Yes, communities of color, BIPOC communities, have gone through abject hell the last four years, fearing for their lives and their children, [with reports of children] put into cages [under Trump's administration]—there are countless examples of how much people have been harmed [during this period].
And I would argue that the people perpetrating the harm—the people so wound up in their fear and their expressions of hate and racism—those people need healing, too. That kind of hatred is a signal of trauma. It needs to be healed… There is so much collective trauma that now we all need to be healers."
Morton, who has 35 years of background in activism and entrepreneurship, says she came to realize there was a need for her to bring her own healing to the center of her work, and from there came the idea of building a peer network of healers.
Within Salmon Network exists a network of healers from Alaska to California, all with different backgrounds.
"Some are Indigenous healers, some are gay or nonbinary, men, women—all together, taking responsibility for holding each other in doing our healing work," she says. "[In Salmon Nation] we've been doing these healing calls since April, and I'm seeing it ripple out in some subtle ways in the organization.
As individuals, I'm noticing less anxiety, [as] more of us are meditating, more of us are invested in our own and each other's self-care practices… it's becoming part of the culture… It's like the thing people say in textbooks about how work happens at the speed of trust—it's very real, and trust is deeply enhanced by healing together, by showing up vulnerably and authentically.
That's transformational. That's how we heal from this pandemic while healing our relationships, [and] healing the fabric of our communities."
Morton says from its inception, Salmon Nation has held healing and community healers as central to any potential solutions to humanity's many current crises.
"If we move from I heal to we heal, we also get to see that She heals, She, the world, heals," she says. "That's really the center of my work and my take on why healing is at the center of the work for a lot of us in Salmon Nation."
Several of the events at the Festival of What Works were focused on healing, and brought healers from various backgrounds together to discuss their practices. Among the festival's keynote speakers was Rako Fabionar, who works as a consultant, facilitator, and healer with a background working in community and cultural studies, equity issues and community-based organizations. He says the idea behind his keynote address was that humanity is in the midst of a global rite of passage.
"The idea is that something is dying and emerging and blooming, simultaneously within us, and also in our society and our world and our systems," he says. "We're compelled to figure out how to tend and abide by that which is dying, emerging and blooming within us, and also outside of ourselves."
He says at the root of many of the challenges facing humanity today, including ecological challenges and mass species extinctions is the common ideology that focuses on a sense of individualism and separation from our own bodies, each other and nature. This, he says, is the shadow side of the modern cultural worldview. This dominant perspective focused on separateness, Fabionar says, creates a mindset that positions us to racialize each other or see each other as inferior.
"It also divides us apart, [so] that we become much easier to use as a resource or to exploit, or to harm," he adds. "A sense of separation from Earth and nature follows. The Earth, so to speak, including our own bodies, becomes something that is distant and it becomes much easier to see that as an object, and then to see that as something that could be manipulated or exploited or extracted. This has been going on for a while… and there's trauma due to that separation and that sense of alienation."
Fabionar says to heal from this trauma we will need to deepen community, connection and true intimacy.
"It starts with community, but it also starts with our relationship to ourselves, the intimacy we have with our own bodies, and learning to be still," he says. "We're so good, in our modern culture, of doing things and solving things… [During] this COVID time, while there is more stillness and we are limited in the things we can do, [and there are] lesser distractions—perhaps we are learning to reevaluate what's important to us, and to actually go through a lot of the things that our bodies have been holding in terms of trauma and feelings and uncertainties."
As we become more in tune and intimate with our own bodies, he says, we can become more intimate within our communities.
"And I mean intimate in a broader sense, not sexual intimacy—but the more that we're able to connect within communities and become intimate and vulnerable, the more things can unwind from our bodies and can be healed, as they're witnessed and integrated. And that provides spaciousness for new ways of being. A good deal of these visionary experiments, like the Salmon Nation, is coming from a spaciousness, from folks who have done some healing work."
Morton says in 2021 Salmon Nation and the healer network will focus on opening up and calling in more people, projects, "from Alaska to California and Crest of the Rockies to the Pacific Ocean."
"Everyone who feels in some way in love with [Salmon Nation], inspired by this place and committed to bringing their lives to making this place more. That's really what we're looking for, for people to bring their gifts to the table and become part of what could be."
April Short
Independent Media Institute
This article was produced by Local Peace Economy, a project of the Independent Media Institute.