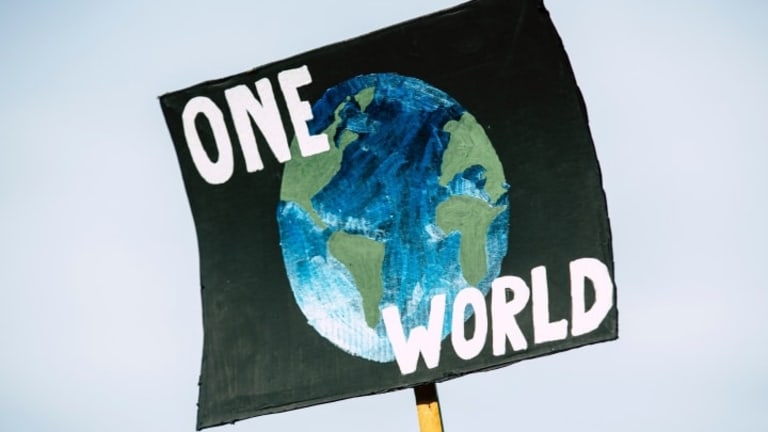 Hickenlooper's Climate Record Could Be Liability in Senate Bid
Judith Mernit Lewis: Hickenlooper, unlike Romanoff, does not support the Green New Deal resolution proposed in Congress, saying it could 'distract' from the real work of getting to zero emissions by 2050.
John Hickenlooper, the former governor of Colorado and erstwhile presidential candidate, once drank from a glass of fracking fluid, a chemical brew that helps in the extraction of trapped natural gas. The drink had been passed to him by an industry executive who also partook, in a meeting that "was almost ritual-like," Hickenlooper told then-Sen. Al Franken in a Senate hearing. Franken asked if this signaled a "pact" or some occult practice. Hickenlooper said no.
"It was a demonstration," he said, to prove that the company "had invested billions of dollars to create what is really a benign fluid in every sense."
Hickenlooper, unlike Romanoff, does not support the Green New Deal resolution proposed in Congress, saying it could 'distract' from the real work of getting to zero emissions by 2050.
That was in 2013, when fracking's fortunes were riding high on the strength of the Obama administration's touting of abundant natural gas as a "bridge fuel" to cleaner energy. Seven years later, with the shale revolution sputtering, leaving behind poisoned groundwater wells and sickened communities, that bridge looks more like a dead end. Researchers have found that leaks of natural gas, whose primary component is methane, have been heating the planet more intensely in the short term than that Big Kahuna of greenhouse gases, carbon dioxide.
Hickenlooper has since changed the story of his fracking fluid caper. Last summer, he told Energy & Environment News that he only sipped from the collective cup to earn the trust of oil and gas executives before subjecting them to tough regulations. "I don't see how anyone can say I was friendly to the industry because I didn't do anything except cost them money," Hickenlooper told E&E News reporter Maxine Joselow.
What also changed was Hickenlooper's competition. When Joselow talked to Hickenlooper that July, he was still battling progressives in the Democratic presidential primary, most of whom had signed a pledge not to take contributions over $200 from executives, lobbyists or PACs tied to the fossil-fuel industry. (Hickenlooper has not.) One month later, he dropped out of the presidential contest to run for U.S. Senate instead. In a general matchup against Republican incumbent Sen. Cory Gardner, he'd be almost sure to win: The latest poll shows Hickenlooper ahead by 18 points. But before he can face off against Gardner, he's got to win the Democratic primary against Andrew Romanoff, a candidate so beloved by climate groups that the youth-led Sunrise Movement has named him a "champion."
"Climate is one of the issues where Romanoff has really tried to distinguish himself," says Corina McKendry, director of the State of the Rockies project at Colorado College in Colorado Springs. Hickenlooper, on the other hand, "has been trying to deprioritize that issue and really focus on his electability."
That strong suit of Hickenlooper's — that voters already know and respect him — may have been tarnished by what the Denver Postcalled "a politically driven and mostly inaccurate ethics complaint," having to do with who paid for his trips while he was governor (according to the Post, he did). But his moderate politics have always served him well in the purplish Centennial State, and the Democratic Senatorial Campaign Committee has thrown its considerable weight to his side. "There's a widespread belief that Hickenlooper will win," McKendry says. "I would guess Hickenlooper thinks he'll win." Then again, "anything can happen at this political moment."
The Colorado Democratic Senate primary, barely more than a blip on the national political radar, might be the most reliable bellwether of where voters in the Western states stand on climate. In the State of the Rockies project's annual poll, 70 percent of Colorado respondents said they consider rising temperatures "a serious problem." Eighty-one percent said that "issues involving clean water, clean air, wildlife and public lands" matter when they vote. Even Republicans express concern about the heat-induced changes to rivers and forests they observe close to home. "The partisan divide is not as stark as you might imagine from all the language that comes out of Washington," McKendry says.
The Yale-and-Harvard-educated Romanoff, a 53-year-old mental-health advocate who served eight years in the Colorado legislature in the early 2000s, has staked out positions to the left of Hickenlooper on every issue, from health care to police reform to racial injustice. But it's on climate that the contrast is most stark. Hickenlooper worked as a petroleum geologist until 1988; while governor, he angered environmentalists when his administration sued the city of Longmont, Colorado, over its local fracking ban. Joe Salazar, a former state House representative who now leads an anti-fracking coalition called Colorado Rising, once threatened to strip $200,000 from Hickenlooper's governor's mansion fund if Hickenlooper "didn't shut the hell up" about an amendment Salazar authored allowing residents to sue over fracking-related earthquakes. "Our battles were pretty epic," Salazar says.
Nor does Hickenlooper support, as Romanoff does, the Green New Deal resolution proposed in Congress. During his presidential campaign, he earned the ire of no less than New York progressive Rep. Alexandria Ocasio-Cortez for saying the proposal could "distract" from the real work of getting to zero emissions by 2050. "We've got to have a concentrated, focused, integrated, comprehensive program to address climate change," he said in a debate last week. He'd just prefer that it didn't "cost an arm and a leg."
Hickenlooper's campaign didn't respond to requests to comment for this story. Romanoff, on the other hand, will talk to just about anybody. He holds twice-weekly virtual town halls, debates libertarians on AM talk radio, and once schooled a right-wing podcaster mom not to refer to other humans as "illegals." He'd even go on Hannity if the show's producers asked him, which they haven't. One reason for his near-constant availability, he says, "is that I'm obviously outspent in this race." (Hickenlooper has raised slightly more than $3.5 million for his campaign; Romanoff's has roughly $2.2 million on hand.)
Another reason is to hold forth about the climate crisis, a topic he appears to relish. "I raise it in every conversation, every house party, every interview," Romanoff says. He is not put off by questions about how he'd find the money to pay for the necessary overhaul of the energy and transportation sectors. "When you're facing mass unemployment, putting people back to work building clean energy infrastructure seems like an even better idea than it did before," he says. "I've been describing this as a New Deal moment. Instead of a Civilian Conservation Corps, you could create a Climate Conservation Corps. Because even if for some reason you didn't care about, oh, I don't know, the survival of life on earth, you might care about jobs."
You also might care right now about racism and economic inequality and police reform and when for God's sake to expect a vaccine: In 2020, there is just so much to worry about. "Before the pandemic we were talking about the climate crisis and health care," Romanoff says. "The epidemic has crowded out most of those conversations."
[dc]Mc[/dc]Kendry thinks that might not matter: Disease and inequality and global warming are all social justice issues that disproportionately affect black and brown people, and typically the same people who care about police brutality also care about the environment. If "increased awareness by white people of racial injustice can also help mobilize around climate," she says, "then we can really get things done."
Judith Mernit Lewis
Capital & Main