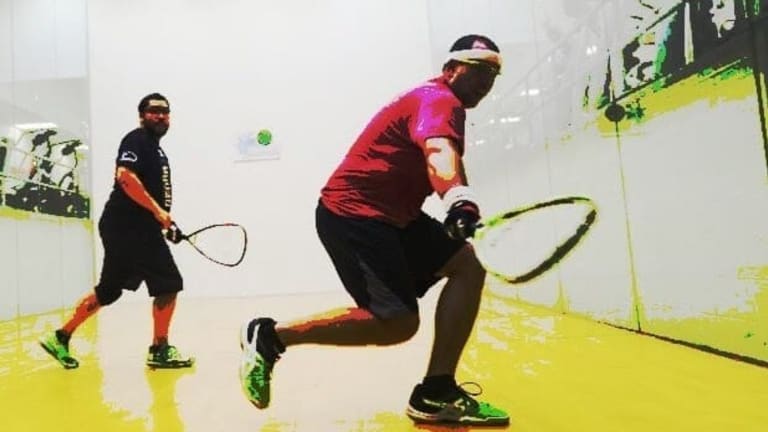 My Reverse Double Pinch
Dave Price: If he could have mixed it up with an occasional lob or dink shot, maybe a backhand pinch or two, he would have been unstoppable.
A betting man would have made a killing putting his money on me in the eight years of racquetball games I played with Bobby, my friend and neighbor. Whatever the latest sports betting in the US line might have been, I was the sure thing.
No later than 6:30 in the morning every Monday and Thursday for all those eight years, you would find us at the public racquetball courts near the strand in one of the beach towns south of Los Angeles. Whichever one of us arrived first would fill the meter with an hour's worth of quarters, trying to reserve the court closest to the beach, with its recently refinished floor.
I don't have my calculator handy—okay, I no longer carry a calculator—but that works out to roughly 800 mornings that we would play over those eight years. Sure, occasionally, I would have to attend an out-of-town editorial board meeting or go on a family vacation, and sometimes Bobby would call me up late at night to cancel because his diabetes was acting up. Other than that, it was like a religion for us and we were its most pious acolytes.
Holding Center Court
A big man, Bobby had been a standout basketball player in his youth, in high school and, for a couple of years, at a mid-sized college in the Midwest. Like his idol, Shaquille O'Neill, Bobby's strategy was to dominate the center of the court, controlling the play by making me dance from one side to the other around his large body to retrieve his lightening-bolt shots. His was a power game—one low, hard drive after another, first to one side of the court and then to the other. He liked to dress in all black, socks, too—I guess to intimidate me.
If he could have mixed it up with an occasional lob or dink shot, maybe a backhand pinch or two, he would have been unstoppable.
If he could have mixed it up with an occasional lob or dink shot, maybe a backhand pinch or two, he would have been unstoppable. But his size and strength had gone to his head, I think, and all he could do is hit that poor rubber ball with all his considerable might every chance he got. And as he inevitably fell behind in the score with that obstinate strategy, he kept hitting the ball harder and harder, so that by the third game he was wobbly, dripping in sweat, too pooped to reach any of my returns that didn't come right to him.
I was plenty big enough myself, but I had 30 pounds and five years on Bobby, and so was much quicker and nimbler. Early on, I had figured out how to gauge where Bobby was going to hit the next shot and, since he was sure to hit a hard drive, could swiftly position myself to make my return. With a William Hill promo code, I could have contested him for center court, but that would have played into his hands, I was afraid.
I had also played a million hours of sandlot baseball as kid and so had developed a level of hand-eye coordination that surprised even me. In racquetball, that meant I could hit backhands and forehands with equal ease; loft lobs right into the back corner next to the side wall time after time; manage Z shots that hit one side wall high up, then the front wall, and then the other side wall, giving the ball a devilish spin; and roll out shots that didn't even have names.
Most mornings, we would contest the first two games. Bobby's power game really was a force to behold when he was fresh and at full strength, so he would usually win one of the first two games—by a couple of points, sometimes more. But invariably—I mean nearly all 800 of the mornings—I would win the third game in a walk, with Bobby clasping a thigh or walking in circles as if injured while he caught his breath.
But winning may not have been the most important thing for either of us—though now that he has passed, I do wish I had let Bobby win at least a few morning sessions. Bobby's diabetes was advanced, so if he wasn't playing racquetball with me, he was down running on the strand or over in the gym lifting weights, both of which he hated. For me, I had a sedentary job as a magazine editor and, as I passed 40 and my metabolism had slowed, I had started putting on more weight than I ever could have imagined. The racquetball and occasional noontime runs kept that weight gain reasonably in check.
We might have kept playing, too. But life moved on. Bobby had trouble at work—he was pretty tight-lipped about just what it was and I didn't press—and my marriage had fallen apart, which meant I had to find a cheap apartment several more critical miles away from the racquetball courts. The extra hours he needed to put into work and the more precious early morning minutes I would have had to spend driving to the courts and then to work in Orange County quickly got to be too much for us. Plus, single again, I had lost my focus.
The Last Morning
But I do recall rather fondly the last morning we played. We had agreed to give the games a rest for a few months—but I think we both knew this part of our life was done. Just something you know without knowing how you know it.
Because it was our last game together for awhile—and ultimately forever, of course—Bobby put everything he had into that third game, mustering up energy I don't imagine he even knew he had. Tied one game apiece, he had drawn within a point of me at 11-10 in the third game and could see victory finally, unbelievably, in his grasp. Rocking back and forth in the center of the court to make sure I couldn't somehow dislodge him, he drove a forehand return shot along the left-hand wall with everything his big body could give—he called that shot the "Big Swoosh."
But I was on it, ready to pounce—2,400 hundred games, remember, with thousands and thousands of shots behind us. With uncommon accuracy—and grace, if I might be so bold—I took a little off a backhand shot right into the front left corner, where it hit first the front wall and then the side wall almost simultaneously, a reverse double pinch worthy of an instruction manual. The ball took three short hops before Bobby could dive for it and the game was over, 12-10.
After he lumbered to his feet, Bobby and I smiled at each other, touched racquets, muttered something about how we'd pick it up again, walked out to the parking lot, and left that part of our lives behind.
Dave Price
Sponsored