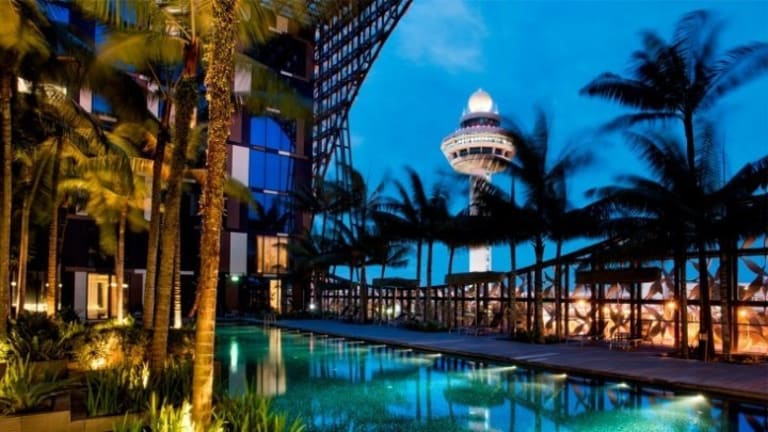 Is It Possible for Casinos to Be Environmentally Friendly?
Cliff Gill: What can land-based casinos do in California to become more eco-friendly and are there any casinos in the state that are making an effort to be more green?
Choosing Eco Friendly Casinos to Play At
Land-based casinos in California are predominantly associated with flashing neon lights, floodlit fountains, and glamourous hotels. However, due to the ever-growing concerns over the environment, this $30 billion casino industry is making significant changes to reduce its overall carbon footprint.
For a typical California-based casino to operate at full steam, it needs to use an extraordinary amount of electricity to power its slot machines, music, flashing lights, restaurants, security, entertainment, and bars to mention but a few. Because most land-based casinos in California operate around the clock, it would be ideal to transform these casinos into an eco-friendly environment. However, how does a land-based casino transform into an eco-friendly venue?
Eco-Friendly Casinos in California
What can land-based casinos do in California to become more eco-friendly and are there any casinos in the state that are making an effort to be more green?
The gambling culture in California is continuously expanding as more and more land-based casinos are opening across the Golden State. It's therefore no surprise that casino enthusiasts are constantly searching for greener casinos to reduce their own carbon footprint as well. However, what exactly needs to be improved in a land-based casino for the venue to be more eco-friendly towards its players? The most common areas that can be improved in a land-based casino are:
Construction
Materials
Eco Lightning
Heating
Construction: The first step that casinos can take when it comes to creating a more eco-friendly venue is to use modern building methods that can maintain aesthetic qualities. Windows and doors will determine the cooling and heating systems a casino will need, and therefore the strategic placing of these is a primary consideration.
Materials: Embedding natural materials throughout the building is a fantastic way to use recycled marble, slate, and timber. Casinos can also generate energy by utilizing solar energy with the use of solar panels. Casinos can also add a recycled water system that will collect water from bathrooms and kitchens and guide it through a tank that will filter the water to remove any bad organisms. Land-based casinos can even look at eco-friendly furniture that has been constructed from recycled materials. This can include roulette wheels, poker tables, and lounge seating.
Eco Lighting: One of the best ways to significantly reduce energy usage in a land-based casino is by looking at eco lighting options. These days, most venues that use an enormous amount of energy are making use of the energy-efficient and cost effective LED lighting options. The initial layout of the lights is obviously much higher than the standard lighting. However, the installation of LED lights last up to five-times longer, light distribution is better so less light is needed, and last but not least, they use much less energy which makes up for the long term. Therefore, LED lighting practically pays for itself over time.
Heating: All upmarket casinos in California require substantial boiler rooms and heating systems to generate the necessary heat to make guests feel at home. The generated heat is used to either operate emergency generators, heat water, or warm the venue. If the excess heat in the casino venue is collected and channeled to give power to the generator, there's no doubt that electricity can be created to be used elsewhere. This will then save the electricity that is usually taken from the grid.
If all current and future land-based casinos in California can follow these methods to turn into an eco-friendly entertainment venue, it will have a huge effect on the overall environment and its carbon footprint. A fantastic example of how casinos can further improve on their carbon footprint is to learn from Building Green, a phenomenal documentary that inspires viewers to learn how easy it is to go green.
Online Casinos - An Eco Friendly Solution with Better Odds
Before continuing with how land-based gambling establishments are changing for the better, it's worth noting that quality online casinos are popping up everywhere, and for good reason. They are the most eco friendly of them all. With minimal staff, economical hosting solutions and entertainment available anytime, anywhere - it's no wonder so many are preferring to play on their mobile devices or laptops. Due to the lower running costs, online casino sites are also often able to offer much better odds on their slots for instance which means patrons can win more money.
Eco-Friendly Resorts and Hotels in California
Having said that, when you want true luxury treatment, it's wise to choose the right gambling haven. Although not every land-based casino in California is breaking ground to become more eco-friendly, there are a handful of resorts that are leading the way to ensure their carbon footprint is significantly reduced. Whether it's a matter of finding new ways to reuse and recycle, or installing new eco lights, the gambling scene in California is slowly tackling the biggest threat to our planet. The land-based casinos that are making a change, include:
MGM Resorts
Mandalay Bay Resorts
Caesars Entertainment
MGM Resorts: In 2018, MGM Resorts announced that the company plans to eliminate all take-out cutlery, packaging, and plastic straws across its franchise. This basically means that the franchise will eliminate around 470,000 take-out boxes and 860,000 straws every single year to hopefully lessen the strain and damage on the planet.
Mandalay Bay Resorts: This venue is world-renowned as one of the frontrunners when it comes to taking an eco-friendly approach. Whether it's sorting out waste by recycling on-site or saving on food waste and using locally sourced ingredients in the kitchen, this franchise takes their pledge for an eco-friendly approach quite seriously. The resort also donates its linen that is no longer up to par for guest to the Nevada Society for the Prevention of Cruelty to Animals and they even deactivate heating in specific areas at specific times.
Caesars Entertainment: This world-class corporation has been working with a non-profit organization called Clean the World since 2010 and managed to donate more than 2,3 million bars of soap to over 100 different countries. When a guest does not finish the toiletries, the corporation sends it to a place where it's needed more. They also boast of an efficient waste program that involves educating staff members so that the waste is sorted properly. In 2010, Caesars Entertainment won the prestigious Environmental Leader Award thanks to their forward-thinking efforts to become an eco-friendly venue, not only in California but across the globe.
The one aspect that people and organizations are starting to care about more and more with each passing day is the environment. Once the people in California can see that others can take care of the environment, it will encourage players in the state to use less energy in the process and will see them flock to gambling venues that are more inclined to a greener future.