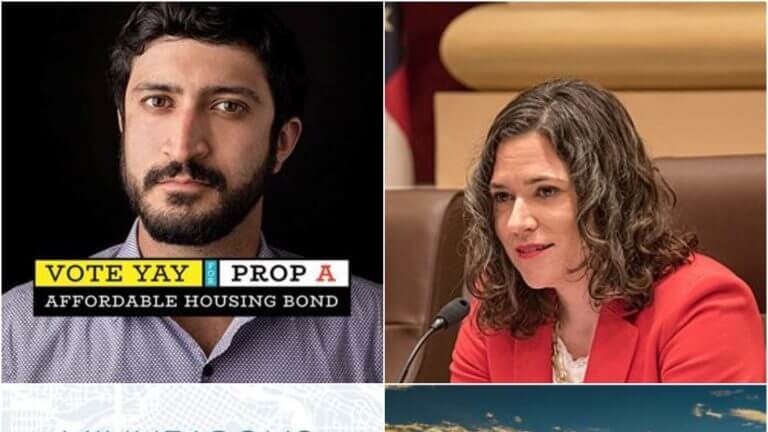 Special Report: 2018 Housing Year in Review
Randy Shaw: It is always worth remembering that most renters in the United States suffer from the federal government's failure to provide rental assistance.
2018 marked a positive turning point for America's response to its worsening housing and homelessness crisis. This shift signifies new opportunities for housing progress in 2019.
Why did the media and elected officials pay more attention to housing and homelessness this year? The short answer: inaction has caused homelessness to worsen and rising housing costs have priced out the working and middle-class from the nation's progressive cities
This year-end review assesses the progress on housing in 2018 and the prospects for 2019.
National Progress
It is always worth remembering that most renters in the United States suffer from the federal government's failure to provide rental assistance.
It is always worth remembering that most renters in the United States suffer from the federal government's failure to provide rental assistance. 75% of eligible households get no aid, which explains widespread homelessness and the lack of safe and affordable housing for millions of very low-income Americans.
President Trump's proposed HUD budget for 2018-19 sought to make this crisis worse. With Republicans controlling Congress, activists feared the worst.
But thanks to the advocacy of the National Low Income Housing Coalition (NLIHC) and their coalition partners, the unexpected occurred. The HUD budget approved for 2018-19 actually increased by 10%.
Now with strongly pro-housing Speaker Nancy Pelosi and Democrats controlling the House, a major HUD funding boost for 2019-20 is possible. It will require a lot of organizing and mobilizing but winning major federal affordable housing funding hikes was not easy even under recent Democratic Presidents. The political terrain has shifted as the housing crisis hits the middle class.
The other big news on the national front saw Senators Cory Booker, Kamala Harris and Elizabeth Warren propose major housing funding bills. Considering all three are considering presidential runs, their seizing upon housing as a signature issue confirms that housing affordability is now seen as a major election issue.
Big Local Housing Wins
2018 was the year of the YIMBY (Yes in My Backyard). Or if you feel that term is too constraining, 2018 was the year of the grassroots pro-housing activist.
For the first time ever, primarily anti-apartment boomer homeowners were no longer the only voice heard at local land use hearings. While those attending continued to be whiter and wealthier than the neighborhoods and cities they claim to represent, millennials offered alternative pro-housing perspectives missing for decades.
The recent elections highlighted how homeowner power is strongest in undemocratic forums and weakest among the broader electorate. For example, after Austin went through such a bitter fight over increasing housing density that the pro-density mayor felt obligated to pull the plug, the city's electorate favored the mayor over his anti-density neighborhood activist opponent by over 40%.
Austin voters also defeated a ballot that would have subjected any zoning change increasing density to a public vote and offered key backing to pro-housing Council candidates that prevailed in the recent Austin runoffs. After years of divisive battles, Austin's City Council now has a pro-housing majority
Voters in 2018 clearly wanted action on housing and homelessness. Austin passed a $250 million affordable housing bond, Portland's metro area passed one for $650 million, and San Francisco voted to double its annual spending on homelessness (a $300 million annual hike). San Francisco's Prop C campaign drew national attention when Salesforce and its leader, Marc Benioff, donated millions of dollars to a campaign that would raise the company's taxes. Benioff soon challenged other tech leaders to contribute to solving homelessness, repositioning tech as a potentially key ally in the battle to increase housing affordability.
Accompanying this story are two photos from Minneapolis because the city ended 2018 by passing the first land use plan eliminating exclusionary, racist and elitist single-family home zoning. Minneapolis sent a powerful message to other cities, and Twitter is still ablaze with activists urging their own cities to hurry up and follow Minneapolis' lead.
Portland may be the next major city to open single family home neighborhoods to apartments. It's Residential Infill Project will not be voted upon until next summer, but is likely to pass.
Seattle's innovative HALA program was delayed for almost all of 2018 by a legal challenge, costing the city 800 affordable units. The measure was upheld in November. Now Seattle is set to pass its Mandatory Housing Affordability (MHA) law in March. The MHA will increase density and affordability though Seattle but leaves many single family zoned neighborhoods still allowed to ban apartments (To its credit, Seattle has upzoned several other neighborhoods and is the urban leader for building new housing).
In my new book, Generation Priced Out: Who Gets to Live in the New Urban America, I describe the winning formula for expanding housing in progressive cities: grassroots activist groups aligned with pro-housing political leadership. In 2018 we saw this in the Minneapolis victory as well as those in other cities.
In 2015 there were fewer grassroots groups across the nation challenging single-family home zoning than there were in Minneapolis alone in 2018. That shows the momentum achieved in the past year (A tweet from Minneapolis' Janne Flistrand of @neighborsformoreneighbors included such activist groups as @MakeHomesHappen @MSPyimby @WedgeLIVE @MetroStability).
Local Pro-housing Elected Leaders
Pro-housing activism is still outpacing the number of local electeds willing to challenge powerful homeowner groups over exclusionary zoning. Three officials I highlight in my book continue their progress through 2018.
I first learned of Minneapolis City Council President Lisa Bender when her support for a new apartment building in her majority renter district led opponents to attack her at a public hearing for what they termed, "Benderfication." But Bender showed that her support for new apartments was more in touch with the people of Minneapolis.
She easily won re-election after running an avowedly pro-housing campaign. She then rose to become the powerful City Council President. Bender, who once worked for the San Francisco Planning Department, ended the year leading the historic breakthrough against single family zoning citywide. She also brought inclusionary housing to Minneapolis, addressing the affordability side of the housing crisis.
Bender had quite a year!
Austin Councilmember Gregorio Casar also had a big 2018. Told he was politically naive when he initially proposed a $300 million affordable housing bond–critics said Austin voters would never pass such a high amount– Casar was not deterred. He assembled a Council majority behind a $250 million measure, and it won in a landslide in November. Casar also played a key role in the winning Council campaigns by pro-housing candidates and in defeating the measure to make increasing density more difficult.
New York City Councilmember Margaret Chin has done something rare in urban America: she has battled to build affordable housing in a very wealthy neighborhood (NOLITA, just east of SOHO). My book tells the story of Chin's willingness to risk her political career to get senior housing built against powerful neighborhood opposition.
In 2018 the project (Haven Green) continued to make progress. Habitat for Humanity, New York City is among the developers of Haven Green. Its deeply affordable 123 units for LGBT-friendly seniors would seem to be just what truly progressive New York City residents would endorse—but boomer homeowners in the wealthy neighborhood, though solid Democrats, continue to oppose it
Los Angeles in 2018 was marked by an urban contradiction: voters approved a $1.2 billion measure in 2016 to house homeless persons but residents than opposed any projects in their own neighborhoods. The good news is that by year's end five new shelters were approved, including in "progressive" Venice.
Los Angeles' experience should be noted by San Francisco and other cities that have won new funding for shelters and affordable housing: voters will pass citywide funding measures and then oppose implementation. In Los Angeles it took a combination of public pressure from Mayor Garcetti and strong support from local Councilmembers like Mike Bonin to get projects approved; mayors and local officials will likely have to do the same to get homeless housing and shelters built in under-served neighborhoods in other cities.
State Housing Progress
2018 also saw progress at the state level.
Oregon voters passed a critical state initiative (Prop 102) that makes it a lot easier for nonprofit housing groups to build affordable housing. Oregon's Speaker of the House Tina Kotek also announced she was drafting legislation to ban single-family home zoning in cities of 10,000 people or more. That would complement Portland's Residential Infill Projectscheduled to be voted upon next summer.
California elected a new Governor, Gavin Newsom, who campaigned on building 3, 500,000 new homes. It's a dramatic shift after eight years of a governor (Jerry Brown) who never cared about affordable housing. Newsom sounds like a virtual YIMBY. He is eager to make his mark as the Governor who finally made a meaningful impact on California's housing and homelessness crisis.
In early December California also saw the introduction of the most far sweeping rezoning bill in United States history: SB 50, sponsored by several legislators including the Bay Area's Nancy Skinner, Scott Wiener, and Buffy Wicks. Like Minneapolis's action building momentum for other cities, SB 50 could become a national model for states to challenge the exclusionary, elitist and often racist single-family home zoning that excludes a new generation of working and middle-class residents from "progressive" cities.
The AIDS Healthcare Foundation has been the most vocal opponent of SB 50. The notoriously anti-development group is targeting its longtime adversary, Scott Wiener, for a bill it claims promotes gentrification and displacement.
But banning new apartments from single-family home neighborhoods does not stop or slow gentrification. To the contrary, these bans promote the pricing out of the working and middle-class. Nobody claiming to be "progressive" should defend elitist, exclusionary and gentrifying-causing apartment bans; such bans favor the wealthy at tenants' expense.
If stopping apartments in homeowner neighborhoods slowed gentrification, then all the affluent homeowner neighborhoods in Los Angeles, San Francisco and other cities would be affordable. Instead, all may as well have signs posted saying "only wealthy newcomers allowed." Sharply rising housing prices in neighborhoods where little to no development has occurred in the past three decades says it all.
SB 50 directly attacks the elitist, racist, exclusionary features of single-family home and low-density zoning. That's why it is steadily gaining support.
And while the AIDS Healthcare Foundation wants to make SB 50 all about Wiener, the fact is that co-sponsor Nancy Skinner has a much longer history backing tenants than the group's leader, Michael Weinstein. I worked with Skinner on a winning tenant ballot measure in 1978 and she has a four decade history of support for tenants.
Nancy Skinner has never backed legislation causing gentrification or displacement. And SB 50 is no exception.
SB 50 alone will not "solve" California's affordability crisis. But requiring cities to allow new apartments where only mansions currently can be built is a step in the right direction.
And with driving the key cause of California falling behind its targets to reduce greenhouse gas emissions, the state must promote infill housing. Something is very wrong when 120,000 people are now driving from Sacramento to the Bay Area each day to get to their jobs.
I wish I could cite more positive housing news from the states but I learned in writing my book how often state laws preempt cities from enacting vital measures to protect tenants and rental housing. While there is much more activism around local and national housing policies, pro-housing groups need to set their sights on statehouses as well.
If housing is to be a key issue in the battle for the 2020 Democratic presidential nomination, activists must build upon 2018's momentum next year. There is much work at the national, state and local level to be done, and my sense is that activists are ready to rumble.
Randy Shaw
BeyondChron