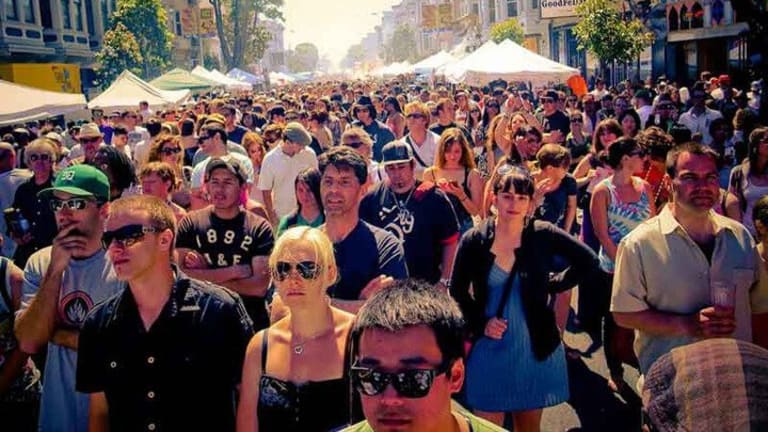 What Keeps Cities Affordable?
Randy Shaw: In the 1970's people began restoring rundown Victorians and Brownstones not because they suddenly read Jane Jacobs, but rather because the times brought a recognition of the virtues of preserving historic structures.
I've recently written how Jane Jacobs's 1961 Death and Life of Great American Cities promoted a vision for urban neighborhoods that made them more desirable. Some even blame Jacobs for cities becoming too desirable, associating her with the widespread gentrification of longtime working-class neighborhoods. As San Francisco nonprofit housing activist Peter Cohen stated in a letter to Beyond Chron, "the gentrification of American cities in the name of smart growth and new urbanism and place-making and all those dreamy theories has been as much a disaster as it has been a revival for those places."
I don't think Cohen really means that Jacobs' theories caused as much displacement as occurred when expressways displaced over 10,000 Bronx residents and thousands more in other parts of New York City. Nor are Jacobs' critics suggesting that demolishing successful neighborhoods and replacing them with highrise housing towers was a good thing.
In the 1970's people began restoring rundown Victorians and Brownstones not because they suddenly read Jane Jacobs, but rather because the times brought a recognition of the virtues of preserving historic structures.
Instead, Jacobs critics are wrongly blaming her support for historic preservation, mixed-retail and residential uses, and the virtues of city living for the upscale transformation of communities that would have happened had her classic book never been written. In the 1970's people began restoring rundown Victorians and Brownstones not because they suddenly read Jane Jacobs, but rather because the times brought a recognition of the virtues of preserving historic structures. That some speculated on these renovated properties, and sold these long rented housing units to the highest bidder, was never a process Jane Jacobs encouraged or endorsed.
Starting in the 1970's San Francisco saw this occur throughout the Haight-Ashbury, Noe Valley, the Castro and other neighborhoods, and the pattern has occurred throughout urban America ever since. And there was little cities could do about it.
Cities can't legally restrict single family home appreciation, so there was no way to stop the gentrification of heavy homeowner neighborhoods. While marketing campaigns urging young professionals to move back to the city into "borderline" neighborhoods expedited gentrification, the desirability of these historic homes made their occupancy by affluent owners inevitable.
San Francisco in the 1960's and 70's saw firsthand the alternative to Jane Jacobs' belief in upgrading old buildings—-that's when thousands of historic structures in SOMA and the Western Addition were demolished. Had they survived, Jacobs' critics would now be blaming her for their becoming upscale dwellings.
Rent Control and Nonprofit Ownership
The two strategies essential for keeping cities affordable —-rent control and nonprofit ownership—have both proven successful when allowed to operate. But state preemption bars local rent control in gentrifying cities like Seattle and Portland, and state law bars San Francisco and other California cities from either commercial rent control or limiting rent increases on vacant apartments.
The realtors' enactment of statewide vacancy control preemption is the chief cause of San Francisco's housing crisis. Neither Jane Jacobs nor the promotion of a "new urbanism" by SPUR and other groups had anything to do with rising housing costs in San Francisco/
We often forget how rent control and just cause eviction laws effectively protect tens of thousands of San Franciscans. We forget because rents on vacant units become wrongly associated with the overall market. That's why it's so vital for voters to pass the five rent control measures on the ballot in Bay Area cities this November.
We also forget about rent control's success because San Francisco cannot stop outrageous evictions under the state Ellis Act. That's why it's so vital for the city to renew efforts in Sacramento to enact Ellis Act reform next year.
Nonprofit housing also maintains urban affordability. But the federal government's slashing of nonprofit housing funding since Reagan's 1981 budget has limited the scope of nonprofit ownership. While San Francisco and New York City have the local dollars to continue nonprofit construction and acquisition, most cities have not. That leaves vulnerable neighborhoods left to the whims of the private market.
I describe in The Tenderloin: Sex, Crime and Resistance in the Heart of San Francisco how the Tenderloin helped stop gentrification by aggressive nonprofit acquisition. Well over 30% of the housing stock is off the speculative market. The combination of rent control and nonprofit control of property has allowed the Tenderloin to buck San Francisco eviction trends and its rents overall remain the city's lowest.
Opposing Market Rate Housing
For Cohen and other San Francisco progressives, new market rate housing is the 21st century equivalent of the low-income housing destroying expressways Jacobs fought. They see Jacobs as providing a falsely "progressive" vision for such housing, which is part of their critique that she allegedly failed to recognize class and race issues.
Originally, San Francisco progressives pushed for inclusionary affordable housing units to reduce what they saw as the negative impact of new market rate housing. But while some see the city's increasing of affordability requirements to 25% in that light, others have turned inclusionary requirements into a strategy to make market rate housing financially infeasible.
Jane Jacobs understood how new housing done the wrong way could hurt neighborhoods. After defeating highrise housing nearby, she and her West Village allies spent years on developing new housing units that fit the scale of the surrounding neighborhood. But this didn't stop the gentrification of the West Village. Jacobs' critics might blame the alternative housing plan for making the community more desirable, and hence more attractive to affluent residents.
Gentrification came to Noe Valley, the Castro and Haight-Ashbury without virtually any new market rate housing. The same is true for the gentrification process for most San Francisco neighborhoods, many of which—like North Beach, the Inner Richmond, the Inner Sunset, and Upper Fillmore—have seen few new housing units built.
The Mission was also gentrified west of Valencia to Dolores without any new market rate construction. SOMA's gentrification was entirely caused by new market rate housing and office developments, but that was set in motion by the San Francisco Redevelopment Agency.
Anyone who thinks Jane Jacobs promoted gentrification needs to reread her classic book. Jacobs promoted economically diverse neighborhoods, and those claiming otherwise misrepresent her work.
For more on Jacobs, don't miss Peter Laurence, author of the acclaimed Becoming Jane Jacobs, at a SPUR panel on Jane Jacobs and the Digital City on September 27 at 6pm.
Randy Shaw
Beyond Chron