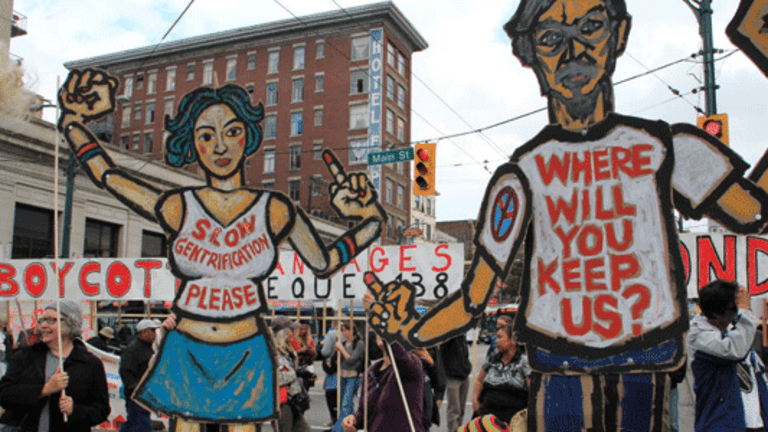 Want to Increase Homelessness? GOP Plans New Affordable Housing Cuts
Randy Shaw: House Republicans are planning to again play Scrooge. In this case, it means turning their backs on the housing needs of millions of ill-housed and homeless
As we enter the holiday season, House Republicans are planning to again play Scrooge. In this case, it means turning their backs on the housing needs of millions of ill-housed and homeless Americans. It's bad enough that federal housing assistance is provided to only 25% of eligible households, but unless House Republicans agree to a budget plan by December 13 (which is deemed very unlikely) another 125,000-185,000 families will lose housing vouchers. If you wonder why cities across the nation are seeing rising homelessness, these ongoing federal cuts are the answer.
Barbara Sard, a longtime housing policy expert with the Center for Budget and Policy Priorities, haswritten a piece for Rooflines that describes the impact of these imminent cuts on low-income families. Her article is another reminder that from 1949 until the Reagan Presidency, it was the federal government that had primary responsibility for ensuring safe and affordable housing for all Americans. 
Today, the traditional media plays a game of make-believe about homelessness.
The media makes believe that cities can provide safe and code compliant public housing without anywhere near the per unit budget used for private apartments. It ignores the federal government's broken funding promises and castigates local officials for the problems of public housing tenants. In the media's fantasy world, when an elevator breaks down it's not the fault of House Republicans for not providing basic funding, it's the fault of the local mayor. 
Conservative interests spent three decades seeking to undermine federal support for public housing. They won. They have also blocked new funding to reduce homelessness since Obama took office.
I argue in my new book, The Activist's Handbook, Second Edition: Winning Social Change in the 21st Century, that there remains strong public support for efforts to reduce homelessness. A broad social movement to increase affordable housing funding by the federal government can still emerge.
But every year the gap grows between the number of households eligible for federal housing assistance and those actually receiving benefits. The challenge gets steeper, and the upcoming cuts Sard describes makes this imbalance even worse.
Randy Shaw
Beyond Chron
Wednesday, 20 November 2013