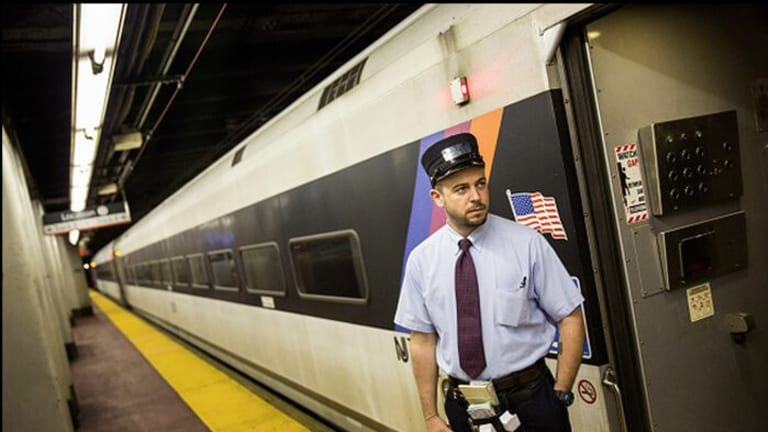 Austerity and the Amtrak Crash
Within hours of the deadly Amtrak crash in Philadelphia, the US House of Representatives voted, in committee, to slash another $252 million from Amtrak's budget - a 15% slash from last year's funding for Amtrak. This "austerity" craze is insanity. Amtrak set another record for ridership increase in 2014, and an all-time high record for tracks in the Northeast Corridor where last night's accident happened.
As Sen. Sharrod Brown of Ohio observed, "From the 1940s through the 70s, into the '80s, America had the best infrastructure in the world. Not so, now."
Brown went on to recount what we know: a disgraceful neglect, in some cases abandonment, of upkeep, maintenance, renewal and replacement of everything from Amtrak's rails to bridges and waterways and public utilities.
Amtrak is a perennial easy target. Unlike the airlines, whose massive federal subsidies are layered throughout the federal budget in funding for everything from the FAA to the National Weather Service, Amtrak gets one, single allocation.
The problem may have a single source, but it's loaded with frustrations and ironies. For example, Amtrak's trains are capable of much higher speeds. But the track isn't. Whether it's the portion of the system owned by Amtrak or the vast majority of track that's owned by freight railroads and that Amtrak trains pay to use, it's the track that prevents Amtrak from giving us high-speed rail passenger service.
There's a tunnel between Washington, D.C. and Baltimore that dates from the 1850s. Curves were built in that era, for the maximum speeds of that time.
Infrastructure. It's a series of ticking time bombs, and they go off at different times. In January 2013, a federal commission warned that the Northeast Corridor needs billions of dollars in repairs and upgrades to both tracks and equipment - including roadbed, realignments and superelevation of curved tracks, overhead electrical catenary that powers the trains, various essential lineside systems, and more, that in multiple places are more than 100 years old. We'll refer back to that as we proceed.
Maintenance is essential to safety. A major cut by Congress - the same Congress that mandates Amtrak's level of service - will inescapably impact maintenance.
Modern engineering and realignment could do away with all the slow speed restrictions. But Congress steadfastly refuses to pay for it, or even to pay to properly maintain and renew ties and rails on the ancient, existing alignments.
Amtrak is arguably the best-run company in America, always finding a way to upgrade or replace the ancient equipment they inherited, while maintaining a unionized work force and keeping the emphasis on customer service.
It's not the same Amtrak it was when it was created in 1971 to relieve the freight railroads of their crushingly unprofitable passenger trains. Amtrak is arguably the best-run company in America, always finding a way to upgrade or replace the ancient equipment they inherited, while maintaining a unionized work force and keeping the emphasis on customer service. A few years back, they even won an award for the best, most user-friendly website.
Huge growth followed the September 11th attacks because many travelers switched from airplanes to Amtrak trains. The federal advisory commission said that by 2011, 75% of all travelers using rail or the airlines between Washington and New York were riding Amtrak - compared with just 37% in 2001.
That would imply that Congress has made investments in Amtrak that are commensurate with that growth. Wrong. Amtrak has been forced to invest increased ridership revenues in a juggling act between adding new cars to accommodate more passengers, making needed upgrades to the tracks themselves in the Northeast Corridor which Amtrak owns, and meeting demands for increased payments to freight railroads whose tracks Amtrak uses everywhere else it runs.
Freight trains are heavy, and beat tracks to death. So the freight railroads, in effect, tell Amtrak, "If you want tracks that give your passengers a smooth ride, you're going to pay for them." Thus, whether in the Northeast Corridor or anywhere else, it's all about investing in infrastructure. And Congress isn't, and hasn't been, doing it.
Sen. Brown said, "When I speak before a Chamber of Commerce, they want to know when we are going to commit to fixing all this. It isn't just the jobs now, it's the lasting jobs in the pipeline of all the infrastructure work that's needed, and will be needed for a long time, and the modern replacements of the old and obsolete... I just don't understand how the House could take the attitude in today's vote, just after this terrible accident."
Well, Senator Brown, we know how they can have that attitude. Austerity is caused by a philosophy that the rich should:
pay little or no taxes.
derive tax-free profits when they manipulate markets.
use money (theirs or old ladies' pension funds) to make money.
make bonuses by gambling - because their losses are taxpayer-guaranteed (their losses to THEMSELVES, not to the old ladies' pension funds, or to you, or to me).
pass along all their wealth, intact, to create idle-rich (and usually arrogant) entitled heirs.
fund voter suppression, because the unwashed masses are too inferior to tell THEM what to do.
fund specific candidates to levels that would make Midas blush, to create a new Gilded Age of bought-and-paid-for politicians to protect their "rights," privileges, and class.
limit funding for public education, because why should their rich, dumb kid work for your smart, poor kid?
complain about "wealth envy" and "class warfare" if anyone questions any of the above.
A deadly derailment in Philadelphia. Where 120 firefighters and 200 police officers had to respond, impacting that city's budget with unplanned expenses. Plus the thorough - and expensive - federal NTSB investigation to follow. Because some politicians want to starve public spending, including infrastructure investment, to give their rich patrons a free ride.
So it isn't just the rotting highway bridges and potholes on the neglected interstates and the resultant truck wrecks, automobile pileups, and broken axles, and public safety and emergency response and hospital trauma unit budgets. When a train derails, it impacts a much larger area. Cars in freight trains carrying hazardous materials can get involved - we're lucky this time, in that regard, since railway chemical tank cars were just beyond the point where the derailing train stopped careening across the landscape. And, as we are seeing today, local transit agencies' commuter trains can't run or earn needed and expected revenues from riders who can't ride, and more economic dislocations occur when freight commodities can't get to market on time.
Florida oranges and orange juice and fresh produce from the South won't get to New York or Boston until the tracks are reopened to traffic. And that's only one aspect.
The Northeast Corridor, between Washington and Boston, is the nation's busiest, and the portion between D.C. and New York alone carries 750,000 passengers per day.
Financial losses for Amtrak right now are $100 million per day in ridership revenues alone with the corridor out of service, plus emergency response costs and the bonuses that must be paid qualified contractors to restore the wrecked line with no advance notice.
Financial losses for Amtrak right now are $100 million per day in ridership revenues alone with the corridor out of service, plus emergency response costs and the bonuses that must be paid qualified contractors to restore the wrecked line with no advance notice. And there will be some amount of residual lost ridership revenue, because that always follows any dislocation or fatal accident.
Financial impacts reach across society. In addition to tied-up freight trains aboard which fresh produce will rot, there are passenger-related losses in the private sector. These include unquantifiable business costs because marketing and sales trips are delayed or cancelled, deals are not made, and important meetings can't be held because necessary people can't get there.
Back to that federal study by the Northeast Corridor advisory commission. It declared in its January 2013 report that the 81-mile stretch between Philadelphia and Newark - which includes the site of Tuesday's derailment - "suffers from aging electrical infrastructure that is highly susceptible to failure."
The commission called for $52 billion in improvements over 20 years to the corridor alone. More investment is needed on the popular Los Angeles-San Diego corridor, on the Sacramento-Bay Area corridor, on the Seattle-Portland corridor, and on dozens of other rail routes between proximate cities. The latter includes plenty of city pairs still awaiting the reestablishment of long-lost rail passenger service - like Columbus-Cleveland and Columbus-Cincinnatti in Sen. Brown's Ohio. (There is the intransigence of Ohio's austerity-advocating Gov. John Kasich blocking those, too, after they were set to go before he took office.)
Whether in the Northeast Corridor or California's Pacific Southwest Corridor, the point is the same. We can pay to eliminate the problem by upgrading our transportation infrastructure, or we can pay to react to the problem of habitual negligence each time it manifests inthe another disaster.
Was this derailment, in fact, caused by faulty infrastructure? Granted, we don't yet know, but the recent past suggests it is likely. And it requires a follow-up question: Would modern realignment have reduced or eliminated the 100+ year-old curve in Philadelphia on which the Amtrak train derailed? Certainly.
So how many more preventable tragedies and failures and collapses do we need before we demand that everyone pay a fair share on ALL their income, on ALL their wealth, with no "privileges" for rich deadbeats, so we can employ Americans to fix things that are so obviously, so urgently broken, and re-establish ourselves as the nation with the best infrastructure in the world?
Larry Wines