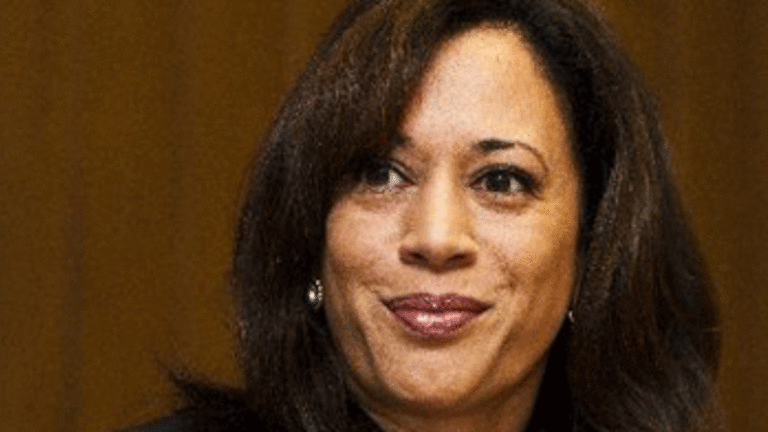 California AG Kamala Harris Standing Firm Against Foreclosure Settlement
Sharon Kyle: Kamala Harris standing firm on decision to reject bank settlement that could garner the state $15 billion but would release bank liability.
On October 1, 2011, the Wall Street Journal reported, "California Attorney General Kamala D. Harris pulled out of settlement negotiations with the nation's biggest banks over alleged foreclosure abuses, calling the proposed deal 'inadequate for California homeowners.'" This came after months of talks.
Then last week, the banks sweetened the deal for California but. A.G. Harris took a stand no other state attorney general has taken. According to David Dayen of FireDogLake.com, she rejected a guaranteed 60% of the foreclosure deal. In other words, California's A.G. turned down $15 billion to settle with the banks. This was a deal no other state was offered. She has conceded that her unwillingness to accept the deal, as offered, may prolong the foreclosure crisis for some, but in the long run she maintains that a better deal would benefit Californians affected by the crisis.
Harris told the Los Angeles Times that she removed herself from talks involving a coalition of state attorneys general and federal agencies investigating abusive foreclosure practices because the nation's five largest mortgage servicers were not offering California homeowners relief commensurate to what people in the state had suffered. Harris has made it clear that she believes the deal on the table is "inadequate." As a key player in the coalition to settle with the banks, Kamala Harris' firm stand comes as a blow to her fellow attorneys-general but progressives view her decision positively, touting it as one that was made in the best interest of the people.
The settlement, as it stands today, would release Bank of America, JPMorgan Chase., Citigroup, Wells Fargo, and Ally Financial from liability as it relates to the harm resulting from the way their mortgages were constructed or originated.
In an email blasted to large segments of the California progressive community, long-time progressive activist Kwazi Nkrumah voiced support for Harris' stand, maintaining that Harris must stay the course and negotiate for a deal that compensates the victims. Said Nkrumah,
"We want to encourage her to remain strong and to do the right thing for all Californians. The State has been one of the hardest hit during the housing/foreclosure crisis. The crimes that the financial institutions have committed are massive and we want to make sure that our A.G. remains a leader in the fight against the abuses of those who created the crisis. First, we are demanding a moratorium on all foreclosures; second we want banks to be held accountable for what they created; and thirdly, we want the system to be corrected, to include those who are underwater in their mortgages by no fault of their own."
Nkrumah, who is also active in Occupy the Hood where foreclosures have been a core issue, says we should "demand compensations to the millions of victims," maintaining that if we do nothing, the crisis will only continue to hurt families. There will be a rally on Friday, February 3, 2012 at 10:00 am at 300 South Spring Street, Los Angeles, CA to show support for Ms. Harris. Click here for rally information.
Note that although Harris has maintained that she will not agree to the settlement, it is reported that she has until February 3 -- this Friday -- to make that her final decision, giving the supporters of this move more of a reason to contact the A.G.'s office and urge her to continue to stand firm.
President Obama, in his most recent State of the Union address, emphasized the need for economic fairness and a sharing of the financial burden. In the video shown here, Rolling Stone contributing editor Matt Taibbi discussed the long-anticipated foreclosure settlement, calling it a "much better deal than anybody ever anticipated". Taibbi credits attorneys-general Kamala Harris of California and Eric Schneiderman of New York for forcing what a few months ago was the unthinkable -- the Wall Street bankers and mortgage lending industry, whose irresponsibility and greed wrecked so much havoc, may actually be held responsible.
Sharon Kyle
Publisher, LA Progressive