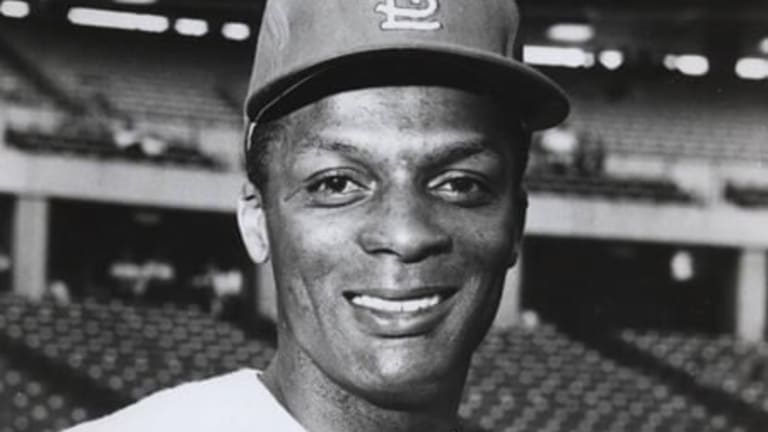 Curt Flood and "The Reserve Clause"
A few days ago a newspaper column in local market paper carried this headline: "Let's put away the drama and get back to sports." The point: media spend too much time covering off-the-field news stories. The writer, for one, vowed he would concentrate on covering the games.
The problem with that thinking is that sports aren't apart from society, they are a part of it. A good share of "sports drama" is socially relevant and consequential, especially when players, teams, and organized athletics take stands. Jackie Robinson crossed "the color line." Cassius Clay said 'No!" to military service. John Carlos and Tommie Smith protested publicly at the '68 Olympics. And Jim Brown (pro football great) and Kareem Abdul-Jabbar (pro basketball great) speak out regularly about social and political issues.
Another athlete who stands out in that regard is baseball's Curt Flood. Forty-five years ago Flood confronted Major League Baseball (MLB) about its employment policies. But peers did not join. The public was generally against him. And the action cost him his baseball career—a career with Hall of Fame numbers.
The action Flood took nearly a half-century ago led to the transformation of professional sports—all sports, not just baseball. The basic employment policy changed and, with it, the balance of power—from team owners to the players.
But the action Flood took nearly a half-century ago led to the transformation of professional sports—all sports, not just baseball. The basic employment policy changed and, with it, the balance of power—from team owners to the players.
Before Flood's action team owners "owned players." The Reserve Clause, as it was called, "bound a player to a single team…. The term of reserve was held to be essentially perpetual, so that a player had no freedom to change teams unless he was given his unconditional release."
In 1969 Flood challenged The Reserve Clause. He refused to be traded from the St. Louis Cardinals to the Philadelphia Phillies. It would have been a coup for the Phillies. Flood had stellar numbers with the Cardinals (1958-69). He was a 3-time NL All-Star, 7-time Golden Glove winner, and hit over .300 six times (.293 overall) with the team. The Cardinals were at two-time World Series winner during those years.
Flood didn't want to go to the Phillies, a struggling team that played in a rundown Connie Mack Stadium. And Flood was wary of playing before fans with a reputation for abusing "colored players." So he protested to MLB Commissioner Bowie Kuhn, requesting the right to consult about his future. Flood told Kuhn: "After 12 years in the major leagues I do not feel that I am a piece of property to be bought and sold irrespective of my wishes" and that he felt he had "a right to consider offers from other clubs before making any decision."
Flood said that he felt like a slave. When legendary sportscaster, Howard Cosell, asked Flood how someone earning nearly $100,000 a year (a top salary at the time) could feel like a slave, Flood said: "A well-paid slave is nonetheless a slave."
Kuhn rejected the request and Flood subsequently sued MLB though the MLB Players' Association. In the suit Flood contended that The Reserve Clause violated the 13th Amendment, which barred slavery and involuntary servitude. The suited ended up at The Supreme Court, which found for the Plaintiff and against Flood.
Although MLB won that battle it eventually lost the war. Soon thereafter—in 1975 to be specific—arbitrator Peter Seitz found for the MLB Players' Association (and legendary labor leader, Marvin Miller) in another suit. It was an historic ruling that (in effect) granted "free agency" to pitchers Andy Messersmith and Dave McNally.
That decision not only paved the way for freedom to negotiate, it also escalated players' salaries because teams now had to compete for players' signings.
But Flood paid a supreme price—with his career. Even though the trade with Philadelphia went through, Flood sat out the season and never played for the team. In 1971 the Phillies traded Flood to the Senators. Flood signed and played, but he had only 35 at-bats in 13 games that year, hitting .200. His career was over.
After retiring from the game Flood wrote a memoir, The Way It Is, and served in a variety of positions and roles—some in baseball and others outside—never achieving success or fame he had found on the field. He struggled financially, going bankrupt
at one point. He died young (of cancer) at age 59 in 1997.
Flood's legacy is not without continuing controversy. Alvin Reid, writing recently in the St. Louis American, expressed surprise that Flood was elected into the Cardinals' Hall of Fame. "There are still some old-school feelings among Cardinals fans," Reid wrote. "I thought it would be many years before Flood was elected to the team's Hall of Fame. I'm glad I was wrong."
MLB will honor Flood on July 25 at Cooperstown at a Hall of Fame (HOF) ceremony led by Tony Clark, the current head of the MLB Players' Association. Clark will focus on Flood's challenge of MLB's Reserve Clause, not on his baseball career.
Flood isn't in baseball's HOF—and the odds are he'll never be admitted—even though he had a qualifying career in the minds of some. Year after year he never received enough votes to qualify for entrance.
Curt Flood paid a personal price for being an activist and doing what he thought was right. And while what he accomplished on the field may be forgotten over time, he'll never be forgotten will be what he did off it—and all the drama that went with it.
To that point, Flood once expressed glibly the inordinate connection between sports and society. "Baseball," he said, "is socially relevant. And so was my rebellion against it."
Frank Fear
An earlier version of this article was published in The Sports Column.