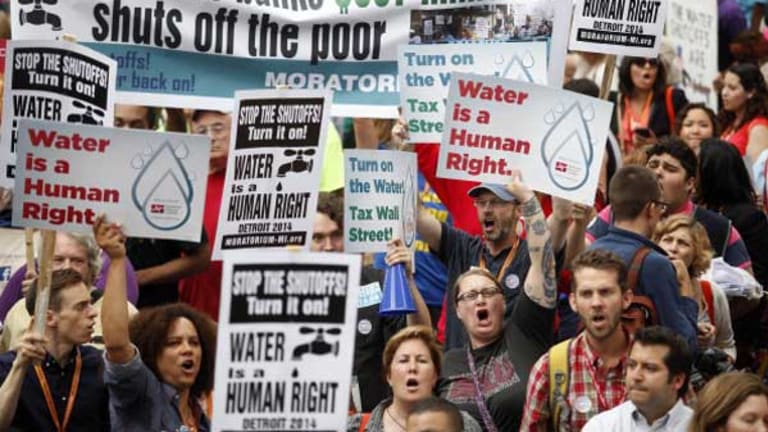 Detroit Activists Talk about Water Crisis
Dan Bluemel: In the past decade, Detroit residents have seen their water bills increase 119 percent, further stressing a poor population in a bankrupt city.
Two Detroit-based activists spoke in Los Angeles this week about fighting their city's decision to shut off water and sewer services to poor residents past due on their bills, warning that what can happen in Detroit can happen elsewhere, even Los Angeles.
"If you don't control the spigot as a public right, they can turn it off whenever they want," said AtPeace Makita, the creative director for the Detroit Water Brigade.
Makita, joined by fellow Brigade member, Justin Wedes, painted the portrait of a city in crisis, suffering from bankruptcy, the highest unemployment of the 50 largest cities in the U.S. and now, no water. Makita said she has been personally affected by the city's plans. She had her water shut off after she fell upon hard times.
"I, too, have suffered from having my water turned off," she said. "What really disturbed me at the time … if I had an AT&T or Verizon bill, I could call them and say, 'Hey, I need to make arrangements to keep my phone on,' and I could get that courtesy. But in Detroit you cannot get that courtesy when it comes to your utilities. The residents there are really having to make choices between survival needs and paying their water bill."
It has been projected that as many as 150,000 to 300,000 residents may have their water shut off — that, in a city with a population of less than 700,000. The Detroit Water and Sewage Department began shutting off water in March at a rate of 3,000 homes a week. Delinquent residents owe the DWSD around $90 million.
The city's actions have led to widespread criticism. The U.N. called the shutoffs an "affront to human rights." According to the U.N., a disconnection is permissible if a resident is able to pay their water bill but is choosing not to, otherwise it "constitutes a violation of the human right to water and other international human rights."
In the past decade, Detroit residents have seen their water bills increase 119 percent, further stressing a poor population in a bankrupt city. According to Wedes, 75 percent of DWSD's earnings go to banks to pay off debt.
"If you can't afford to pay your water bill, shutting off the water is not going to make you able to afford your water," he said.
Some have blamed the poor on Detroit's prevalence of past-due water bills, calling it a "culture of nonpayment." An editorial in The Washington Times argued the problem was the result of people's notions of "entitlement" and called those indebted to the DWSD "freeloaders" and "deadbeats."
Makita acknowledged that some residents may be choosing not to pay, but they are not the majority. Having one's water shut off in Detroit, she said, goes beyond the obvious surface discomforts.
"You lose your children," said Makita. "If they come shut off your water, I believe it's within 72 hours the state can come behind them and take your children, because it's considered an unsanitary environment. The other thing they can do is evict you and tag your home as condemnable. And if you have elderly or disabled individuals in the home, they become a ward of the state. [This issue] is more than just about money and water, and that's what we need people to understand."
Makita and Wedes spoke to a little more than a dozen activists. The event was held at a Denny's restaurant on July 27 and hosted by Occupy Fights Foreclosures and Occupy Venice. The Detroit Water Brigade is organizing to stop the shutoffs. Recently they had some success. On July 21, the DWSD began a 15-day moratorium on shutoffs.
The judge presiding over Detroit's bankruptcy case called on the DWSD "to work with community leaders to come up with a whole list of initiatives to resolve this problem," according to The Louisiana Weekly. The Detroit Water Brigade has also had support from Congressman John Conyers (D-Detroit).
The Detroit Water Brigade has two strategies to resolving the shutoffs, one immediate and the other long-term.
First, the group has been delivering water and rainwater catchment barrels, filters and such to those affected by the crisis. They are are asking the DWSD to settle their bills with payment plans and to forgive late fees. There is also talk of a national solidarity demonstration to keep pressure on the city to resolve the problem.
In the long term, they are advocating for the Water Affordability Plan, an act that was originally presented to City Hall a few years ago, but failed to gain traction. It would cap utility bills to 2.5 percent of a person's monthly income. They also have intentions of urban farming and sustainable communities that may be less dependent on city institutions.
"Next month we will be breaking ground on Detroit's first community land trust," said Wedes. "It's a huge deal. Community land trusts are one of the best weapons against gentrification. We are going to be launching a crowd funding campaign to build this sustainable residential-eco village within the heart of Detroit that we think can serve as a pilot to show the water department that we are not just complaining, that we actually have solutions to make water more accessible, affordable and economically sustainable."
***
Today, the Associated Press reported the DWSD would be placed back under the control of the mayor's office. The power shift was ordered by Kevyn Orr, the state-appointed emergency manager who was tasked to oversee the city's finances and operations while in bankruptcy. Orr's 18-month term ends this September.
Mayor Mike Duggan, who has been critical of the DWSD's actions, hopes to have a plan to deal with the department's past-due bills soon.
"I've heard complaints from many Detroiters who are trying to make payment arrangements, but who have faced long waits on the telephone or long lines at the DWSD offices," he said. "We've got to do a much better job of supporting those who are trying to do the right thing in making those payment arrangements."
Dan Bluemel
L.A. Activist