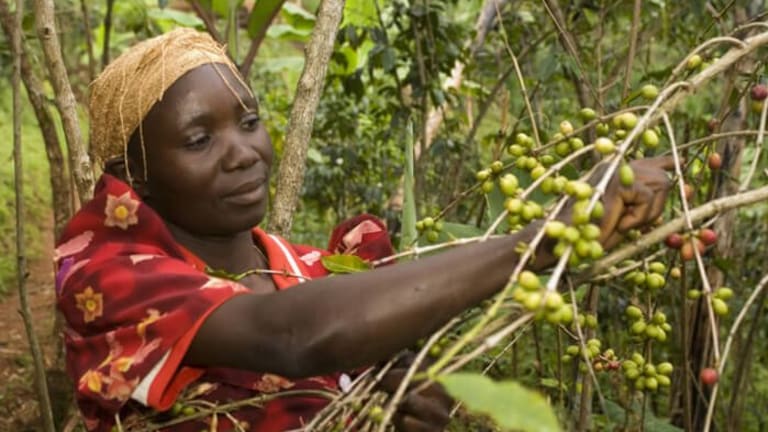 Fair-Minded People Should Support Fair Trade
Rosemary Jenkins: Of distinct importance about Fair Trade is that neither child nor slave labor can be utilized—something one would think would be a no-brainer.
Some years ago when I was studying in Costa Rica, I had the opportunity to visit a coffee plantation in the countryside there and was impressed with how well it cared for the workers (paying them a living wage and making sure there was shade, water, and breaks for them). It also took actions to conserve and improve the environment.
I learned that this is a plantation that partners with Starbucks (whose CEO is Howard Schultz) which has been prominent in its ongoing attempts to treat its own workers well (giving them opportunities to buy shares in the company, working around their school hours, making scholarships available, and offering opportunities for advancement). What is more, Schultz and others, such entrepreneurs as Bill Gates, Warren Buffet, and Tom Steyer, are in the lead in the pursuit of fair play and justice, prevailing up their colleagues to be more environmentally friendly in their practices, taking better care of their employees, and urging others to donate ample sums of their very large profits (as Starbucks does) to support various progressive causes and charitable organizations.
At about the time I went to Costa Rica, I was invited to a gathering where Fair Trade items were being sold. The hosts of the group were eager to share with those in attendance the background and history of the policy. I was grateful for my introduction into this project and have attempted ever since to buy Fair Trade if possible.
Since then, the concept has been growing and the supporters have been burgeoning. Many are asking their vendors to carry at least some products—from supermarkets, to mom-and-pop shops, to boutiques, to religious congregations which sell gifts and other items. Fair Trade products are not only foods but jewelry, art, religious items, and any number of other articles. Among the foods are chocolate, coffee, tea, rice, sugar, mangos, bananas (remember South Pacific's "mangoes and bananas you can pick right off a tree"), tomatoes, olive oil, nuts (especially almonds), and wine—oh, boy.
Several Fair Trade organizations have been founded. Through the Fair Trade Foundation, international standards have been created. Then there is also a National Fair Trade institute. Fair Trade LA was established with a small, but vibrant inter-religious board made up of Jews, Christians, and even an Atheist. Its goal is to increase the demand and availability of FT items. Thus, its outreach is to City bodies, schools and colleges, congregations of varying faiths (including that of Islam), and so forth, asking them to be part of FT policy and even to become certified. Goods must meet certain standards for the proprietors to become part of any of the FT organizations.
In fact, Loyola Marymount and Pomona Colleges and cities like Pasadena and Claremont are already FT. Starbucks UK has been completely FT for years.
Of distinct importance about Fair Trade is that neither child nor slave labor can be utilized—something one would think would be a no-brainer.
Of distinct importance about Fair Trade is that neither child nor slave labor can be utilized—something one would think would be a no-brainer. Furthermore, the agreements work on improving the environment with environmental sustainability policies, labelling GMOs, reducing harmful pesticides and toxins, maintaining the culture of the indigenous peoples, insisting on fair wages and prices, creating democratic national political practices, promoting gender equality, improving safety, supporting the creation of cooperatives whose founding principles are FT, and demanding that any child worker be able to attend school full-time.
Many communities and cities across the nation and the world as well as individual stores and chains have been or are completing the procedures necessary to be certified official Fair Trade cities or shops.
In pursuing the goal of supporting FT items, we must be careful to avoid patronizing places that make false claims of being certified Fair Trade (like those places that claim to be green buildings when they have not been LEED certified).
Certainly as the millennials are becoming more socially conscious, they and others are demanding socially responsible practices from the places they patronize. One motto is to "shop local, green, and fair." Many farmers' markets throughout the City and County promote their FT goods. What is more, becoming a Fair Trade City would be good for expanding our economy as more FT companies and customers would be drawn here because of that endorsed policy.
It is a fact that FT commerce has become the "fastest growing segment of the retail market." In addition, an FT seal placed on products increases sales by 10%. Certainly, such labelling would draw me to purchasing those items over those that do not have such markings. Actually, the numbers of customers are going up geometrically for those seeking out locations offering FT items for purchase.
Right here in Los Angeles is an enterprise, founded by Mennonites in Pennsylvania, called Ten Thousand Villages. It is run primarily by volunteers and offers only unique and often one-of-a-kind FT gifts and other items. It currently has shops in Pasadena and Redondo Beach. This is an example of the kind of place we should want to patronize and help to prosper as it becomes a role model for other such businesses.
We must educate ourselves about Fair Trade and become a part of the solution for fair treatment of the workers who produce the items we need, desire, and want and reward vendors through our patronage for helping to clean up the overall environment in which we live.
For additional information, please contact the following:
Ms. Joan Harper, Executive Director
FAIR TRADE LOS ANGELES
fairtradela.org
fairtradela@gmail.com
fairtradecampaigns.org/campaign/los-angeles-ca
Rosemary Jenkins