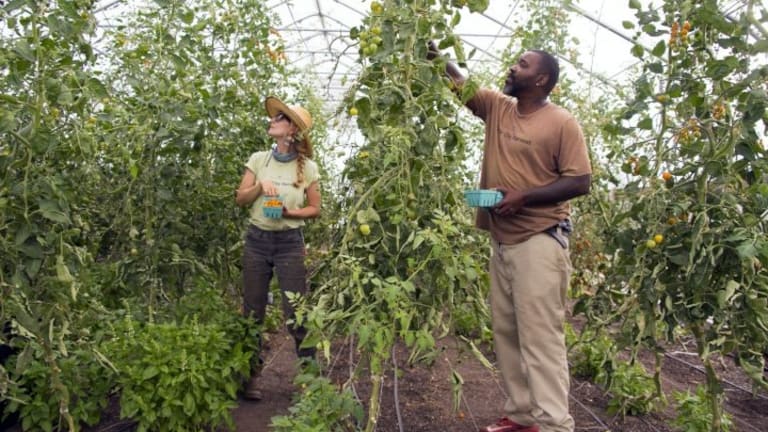 Chicago Leads the Fight for Food Justice by Building Innovative Local Food Ecosystems
Alexandria Jacobson: Communities are using urban farming, integrated service chains and other new programs to feed and empower the 630,000 hungry people living in Illinois' Cook County.
Communities are using urban farming, integrated service chains and other new programs to feed and empower the 630,000 hungry people living in Illinois' Cook County.
Editor's note: This story was produced in partnership with StreetWise, a street media paper in Chicago, and is part of "The Right to a Home," a Community Based News Room (CBNR) series that examines homelessness issues across the United States. CBNR is a project of Law@the Margins, and the eight-part series is supported by a Solutions Journalism Network grant. Lee Holmes was a source for this story and also contributed reporting and writing.
When StreetWise vendor Lee Holmes moved out of a friend's home and onto the street, he found himself unsure of where to find food going forward, so he quickly downloaded a list of regular meal programs from the Greater Chicago Food Depository's website.
Searching for food programs across the city proved time-consuming. As a StreetWise participant, he was welcomed for breakfasts at Inspiration Corporation, an organization that offers career and social services at its headquarters downstairs from the StreetWise offices in the Uptown neighborhood. But the rest of his meals were not within walking distance. As a vendor for StreetWise, which empowers homeless Chicagoans to gain economic self-sufficiency by selling magazines, he could at least afford public transportation fares.
Holmes is one of more than 37 million Americans living with food insecurity. And nonprofits, food banks and community organizations are looking to innovate new ways to feed them. Gone are the days of primarily collecting canned food for the hungry people in the United States. Rather than just visiting food pantries, Holmes can find food to eat at different churches, nonprofits and social service agencies across the city who often offer more than just a meal.
"I like it when they don't just feed you food but feed you other resources to help you be sustainable," says Holmes, whose StreetWise connections allowed him to register ahead of time for the annual Homeless Outreach Luncheon at Marillac St. Vincent Family Services, located at 2145 N. Halsted St.
The event provided him with not only a meal, but a sleeping bag, underwear, socks, gloves and a coat. There was also a doctor, podiatrist, HIV testing and 12 lawyers to provide legal aid, according to Mike "Santa Mike" Sturch. A volunteer and Marillac St. Vincent board member, Sturch has coordinated the event, which serves 440 people, for the last 50 years.
For Wednesday night dinner, Holmes was fed by The Chicago Help Initiative (CHI) at the 721 N. LaSalle St. headquarters of Catholic Charities of the Archdiocese of Chicago, which serves 130 guests in its dining room and 70 more with takeaway bags. Catholic Charities partners with other organizations to cover the remaining weeknights' meals. CHI, a consortium of business, residential, religious, social service, institutional and volunteer leaders, provides meals by partnering with businesses, restaurants and hotels such as the Hyatt Centric, Gene and Georgetti, Texas de Brazil, Greek Kitchen, Ocean Prime, Eli's the Place for Steak and more for food donations.
The ability to plan ahead for dinner and resources from CHI, such as learning how to sign up for the Chicago Housing Authority, helped Holmes as he dealt with unstable housing and uncertain food access. Before every meal, CHI also provides yoga and literacy help, and after dinner, speakers present on topics ranging from record expungement to job training. A medical health professional — a doctor, nurse or student — is always available to check blood pressure, blood sugar and feet, as well as provide wound care or HIV and Hepatitis C testing.
"All of our programs help build guests' self-esteem and treat them with dignity that motivates them to get off the street," CHI founder Jacqueline Hayes says of the organization's holistic model, which feeds hope and strives to help people become contributing members to the community again.
Understanding the Scope of Food Insecurity
Feeding America, the nation's largest domestic hunger-relief organization with a network of more than 200 food banks and 60,000 food pantries, cites United States Department of Agriculture (USDA) 2018 statistics that 11.1 percent of Americans are food insecure, which refers to limited or uncertain access to food for an active, healthy life due to a lack of money or other resources. The national food insecurity rate hit a high of 14.9 percent in 2011, and the number has continued to decline since then, with 2018 marking the first year that food insecurity returned to the pre-recession level in 2007.
In Illinois' Cook County, which includes Chicago, Feeding America estimated in 2017 that more than $237 million is needed to feed more than 630,000 hungry people. To meet this level of need, several local organizations from urban farms to health centers are testing out different methods to get food into the hands of those who need it most.
Food insecurity can affect not only people who are homeless, but also folks with mental illnesses and chronic health conditions, people who were recently laid off or released from prison, working families who are struggling to make ends meet, and senior citizens on fixed incomes.
"It's not just low-income neighborhoods," explains Greg Trotter, the Food Depository's senior manager of public relations and content. "If you go to different food pantries and talk to people, you'll see people from every race and cultural background, different ages."
For the hungry families of school-age children and college students, the Food Depository operates market-style food distributions called Healthy Student Markets in Chicago Public Schools and all of the City Colleges of Chicago.
"It's college students. It's their families. They need access to food," Trotter says. "They need food assistance, so we're in those schools helping them out."
In December, the Trump administration announced a plan which would end benefits for around 700,000 Americans participating in the Supplemental Nutrition Assistance Program (SNAP), the largest federal nutrition assistance program, commonly known as food stamps. New regulations would require people between the ages of 18 and 49 to work at least 20 hours a week for more than three months over a 36-month period to qualify for SNAP. The decision could affect up to 140,000 people in Illiniois, and about 50,000 in Cook County.
"For every meal a food bank provides, SNAP provides 10," said the Food Depository in a statement. "If SNAP is cut, there is no way food banks can fully meet the increased demand for food assistance."
Those experiencing food insecurity often are dealing with other life challenges that make access to food all the more challenging, like unemployment, unstable housing and health struggles. This is why there is an urgency to finding new food distribution models.
Breaking Down Barriers to Nourishment
Chicago may hold the key to alleviating food insecurity.
In November, the Greater Chicago Food Depository made an announcement that could further the city's creative solutions to feed food-insecure residents by creating a comprehensive food preparation and distribution system that also supports job creation for people with barriers to employment. With the U.S. Census Bureau projecting that adults over 65 on fixed incomes in Cook County may increase 48 percent by 2030, the Food Depository plans to break ground in 2020 on a 40,000-square-foot, $50 million facility to make nutritious meals for older adults and people with disabilities, incorporating both its culinary training program and urban agriculture.
The Food Depository would partner with other organizations for meal home delivery and community-style meal programs, and some anticipated jobs at the new facility would support transitional employment for participants in Chicago's Community Kitchens, a 14-week culinary job training program for people who need a boost into the workforce.
A nutrition education center housed in a connecting building linking the Food Depository's existing headquarters to the new meal kitchen would feature a demonstration kitchen for classes on preparing healthy food for students, health-care professionals and other community members. The Food Depository plans to partner with an urban gardening nonprofit to grow food for preparation in this nutrition education center.
Lack of employment is a challenge food-insecure people can face. For more than 20 years, the Food Depository has hosted Chicago's Community Kitchens, graduating more than 1,300 students since 1998. One year after program completion, around 80 percent of program graduates are employed.
"They're people with pretty significant obstacles," Trotter says of the participants, about a third of whom are formerly incarcerated and many of whom are unstably housed or low-income. "It teaches them the basics of being in a kitchen, everything from food sanitation to knife skills, to fractions you need for scaling recipes up and down, kitchen culture."
Of the 52 program graduates in 2019, 90 percent received a job offer within 30 days of program completion, and 77 percent of them are currently working. Those numbers, though a small sample size, are validation for people who see value in creating an integrated service chain and want to keep bringing together groups from across the food growing, production, preparation, distribution and social services spectrum.
"Oftentimes, our clients have to make really tough trade-off choices," says Kellie O'Connell, the CEO of Lakeview Pantry, which has been providing free, nutritious foods for food-insecure people since 1970. "Do I pay for rent and utilities this month, or do I buy food? Do I purchase the medication I need, or do I put food on the table for my family?"
The Food Depository's plan could eliminate these types of hard choices and introduce far more positive ones.
Feeding Communities Through Urban Farming
Community urban farming also can help build the foundation for a sustainable food security ecosystem. In the Little Village neighborhood on the Southwest Side of Chicago — which includes a majority Latino population — youth organizers with the Little Village Environmental Justice Organization (LVEJO) see potential for environmental and food self-sustainability through urban agriculture.
There's underutilized land in the community that could support urban farming. Many community members hail from Mexico and have skills as farmers, but they have been unable to do such work in the neighborhood. Still, many of them try to come out of poverty by selling food, such as corn, mangos and foods native to their Latin American homeland, as street vendors.
Kim Wasserman, LVEJO's executive director, notes that 60 percent of Chicago's street vendors come from Little Village. Many residents have backgrounds in agriculture. They could put their skills to use in the community for employment and to provide their families with fresh food.
"We very much use food as an organizing tool because of how culturally representative it is in a community like ours," Wasserman says. "Many folks in our community are just trying to come out of poverty by selling food, and the system is really not set up to help empower them."
It all comes back to the need for a comprehensive food ecosystem that provides a vast array of services.
Danielle Perry, Executive Director of Growing Home
"This should become a space with massive indoor growing," emphasizes Wasserman. "This should become a space with massive commercial kitchen. This should become a space with an indoor market, where folks can buy culturally relevant food and maintain the culture of the community."
LVEJO would like to lease underutilized land in the Little Village neighborhood for indoor farming and composting but would need to do so at a discounted rate. The organization has not found a partner willing to do so yet.
"We're having to go entity by entity, space by space, to fight to get land to do urban agriculture because we recognize it's more sustainable for our community, both from a health perspective and an environmental perspective" Wasserman says. "It lifts up the current skill set that our community members have."
An example of a successful large urban farm in Chicago is the Farm on Ogden, serving North Lawndale, a neighborhood with an 88 percent black community and median income of $22,000. The Farm on Ogden hosts Windy City Harvest, the urban agriculture and community engagement arm of the Chicago Botanic Garden, which is on track to grow over 120,000 pounds of produce in 2019, in addition to offering supportive services for community members.
Food-insecure residents on the West Side of Chicago with diet-related illnesses can be "prescribed" fresh produce from the farm when they visit a partnering clinic through Windy City Harvest's Veggie Rx program. Patients can receive up to 10 boxes of fresh fruits and vegetables through a prescription from a client provider after participating in a nutrition education class and a cooking class. Program participation has doubled in the past year, and more than 900 participants were seen between May and November 2019.
"The need for fresh produce and the desire to find something healthier than what you can find at a corner store or a fast food restaurant is high," says Angela Mason, senior director of Windy City Harvest. "People are realizing that they need to eat better."
Thirty years ago, Windy City Harvest started supporting school and neighborhood community gardens throughout the city. However, in order to better engage with youth, the Chicago Botanic Garden launched the Windy City Youth Farm, teaching 80 to 90 students annually at three farms in Chicago and one in Lake County how to grow food responsibly, work on teams, advocate for food justice and eat in healthy ways.
Windy City Harvest also offers training programs for adults, including the Windy City Harvest Corps, which employs 30 to 40 justice-involved individuals and veterans in paid transitional jobs and supports them in finding full-time, long-term employment each year.
Windy City Harvest hosts the Farm Incubator Program as well, developed with assistance from the Beginning Farmer and Rancher Development Program directed by the USDA's National Institute of Food and Agriculture, which works to reduce the risks related to starting one's own farming-related enterprise with support through an apprenticeship program and completion of a business course. At least 60 percent of participants are considered socially disadvantaged farmers, or people who have been subjected to racial or ethnic prejudices.
Growing Home, an organic urban farm, also offers transitional job programming, including farm-based training for people with employment barriers in the Englewood neighborhood, which has 26,000 residents, 95 percent of whom are black, with a median income of $20,000. Growing Home's 14-week job training program utilizes a social-emotional learning curriculum called TIP (Transforming Impossible to Possible). Trainees participate in intensive self-reflection before diving into skill building while working on the farm and professional development training like interviewing and résumé creation.
"Our goal is to help folks eliminate their barriers while they're in the program," says Danielle Perry, executive director of Growing Home, who notes the program has placed participants in full-time jobs at an average 85 percent rate since 2016 "We're a firm believer that we'll help you get a job, but how you stay in that job is if we help you to eliminate some barriers, so that can be housing insecurity, which is a huge barrier for our folks, health-care challenges, and childcare assistance."
Of the 51 program participants in 2019, 88 percent graduated. So far, 34 have been placed in jobs, and 19 have reached their 30-day retention mark. Although housing continues to be a challenge for program participants, six out of nine people who disclosed housing barriers found permanent, stable housing with support from Growing Home.
On the food side, Growing Home produces 30,000 pounds of produce annually, and through a $100,000 award from Impact Grants Chicago, the urban farm will expand to another location on its property with the capacity to produce an additional 8,000 pounds of food each year, all of which will feed residents in the Englewood community.
Perry notes the lack of healthy food options in Englewood, where grocery stores are sparse and corner stores, which often do not offer abundant fresh and healthy foods, are the pervasive source of food for the community.
"For a neighborhood that wide and a community that vast to have two [grocery] stores that some people can't even really afford, and a couple pantries, that's nowhere near enough," Perry says. "If you think about it, there are neighborhoods with grocery stores on every corner, literally. Why don't the people in this community deserve that, deserve options, deserve produce that's affordable, deserve produce that looks amazing, not full of pesticides?"
Solving Food Insecurity Takes Collaboration
Food insecurity in the United States is not going to end overnight., The goal is to build a comprehensive food ecosystem one neighborhood at a time. Bringing resources to communities can empower food-insecure people and lead to self-reliance.
"Through food access, job creation and helping place people in full-time employment, we're helping recreate the local food system," Mason explains. "It's a really blended group of people working together toward this mission of building a local food system and a community of practice."
This is just the beginning.
"We must also think of strategic partnerships, grassroots work, knocking on doors, making sure people know where things are and creating really innovative opportunities for us to bring food to where people are," Perry says. "I believe that will work. It works when people want to campaign and ask you to vote for them. It can work to bring resources to our community."
The Food Depository has the resources to to feed Chicagoans on a large scale by integrating growing, preparation and distribution processes through its proposed food preparation facility. Once the facility is fully operational, the meal preparation kitchen could produce more than 4 million meals annually.
It's another example that food justice is necessary for social justice.
And more proof that Chicago is willing to experiment to find the recipe for success.
Alexandria Jacobson
Lee Holmes, who has experienced homelessness in Chicago, contributed reporting and writing to this story.
Suzanne Hanney, who is editor of StreetWise magazine, has written for the Chicago Tribune and was previously a reporter and editor on downstate Illinois newspapers. She earned her bachelor's degree from Northwestern University's Medill School of Journalism. 
Alexandria Jacobson is a Chicago-based freelance reporter, whose multimedia work has been published by outlets such as ABC News, Chicago Sun-Times, The Chicago Reporter, The Lens and the Social Justice News Nexus. She earned her master's and bachelor's degrees from Northwestern University's Medill School of Journalism. 
Community Based News Room publishes the stories of people impacted by injustice and aspiring for change. Do you have a story to tell? Please contact us at CBNR. To support our Community Based News Room, please donate here.