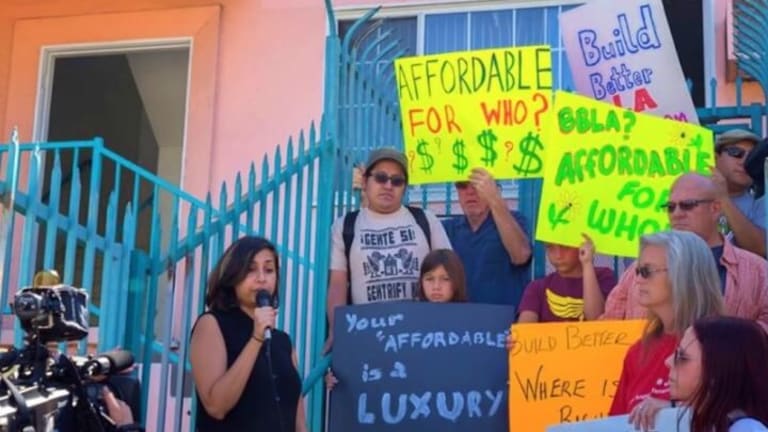 Rent Control's Human Face: Making Change at Home
Only when you start threatening them and say, "I'm going to call the City and because it violates the health code," that's when they start doing things.
Sarah Tenorino is a recent California State University-Northridge graduate who lives in Glendale with her mother. She's currently an intern at a charter school and her mother works in a bakery. The two split the rent. Sarah came to Glendale Tenants Union after trying to get her landlord to make repairs on her apartment, to no avail.
Kate Clark: What brought you to Glendale Tenants Union?
Sarah: The rent increases a couple hundred dollars, usually towards the end of the year. We always get a notice, but it's difficult because you work minimum wage and you're paying almost $2,000 for a really crappy situation. There's mold, the kitchen once was falling apart and they wouldn't do anything.
Only when you start threatening them and say, "I'm going to call the City because our situation violates the health code," that's when they start doing things. They don't want to get in trouble.
Even then, there's always a lag before they start doing things. It's also not done completely and where I live, the apartment's falling apart and it just sucks because all we want is decent living. It's so difficult for them to even do that.
So have you filed something with the County?
Sarah:No, we haven't gotten to that point yet. Right now it's okay; we're able to pay our rent. What I like about the Glendale Tenants Union is that I do want to inform my neighbors. I know everyone where I live is low-income and not everybody can afford to pay their rent on time. Or they just don't know their rights. So this is me just getting information to help them.
Have you thought about doing what they talked about in your meetings, saying that there is a breach of habitability, and unionizing?
Sarah: I have been thinking about that. I felt that coming here gives me another push that I could start doing something. I know if my unit has so many problems, where the ground is chipping away…if I have these issues in mine, I can't imagine what other units have. And they don't know that they have these rights.
Have you had any interactions with your landlord?
Sarah:I try to do email…because they don't pick up their phones. It's always straight to voicemail. Once you start threatening, like, "I'm going to call the Health Department," then they answer. Even then it's with a lag. When they were doing repairs on our kitchen, that took a whole month. They did it for one day of fixing, then they'd have a lag of fixing everything else.
Is there a reason why you haven't taken more measures towards obtaining clean housing?
Sarah: When you think about it, it's just yourself, and you do get kinda scared. What if I lose my place? But with Glendale Tenants Union, it's another reinforcement—like, no, I have my rights, and I can do something about it.
Rent Control Series Articles:
What do you advise other tenants do?
Sarah:Go to your local rent union organization. There's always going to be people who want to start change. If you don't push yourself to get informed, nothing is going to change. Yes, it is scary at first, because you're putting yourself out there. You should always start with your community. Sometimes we forget that as much as we sometimes want to move out of our community, our community is also facing issues and we should help them.
There's always this idea of, 'Oh, I'm going to move out to a different city, and start change there.' But it's like,'why don't you want to start where you are right now, and start helping your community?' Then later you can branch out to other organizations and work together.
Kate Clark
Kate Clark is a junior at Occidental College studying psychology and politics. Originally from Philadelphia, she hopes to stay in California for a while. She initially became interested in social justice issues after tutoring elementary school students in New Orleans' Lower Ninth Ward. She has a variety of academic and non-academic interests, including journalism, running, the brain, and law.