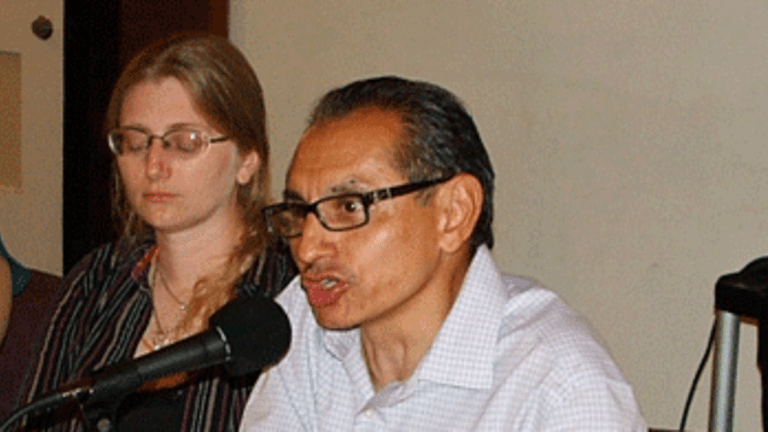 Foreclosure Crisis Discussion Marries Activists Old and New
It's an old saw that the Vietnam War was ended not by protests on college campuses, as dramatic as they were, nor when the political elites in the nation's capital stopped playing with dominoes.
Rather, it was only when the war's relentless horror and pointlessness became the main topic of conversation at Rudy and June's Cafe in downtown Mt. Pleasant, Iowa -- and at thousands of other breakfast tables around the country -- that the war ended.
Similarly, the Occupy Movement -- for all its headline-gathering since last fall -- likely will not achieve lasting societal change on economic inequality or any of the other critical issues it attempts to address until it captures the attention and energy of a great many workaday Americans, folks raising kids and holding too tightly to their jobs to take the morning off to disrupt a bank's operations or spend their evenings crowded into a park, wiggling their fingers.
As Beyond Chron's Randy Shaw has said, "Corporations and national politicians serving the interests of the 1% will not feel compelled to change course unless major protests go beyond traditional activist centers to where much of the 99% live."
Organized by the local Pasadena-Foothills Chapter of the American Civil Liberties Union, a packed-house forum this past Tuesday that addressed the foreclosure crisis for homeowners and renters may have taken a small step in marrying the newfound passion of mostly younger Occupiers with the dogged persistence of mostly older -- and often much older -- old-line activists typically drawn to this regular ACLU forum.
"I was impressed," said Chamara Russo, an ACLU Chapter board member who helped organize the discussion. "I thought Occupiers were just a bunch of hippies, into smoking dope and beating drums. But these folks really had something to say."

Occupy Fights Foreclosures
Each offering a distinct perspective on the foreclosure crisis that has hit Los Angeles County especially hard, Cheryl Aichele and Carlos Marroquin from Occupy Fights Foreclosures, a subcommittee of Occupy Los Angeles, were joined by Sharon Kinlaw, a long-time housing rights advocate and Deputy Director of the Fair Housing Council of the San Fernando Valley.
"I lost my home in 2007, won it back, and then lost it again," said Carlos Marroquin, a mail carrier for the US Post Office. "I found myself in a deep, deep depression. I just locked myself in my house, went to work, came home, that's all I could do."
"I didn't know about computers, about organizing, anything. But I knew I had to do something," continued Marroquin, whose marriage was affected by the prolonged and so far unsuccessful foreclosure battles.
"Foreclosures are so complicated, people don't want to deal with them -- judges, lawyers, nobody." Marroquin also talked of the shame homeowners frequently feel when they lose their homes.
"People don't understand that foreclosures are very profitable for the banks," added Cheryl Aichele, who estimates she spends 80 to 100 hours a week volunteering for Occupy LA. "They get insurance payments and tax breaks, and then can resell the properties."
Aichele also described the Occupy Fights Foreclosure action earlier that afternoon, when 80 to 100 Occupiers gathered outside the home of a new Bank of America executive's home in Pasadena to protest the foreclosure on the home of Dirma Rodriguez, an El Salvadoran native and mother of five, who is fighting to save her West Adams home.
"We've decided to focus on just one family, because the situation is so horrendous," continued Aichele. "The family has a severely disabled daughter, who can't communicate with words."
That action was part of a nationwide protest organized by local Occupy groups and others, such as MoveOn.org, designed to coincide with a Bank of America Shareholders' meeting held Wednesday morning in Charlotte, North Carolina.
Scheduled before these Occupy plans came together, the ACLU forum benefited from a happy coincidence, which drove up attendance to a 100 or more at the event it holds every other month at Pasadena's Neighborhood Church. Aichele, who handles much of the media relations for Occupy Fights Foreclosure, is working to change public perception of the foreclosure crisis and its victims.
"I don't own a home, but even members of my own family said, 'Oh, they should have paid their bills,'" explained Aichele. "So we've been working hard to change the narrative that the homeowner is to blame and put it back where it belongs, on the banks, on the lenders, on the government."

The Longer Game
While Marroquin and Aichele have spent a few months or years focused on housing activism, Sharon Kinlaw offered decades of experience, having begun working on fair housing and predatory lending issues in 1994.
"Initially, I worked on lending discrimination issues, often involving elderly African American women," Kinlaw said. "Lenders would talk elderly people into loans they didn't need -- sometimes they owned their homes outright -- which then led them into foreclosure."
In today's climate, her focus has shifted from those predatory lending issues to foreclosures, working with homeowners to wrest loan modifications from lenders. "If you want to save your home, whether you're owning or renting, you need a strategy.
You need information," she said. "Most of all, you need to be present." In some cases, a loan modification can take two or three years, with homeowners submitting their paperwork over and over and over again. Calling herself an advocate rather than a activist, Kinlaw admits she can get pretty aggressive about her advocacy.
"You need to go down to your Congressperson's office and plop down that two encyclopedia-thick stack of documents you've gotten from the banks to show them what you're dealing with, to show them the mistakes that have been made," Kinlaw said. "Banks hate you to point out the discrepancies in their documents, the possible discrimination. You shine a light on them and they flee like cockroaches."
Los Angeles County has seen 200,000 foreclosures since the crisis began. Kinlaw thinks the situation will only get worse. "Wall Street is selling the lie that this is now a renters' market. So the banks are buying up all these foreclosed homes, changing the climate of whole neighborhoods, gentrifying them by charging higher and higher rents," Kinlaw concluded.
"When the market turns around, there'll be a wave of evictions so the banks can sell the properties and make a bundle."
Recognizing that the evening's discussion focused very much on the grassroots -- working to win loan modifications for individual homeowners in Kinlaw's case and fighting to save a single homeowner's home with Occupy Fights Foreclosures -- the event's organizers are discussing holding a follow-up event that would include more discussion of the effects renters are feeling and then how to deal at a higher level with this nationwide crisis. Look for more information on future foreclosure information sessions here in the LA Progressive.
Dick Price
Editor, LA Progressive
Posted: Friday, 12 May 2012