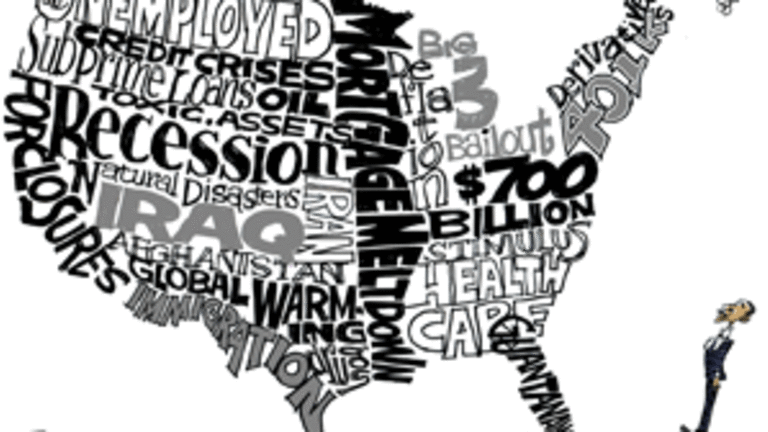 Foreclosures 101 - Part 4
Kwazi Nkrumah: Overall, Americans are now carrying about $798.3 billion in revolving debt, a type of debt that is almost entirely made up of credit card balances,
Credit Card Debt and Americans Financial Health
Overall, Americans are now carrying about $798.3 billion in revolving debt, a type of debt that is almost entirely made up of credit card balances, according to the most recent data from the Federal Reserve.
It is those who have lost their jobs or suffered reductions in their working hours or rates of pay who are most likely to be forced to use their credit cards the most, and at a time when most other consumers are trying to drastically cut back on credit card use and when monthly interest rates and penalties have been significantly raised by the banks. (According to the Federal Reserve Bank, total U.S. consumer debt currently stands at 2490.3 billion dollars.)
This dynamic, in which credit card dependence is now very closely tied to unemployment, underemployment, and declining personal solvency, has also resulted in massive losses to the banks and other card lenders.
In 2009, banks were forced to write-off over 83 billion dollars in credit card debt as totally uncollectible, due mostly to unemployment. During the first two quarters of 2010, defaults on credit card debts averaged between 10-12% for most credit card issuers, despite efforts to limit credit card use by more "risky" clients.
These measures have included reducing the credit limits on cards, increasing late payment penalties, increasing minimum monthly payment rates, and cancellation of credit altogether. Once such credit resources dry-up, many of those hardest hit by the financial crisis often find themselves turning to "pay-day loan" companies or even outright loan sharks in order to meet their essential needs.
The outrageous interest rates they are charged by these sources generally accelerate their total financial collapse. The current bankruptcy laws do not shield them from many debts they may accumulate in this way, guaranteeing that they will in fact be reduced to financial destitution for the foreseeable future.
It has been suggested by some observers that the banks have attempted to off-set these losses in the credit card market and on other types of loans, including business loans, by continuing to confiscate the properties of small homeowners.
According to a report published by the Wall Street Journal in November 2011, the summer of 2011 was great for U.S. banks. The WSJ reported that U.S. bank profits were up to their highest level since mid-2007, but banks struggled to generate more revenue in a sluggish economy. The WSJ state, the according to a report released by the Federal Deposit Insurance Corp.,
"the industry noted a collective net profit of $35 billion, up nearly 50% from a year earlier, in the quarter ending Sept. 30.
"While the profit gain is welcome on its face, the growth primarily reflected banks putting aside less cash to cover bad loans rather than the traditional activity of making loans and collecting interest—[and this] has been the case for two years, FDIC officials said.
" "That can't go on indefinitely," acting FDIC chairman Martin Gruenberg said. "At some point, in order to generate income and revenues, lending is going to have to expand."
"Lending increased slightly in the third quarter, for a second consecutive quarter. Banks' total loan balances rose by a net $21.8 billion, just 0.3%, in the period. Loans to commercial and industrial customers rose by $44.8 billion. Residential mortgage balances also rose by $23.7 billion, the largest increase since 2007. Those gains, however, were offset by declines in other types of loans."
Kwazi Nkrumah
Note: This is a revised version of a document Kwazi Nkrumah wrote for the Coffee Party of Los Angeles. It is posted here with the author's permission. The Coffee Party has been organizing against mortgage foreclosures in North-East and North-Central L.A. Kwazi Nkrumah is an organizer who is active in the Coffee Party, co-founded Occupy the Hood, and supports other grassroots organizations.
This is the fourth in a series of 5 that will be posted over several weeks. Part I, Part II and Part III of this series can be accessed here.