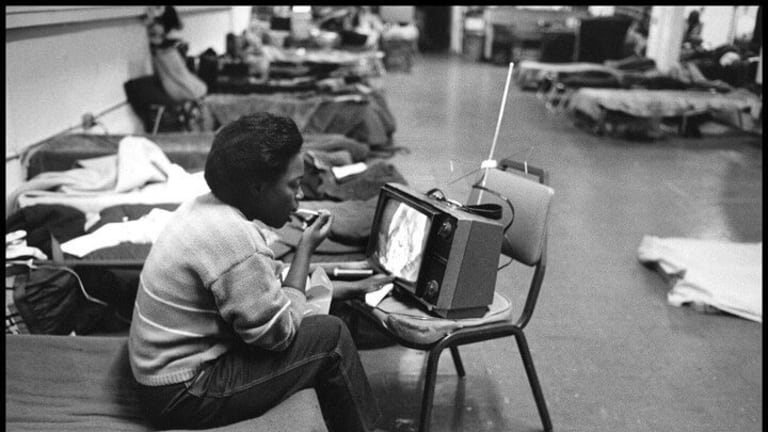 Frustrated Over Homelessness?
Randy Shaw: The big scam that has been played for over 35 years is the shift of a federal housing responsibility to cities. Cities that never had the resources to replace federal housing programs, and never will.
Each day brings news about rising public frustration over homelessness. The Los Angeles Times' Sunday January 28 front page story blamed local officials for not doing more. Adam Murray of the Inner City Law Center noted that if Los Angeles' homeless population were a separate municipality it would be the nation's fastest growing city. Hotel operators in San Francisco told the SF Chronicle that visible homelessness and "street misery" were impacting visitors more than ever before.
Homelessness is a crisis throughout urban America. The problem has become much more visible in West Coast cities like Seattle, Oakland and San Jose, but New York City's homeless crisis is worse than ever (60,903 people were sleeping in the city's Department of Homeless Services shelters on Monday, the highest number ever).
I was working in San Francisco's Tenderloin in November 1982 when the Tenderloin Times headline read, "10,000 Homeless in San Francisco." I saw that headline and story at a special exhibition at the Tenderloin Museum this week.
It crystallized how a critical social problem that emerged over 35 years ago has never been targeted for solution.
No wonder people are frustrated.
Federal to City Shift
Wait, you might say. Haven't cities like San Francisco spent hundreds of millions of dollars to combat homelessness? Isn't the real problem, as the Los Angeles Times suggested, that local officials fail to pursue the right policies and/or spend money wisely?
I hear those comments a lot. The organization I head, the Tenderloin Housing Clinic, has run permanent housing programs for single adults in San Francisco since 1989. Thanks to city funding, we currently house over 2000 formerly homeless residents and have housed thousands in the past two decades.
Prior to 1981, housing programs for low-income people were primarily part of the federal HUD budget. But President Reagan's 1981 budget slashed HUD spending.
It has never close to being restored.
The big scam that has been played for over 35 years is the shift of a federal housing responsibility to cities. Cities that never had the resources to replace federal housing programs, and never will.
So the big scam that has been played for over 35 years is the shift of a federal housing responsibility to cities. Cities that never had the resources to replace federal housing programs, and never will.
Groups like mine that provide housing to people who haven't been homeless for over a decade are still part of the "homeless" budget. Remarkably, the percentage of eligible recipients for housing aid that actually receive benefits has steadily declined while homeless numbers keep rising; its like offering less health care the as an epidemic worsens.
Political Games
Politicians in cities like San Francisco have long had to play a clever game around homelessness. Everyone knows the city cannot house 7000 homeless people within its borders. But voters expect and demand "action" and "solutions" from those running for supervisor or mayor.
This demand for local action has led politicians in San Francisco, Seattle, Los Angeles, and other cities to get voters to support new funding measures to address homelessness. This new money is vital. But this funding is nowhere near what is needed to subsidize rents for millions of Americans priced out of the private market.
That's the role that the federal government played before the nation had widespread visible homelessness. It is a role the federal government has largely abandoned.
Mayors tell the truth about their limited ability to reduce homelessness at their peril.
I once convinced Mayor Willie Brown that he had to level with the public about the city's lack of resources to end homelessness. Brown told the media the next day that San Francisco could not solve the crisis locally and that massive new federal support was needed.
Thanks to me, Brown got some of the worst media hits of his mayoralty. Reporters jumped on him for "passing the buck" for highlighting the fed's primary role. The basic line was that San Francisco elects mayors to solve problems, not blame other governments.
Ever since that day San Francisco mayors have known better than to claim they cannot sharply reduce homelessness.
In Brown's case, initiating the master leasing program and expanding Housing First was a huge step forward. Gavin Newsom's Care Not Cash program greatly expanded Housing First, and the program remains the financial bedrock of the city's efforts to reduce homelessness. Ed Lee expanded funding for master leasing and other affordable housing programs, but even the Obama years did not bring the massive new low-income housing resources that meaningfully addressing the homeless crisis demanded.
Nav Centers: The Appearance of Innovation
Faced with rising public concern over visible homelessness, Lee followed the lead of Bevan Dufty, his original homeless point person. Dufty recognized that the public needed to feel progress was being made, and that this meant opening new facilities that could be marketed as addressing a longtime "gap" in homeless services.
That's how the "Navigation Center" was born. Like Art Agnos's redefining two large shelters as "Multi-Service Centers" in 1990, Dufty renamed a less dense shelter that allowed couples, shopping carts and dogs as "Navigation Centers."
Unlike the multi-service centers that opened nearly thirty years earlier, Nav Centers were shiny and new. They would reach the "longterm" homeless, which everyone thought was a good idea.
Dufty's marketing genius proved contagious. Today, there may not be a single supervisor who is not enamored with Nav Centers.
That it costs more for the city per person to have someone stay in a Nav Center than it does to end their homelessness by providing permanent housing has become irrelevant. As long as officials insist on their commitment to "Housing First," shelter first can prevail.
Some might not realize that only 25% of those staying at Nav Centers get into housing. The case is made that people get healthier during their thirty days indoors but its hard to see why their health issues would not return when they return to living outside. Nav Centers are a very expensive way to provide health care, as the same services are provided in the existing multiservice centers.
With thousands living on the streets, the city's rising investment in a less dense shelter network makes little sense. The city should be investing in a 300-bed, Mission-Rock facility that will get more than triple the people off the streets than does any Nav Center.
But such large shelters sound too old-school for a 2018 approach to homelessness. So we will continue providing high-quality less dense shelters for the few while the many remain outdoors.
As long as a mayor can attend a Nav Center opening every few months, the appearance of progress and innovation is made. That Nav Centers frequently open because most have been temporary and soon close is also beside the point.
Ultimately, San Francisco like other cities is limited by a lack of space and dollars from meaningfully reducing homelessness. And when we all see $25 billion being talked about for a border wall, and the United States military budget steadily growing, our frustration and anger over homelessness is understandable.
But let's not wrongly blame local officials for lacking the resources to solve a federal problem. We have presidential elections every four years when the homeless crisis is ignored in debates and in media coverage. That is a huge problem.
While awaiting a chance to change this dynamic in 2020, those frustrated over homelessness should make the crisis a front burner issue in federal and state elections this November. Let's turn our anger and frustration into solutions.
Getting homelessness on the national political agenda is decades overdue.
Randy Shaw
Beyond Chron