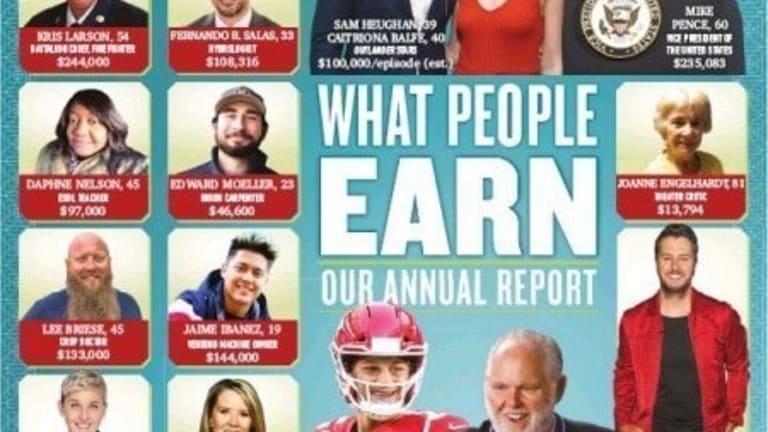 'Parade' Magazine Tells Us What People Earn: How About a Maximum Wage?
Eric A. Gordon: If you made more than the limit, FDR said, the rest should go to the commonweal in the form of 100% taxation; everyone could have a roof overhead, and no one would go hungry.
Joanne Engelhardt, 81, a theater critic, earns $13,794 a year. Julie Stripland, 52, a high school band secretary, earns $22,614; and Rick Resnick, 58, a Chicago tour guide, makes $34,500.
These people are three out of sixteen whose photos, professions, age, and earnings are featured on the front page of the Sunday, April 5, Parade magazine. It might be their lifetime claim to fame: Appearing on the cover of a nationally distributed magazine that, according to parade.com, has an 18 million circulation and a 42 million readership.
The lead article, "What People Earn: Our Annual Report," is spread across the issue's twenty pages, and includes dozens more, many with a telling quote about what exactly they do.
If you made more than the limit, FDR said, the rest should go to the commonweal in the form of 100% taxation; everyone could have a roof overhead, and no one would go hungry.
Joanne, Julie, and Rick clock in at the lower end of annual earnings. At the other end, as one might expect, especially of Parade magazine, the high earners are sports and entertainment celebrities. The cover also pictures Rush Limbaugh, 69, talk-show host, racking up a cool estimated $87 million a year (and yes, that sure does look like his Donald Trump-awarded Presidential Medal of Freedom around his neck); Ellen DeGeneres, 62, comedian and talk-show host, breathing down Rush's neck with a close estimate of $80.5 million; and Luke Bryan, 43, musician, with an estimated $42.5 million. Mike Pence, up top in the far-right corner, is a mere piker at only $235,083 a year. No wonder his wife is still working, teaching at a right-wing Christian private school.
There's a kind of voyeuristic "Lifestyles of the Rich and Famous" quality about this annual survey, we ordinary readers sitting at our kitchen tables drooling over celebrities' estimated bank statements—actresses Jennifer Aniston, 51, $28 million, and Sofia Vergara, 47, $44.1 million; Howard Stern, 66, radio host, $93 million; and Russell Wilson, 31, Seattle Seahawks quarterback, $89.5 million (and named "highest-paid American athlete").
Compared to them, "public servants," as our politicians and government officers are called, are more in Pence's league: Robert Redfield, M.D., 68, virologist and director, Centers for Disease Control and Prevention (CDC), $209,700; U.S. Senator and author Bernie Sanders, 78, $541,293; and presumptive Democratic candidate for the presidency and author Joe Biden, 77, at $3.4 million.
The United States used to be called a "meritocracy," a term we don't hear much any more. No matter your level of education or your class background, or what ethnic group you belonged to or what part of the country you came from, so the Horatio Alger "rags to riches" mythology told us, anyone with talent, smarts, and a maybe a little bit of luck could make it to the top. Of course, we know it wasn't really true for the most part, especially when you factor race into the equation, but a decent public education system did tend to even out a lot of differences.
Parade says, "We strive to provide engaging content and revenue generating solutions to our valued newspaper partners." The brand's other outlets include Relish, Spry Living, and American Profile. I get Paradewith my Los Angeles Times; I suppose different papers have contracts with those other affiliated "revenue generating" publications.
Along with those who have indeed "made it" in America, we get thumbnail portraits of others who are on their way up, giving hope to those with their eyes set on high aspirations. I'm thinking of folks like Aiisha Herring-Miller, 45, from Philadelphia, who makes $79,623 as director of economic development zones. "I work with business owners located in distressed neighborhoods," she says, "assisting them with accessing grants and services to improve their business sustainability."
Or Jaime Ibanez, 19, of Fort Worth, who also captured a magazine cover spot. He's a vending machine owner who pulls down $144,000 a year. "I have 30 vending machines in public businesses, which I restock weekly. The goal is to have 100 by the end of the year. My favorite part is always having snacks in my house! I also film [YouTube videos] of myself collecting money from the machines and restocking them. I make about $10,000 a month from that." This enterprising young man is really going places! And now you have some clue as to why a tiny bag of Fritos costs two bucks.
And then there are folks who are just making it, doing the unglamorous work a complex society requires, but seemingly without grander personal financial goals. Brittany Sweeney-Lawson, 32, is a resource facilitation manager and certified brain injury specialist. Wow, sounds like someone I'd like to have on my team if I ever needed it. She makes $55,000 a year. I hope she has a decent rent and doesn't have too many mouths to feed on that.
Or these two in similar fields: Urban agronomist Neith Little, 32, who makes $56,520. She helps urban farmers in Baltimore and visits farms "to troubleshoot why tomatoes are not growing well." And Justin Richardson, 31, a soil scientist who studies "invasive earthworms, toxic metals in parks, and maple tree health and measuring nutrient flow in a vineyard—all in the same year." He earns $92,635. These are good people to have on the ground in this climate change era.
There's a whole lot more in the report: A school social worker ($67,000), an emergency medicine physician assistant ($105,000), a union carpenter ($46,600), an ESOL teacher ($97,000), a fire and life safety director ($105,000), a battalion chief and firefighter ($244,000), and so on.
This year's focus of the "What People Earn" series speaks to the generation that's questioning if acquiring a lifetime of student debt for a college degree is really worth it. "Middle-skill jobs," Parade says, require "more education than a high school diploma, but less than a BA," and these jobs have grown "by 29 percent between 1991 and 2016." Parade names ten of these jobs and average annual salaries without linking them to any individuals. They include such positions, from the lowest-paying up, as plumber ($53,910), wind turbine technician ($54,370), occupational therapy assistant ($60,220), commercial pilot ($82,240), power plant operator ($83,020), and nuclear power reactor operator ($94,350). These all seem like pretty modest incomes, especially for people with a family, to keep a huge system like the United States going.
Now offhand I don't recall from past years' reports if the truly, truly rich and famous ever get named—you know, the kind of people Bernie Sanders cites when he says, "The wealthiest three families now own more wealth than the bottom half of the country," a claim which has been verified as true by Politifact. "Paradecelebrates America at its best," its homepage boasts. Obviously they don't see a verified fact like that as representing America at its best.
It might be interesting if Parade listed the annual earnings of its own ten lead officers in the company, all Caucasian (judging from their photos, which, I know, can sometimes be deceiving), three men and seven women. Their earnings are of course nowhere close to Bernie's top three families, but on all their "print, digital, video, and audio platforms" that cover "pop culture and lifestyle" they don't seem to be asking the questions I might be posing.
What value does Rush Limbaugh provide, or Russell Wilson or Ellen DeGeneres, that allows them in this ostensibly, or better, once-meritocratic society to earn so astronomically more than a certified brain injury specialist or wind turbine technician, and of course I am not even talking about a waitress in a diner (now closed for business) or a chambermaid in a hotel (also now closed). Aren't they all, pretty equally, I would guess, devoted to their work, which society claims to have a need for, and giving their all to it?
Notably absent are agricultural laborers and people on meat-processing assembly lines. Maybe the dangers of the job, the immigrant status of many of those workers, and the desperately low pay were simply not "America at its best."
My fellow union members (I am actually a member of two unions) hasten to inform me that Russell Wilson is also a union member like other major sports players, and the contract he and his teammates negotiated with the ownership pays them but a fraction of the obscene profits that go to the owners—not just in ticket sales but in TV rights, brand merchandising, and hot dogs and beer. Is this really about sports any more, or just about another platform to turn a profit? Are TV and talk radio essentially different? Just more platforms for advertising and free-market propaganda, some a little softer, to be sure (Hi, Ellen!), but all terrific "revenue generators," as Parade likes to say.
It hardly seems fair that we have so many folks without homes, who struggle to pay for both meals and meds, who scrimp for the monthly rent, kids growing up in slums, and now a whole population needlessly, heartlessly victim to an invisible virus that could have been suppressed months ago. All while we have such a vast income gap between most working people and the one percent—or the one percent of the one percent, as I'm often reminded.
Back in Franklin D. Roosevelt's day, now there was a president who spoke about a $25,000 annual income not as a minimum but as a maximum! Obviously worth a lot more in today's dollars, but the point is simply, there is a limit to how much a person should be able to accumulate on account of a drug they discovered, a movie they produced, a housing tract they developed, or the apartment buildings they own. If you made more than the limit, FDR said, the rest should go to the commonweal in the form of 100% taxation, so that dams and bridges could be built, electricity could reach the farthest rural outposts, subway systems could be extended to the outer boroughs and trains across the continent, so that every child would receive the best possible education and be helped to achieve to their highest capacity, everyone could have a roof overhead, and no one would go hungry.
With the amount of wealth generated in this country, it doesn't seem like too much to ask, but since the 1970s workers' productivity has risen many times over but wages have declined in terms of buying power as wealth concentrates in fewer and fewer hands.
A maximum wage? Why don't we try it sometime?
Eric A. Gordon
People's World