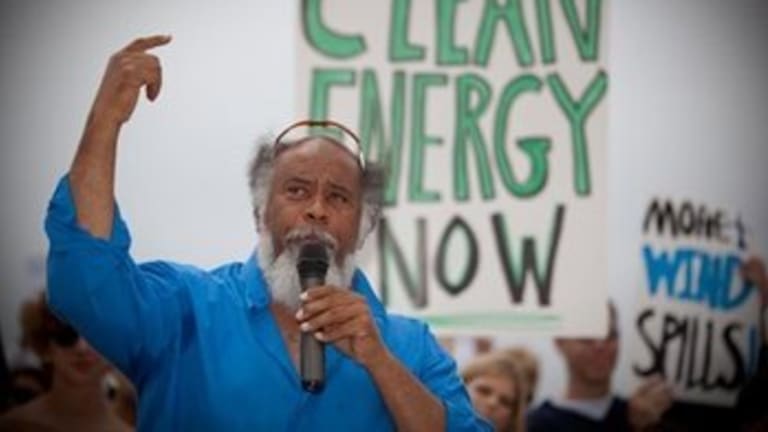 Activist Kwazi Nkrumah Arrested at Long Beach Port (updated)
Sharon Kyle: Kwazi Nkrumah, a long-time civil rights activist, has been arrested in Long Beach where the Occupy Movement was gathering as part of "Occupy the Ports", a coordinated West Coast port shutdown.
Occupy Activist Arrested
This morning, one of our readers contacted the LA Progressive to report that long-time activist, Kwazi Nkrumah, had been arrested in Long Beach where the Occupy Movement was gathering as part of "Occupy the Ports", a coordinated West Coast port shutdown.
I met Kwazi several years ago in law school and have grown to respect and admire him for his unyielding commitment to public interest causes. Kwazi Nkrumah is nationally respected as a community organizer and labor activist. Long before there was an Occupy movement, Kwazi was leading campaigns against mortgage foreclosures in Maryland and California and fought on many fronts in the labor movement. Recently, Kwazi and his partner, Sabina Virgo, have been leading an effort in Los Angeles to support families who are losing their homes.
I contacted Sabina this afternoon and learned that the Long Beach police arrested Kwazi at approximately 8 a.m. this morning – a full hour before the police issued an order to disperse to the crowd that was assembling at the port. When I spoke with Sabina at approximately 3 p.m. today, she told me she had had two telephone conversations with Kwazi since his arrest. She said he is being held in Long Beach on $10,000 bail.
I asked about the conditions at the jail. Sabina said that Kwazi told her that he was warm and dry -- on this rare cold, rainy day in Southern California. Unfortunately, although bail has been set, Sabina learned that Kwazi cannot be released until the Long Beach Police Department completes its procedural requirements, which include contacting other law enforcement agencies and getting some form of clearance from them. Sabina

seemed to think that might not be complete until Wednesday.
According to Sabina, Kwazi was arrested along with another man whose identity she did not know. The arresting officers booked him on three charges :
resisting arrest;
walking in the street; and
not following the lawful orders of a police officer.
Unlike many of the protestors who willing to be arrested and are often fully prepared to be arrested, Kwazi had not anticipated his arrest. In fact, he was scheduled to be interviewed today on "Uprising," a KPFK radio program hosted by Sonali Kolhatkar. When he was unavailable for the interview, Kolhatkar announced the arrest. The news of Nkrumah's arrest spread like wildfire through the progressive community -- reportedly igniting a greater sense of solidarity among the Occupiers at the port.
According to Sabina, public interest attorney, Carol Sobel, of the National Lawyers Guild, has been contacted. Since the inception of the movement, the National Lawyers Guild has been an ardent supporter of the Occupy Movement providing National Occupy Protest Support hotlines and various other services including legal representation to occupiers who have been arrested.
UPDATE: At about 6:15 pm activist and reporter Linda Milazzo informed me that Kwazi was released on his own recognizance and was on his way home. Stay tuned.
Sharon Kyle
Publisher