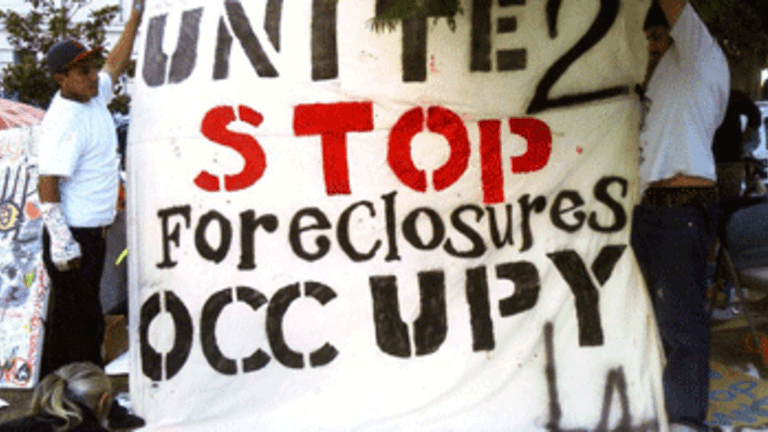 Occupy Fights Foreclosure Fighting to Save Defrauded Family's Home
Cheryl Aischele: Occupy Fights Foreclosures (OFF), a sub-committee of Occupy LA, joined neighbors in the South Adams community to help a widow who fell victim to foreclosure fraud by at least three companies.
A family defrauded by at least three companies finds help in Occupy LA
Occupy Fights Foreclosures (OFF), a sub-committee of Occupy LA, joined neighbors in the South Adams community to help a widow who fell victim to foreclosure fraud by at least three companies.
Monday evening, dozens of anti-foreclosure protesters responded to an emergency eviction appeal from a Dirma Rodriguez, a widow, and her 27-year old daughter, Ingrid Ortiz, who is disabled with a condition called toxic plasmosis cerebral palsy.
Ortiz has special needs and the family has the home build to accommodate her needs with wheelchair ramps and other accessibility alterations. Mrs. Rodriguez has been unable to find a place to rent that could accommodate her daughter's special needs. Eviction could mean separation of this family and possible institutionalization of Ingrid.
Friday, members of Occupy Fights Foreclosures intervened in a dispute between the family and Golden Globe Investments, a company that took $4,500 from the family with promises to help stop the foreclosure. That help never came until Occupy got involved.
Golden Globe had kept the family's documents and had refused to return the money or the paperwork, until Occupy showed up at their Van Nuys office. An Occupy LA activist visited Golden Globe and demanded the company return Mrs. Rodriguez's money and documents.
Meanwhile, it turns out Golden Globe may not be properly licensed or registered.
Activists – fed up with the mass theft of people's homes and loss of billions of dollars to state and local government and economies – came to this family's side once they got word the Sheriff's Department was evicting the family.
Currently, Maxim Property claims to be the owner of the property and says they have the legal right to foreclose on the family. The family complains that Maxim's paperwork is as shoddy as their remodeling work. Maxim is in the business of flipping homes and has countless online complaints about their work.
"Maxim purchases distressed properties, sometimes illegally, and then remodels them with sub-standard practices," says Carlos Marroquin, a homeowner advocate and Occupy activist, "They sometimes do unpermitted work or use workers who are not contracted".
Maxim is part of a group of companies that works on various aspects of real estate transactions causing a conflict of interest by using preferred lenders, their own Escrow Company, and inspectors to approve substandard remodeling and construction.
In addition, to Golden Globe Investments and Maxim Property, this family has suffered at the former hands of Countrywide. (In 2008, Bank of America took over Countrywide). The family has lived in the house for over 20 years and refinanced with Countywide to pay for the retrofit and expansion on her home.
The company gave the family a predatory loan that jumped the family's monthly payment more than twice what they had always paid.
A year after the remodel, the bank sent a Mrs. Rodriguez a bill for $4,000 property taxes that the company claimed they neglected to add to her mortgage payments and demanded payment in full. Mrs. Rodriguez was unable to pay the bill in full at the time and asked for a modification.
Countrywide told the family to go into default to qualify for the modification but instead started the foreclosure process on the family instead of modifying the loan.
Dirma Rodriguez has filed for bankruptcy which under federal law stops all foreclosure processes. However, Maxim is attempting to ignore the law and foreclose anyways.
Occupy Fights Foreclosures hopes to help keep this family in their home and help them through the process of winning their home back legally and exposing the fraud perpetrated upon them.
Cheryl Aischele
Occupy Fights Foreclosures