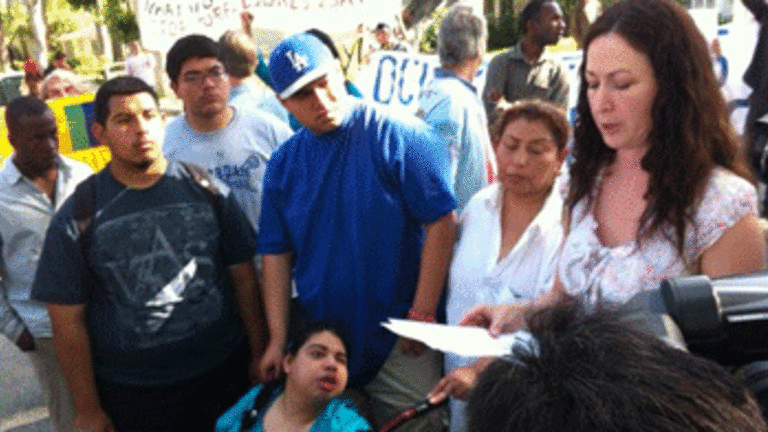 Occupy Fights Foreclosures Forces Bank of America to Rescind LA Foreclosure
Cheryl Aichele: Occupy Fights Foreclosures won the home back of an LA homeowner whose home Bank of America fraudulently foreclosed on and sold, even after dutiful payments on a temporary loan modification were made for over a year.
A Widowed Mother of a Severely Disabled Daughter gets her home back from BofA Thanks to Occupiers
Occupy Fights Foreclosures, a subcommittee of Occupy Los Angeles, successfully won the home back of a Los Angeles homeowner whose home, they say, Bank of America fraudulently foreclosed on and sold, even after dutiful payments on a temporary loan modification for over a year.
Earlier this week, Bank of America rescinded the sale and foreclosure of Dirma Rodriguez' West Adams home — the title is now appropriately back in Ms. Rodriquez's name. BofA assured Ms. Rodriquez— a widowed mother—and her family which includes a severely disabled daughter with toxoplasmosis cerebral palsy, they are now safe from any future threat of eviction.
Bank of America sold the home last fall to West Ridge Rentals, a house flipping company from El Segundo. However, BofA failed to follow California State law, and sold the home 17 months after the original Notice of Trustee Sale when the Golden State requires the sales to happen within a year's time or the bank has to start the process over.
West Ridge Rentals hired Maxim Properties shortly after the sale and Maxim had moved in a so-called security guard into an upstairs unit on the property. The security guard quickly started causing the family problems and was replaced by another so-called security guard who lived in the unit from November of last year until Occupy Fights Foreclosure activists showed up to help the family after an illegal eviction attempt.
Maxim Properties moved in a third so-called security guard into the unit after that. Until Tuesday, when he finally moved out of the property.
Occupy Fights Foreclosures activists organized an audit of Ms. Rodriquez's loan and foreclosure paperwork. The audit quickly turned up troubling results. Not only was the sale fraudulently, but so was the foreclosure. OFF also organized a meeting that allowed Ms. Rodriquez to retain an attorney, Patrick Dunlevy, at Public Counsel to help her through her fight with the bank.
Occupy activists are continuing to help with the audit of Ms. Rodriquez's documents — Ms. Rodriquez's refinance loan was originated by Countrywide, notorious for its suicide-lending strategy which used fraud as a business model. When Bank of America purchased Countrywide, it inherited millions of defective loans.
Bank of America has brought tens of thousands of Americans to foreclosure court using fraudulent "robo-signed" evidence, a mass perjury that it helped to pioneer.
"The only ones who've been breaking any laws here are the banks, and I don't see the police breaking down their doors in the middle of the night," said Suzanne O'Keeffe, writer and OFF activist.
Early in the May, the same group also staged a fraudulent foreclosure on the Pasadena home of an Bank of America executive, Raul Anaya, to highlight to fraud in this and other foreclosures.
Cheryl Aichele
Occupy Fights Foreclosures 
Posted: Thursday, 24 May 2012