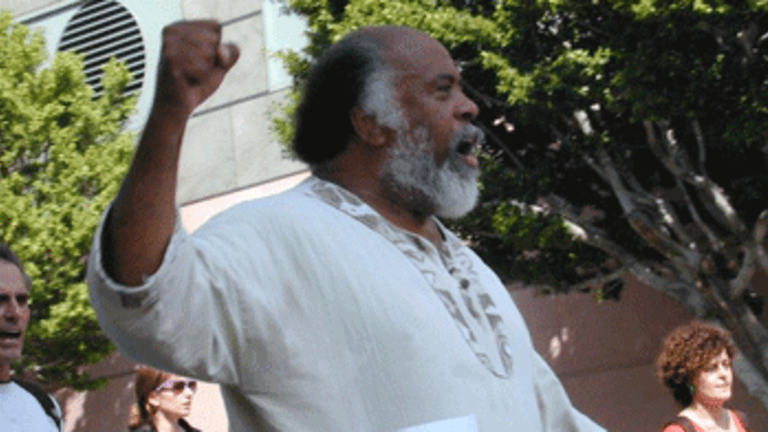 Occupy to Save a 79-Year-Old Retired School Teacher's Home
OCCUPY TO SAVE A 79-Year-Old Retired School Teacher's HOME
As Senator and Council Ask for Responsible Banks, Occupy LA Focuses on Foreclosures*
Los Angeles – Wednesday, members of Occupy LA will be occupying the foreclosed South Central home of Mrs. Faith Parker, a 79-year-old retired school teacher, who fights eviction as a result of Bank of America's irresponsibility. Mrs. Parker has owned her home since 1964.
The Occupy movement and American families are not alone in asking for banks to act more responsible; they are joined by elected officials on the local and federal levels.
In a press release on Tuesday, U.S. Senator Sherrod Brown (D- OH) urges stronger standards for bank foreclosure.
"Wall Street has had its way in Washington [DC] for far too long," states Brown. "It's in everyone's best interest – from banks and homeowners, to our communities and local governments – to find ways to keep people in their homes," Brown added.
Brown's statements come as Los Angeles City Council continues to work on passing a Responsible Banking Ordinance which Councilman Richard Alarcon introduced in February of 2009 and which the Budget and Finance Committee will address again later this month.
Occupy Los Angeles (OLA) helped reactivate the ordinance after it sat in committee with no activity for 8 months when in October LA City Council unanimously passed a Resolution called "Occupy LA First Amendment Rights/ Responsible Banking Resolution", which was also drafted by Alarcon's office.
Members of Occupy LA and Occupy the Hood LA call for more responsible banking and will be joined at 4pm by community and faith leaders to defend the Parkers from eviction on 60th Street.
"We will not allow the 'Banksters' to continue to abuse the weak and elderly!" states Carlos Marroquin, a homeowner advocate and member of OLA. "We will stand against the abuses of the financial institutions that continue to prey on American families."
The Parkers are not alone in their fight against the banks. According to that LA City Council Resolution, 1 in 5 American foreclosures are in California with an estimated 2 million new foreclosures expected to hit California cities in 2012, especially in low income communities.

"Inner Cities have become a prime target of banks and financial institutions," states Kwazi Nkrumah, a community activist who co-founded Occupy the Hood Los Angeles.
At a time when bank foreclosures have it Los Angeles hard, Angelenos are starting to fight back.
For more information call Carlos Marroquin (323) 592-4663
*This press release has not gone in front of Occupy LA's General Assembly for consensus therefore it is not an official statement from Occupy LA but was prepared by individual members of Occupy LA.
Press conference is scheduled for 4:30PM, January 4th.
WHO: Occupiers, Homeowner Advocates, Community Activists, Religious Leaders and the Parkers
WHAT: Rally and Press Conference
WHEN: January 4, 2012 at from 4 – 6:30pm
WHERE: 935 W. 60th Street, Los Angeles, CA 90044