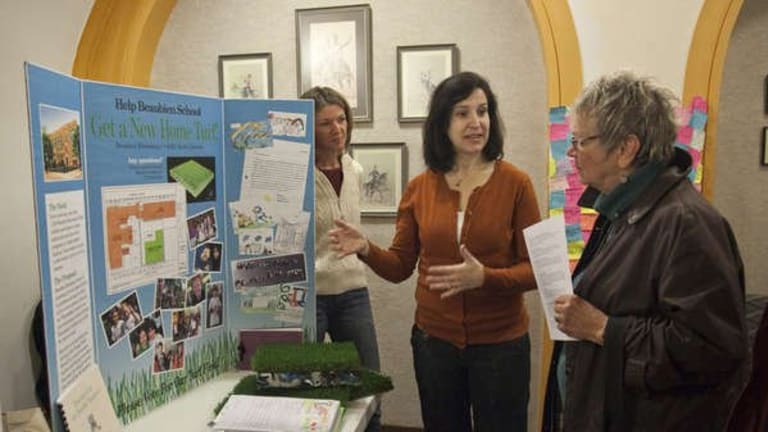 How Would YOU Spend a Million in Public Money?
Participatory Budgeting Project: Thousands of Chicago residents are getting the opportunity to make budgeting decisions.
What if you had $1 million in public money? How would you use it to make your community a better place?
Thousands of Chicago residents are getting the opportunity to make those decisions, allocating city dollars to projects in their own neighborhoods through "participatory budgeting."
Although the term itself isn't exactly catchy, the idea is becoming popular among grassroots activists from coast to coast. This year, it's especially taken hold in New York City and in Chicago, where the city plans to hire a designated manager in the central budget office.
"Over and over again, I've seen if you give people power, they step up," said Josh Lerner, executive director of the Participatory Budgeting Project, which helps communities launch these efforts.
This isn't just a play exercise, where the community writes wish lists but officials get the last word. Instead, residents come up with their own roster of potential projects and then vote on them. The projects with the most votes win.
"Real people have real power to make real decisions," Lerner explained. "If you come out to a meeting, you can help directly decide how to spend a million dollars."
The process was developed in the 1980s in Porto Alegre, Brazil, a city with a big inequality problem. At that time, the budgeting process lacked transparency and was seen as corrupt, according to a Harvard study. A new government brought in new ideas, including participatory budgeting – often referred to as PB. Since then, interest has grown significantly, and today, some cities in Brazil let citizens allocate as much as 20 percent of the budget. Researchers say residents can see the impactin the amount of public dollars flowing to low-income neighborhoods.
"It engages people who are typically the most marginalized and disenfranchised," said Rachel Laforest, executive director at Right to the City Alliance, who is involved in the process in New York City.
Participatory budgeting has been gaining steam around the world, but only recently has taken off in the U.S. Map courtesy of Participatory Budgeting Project. View in a larger map
Participatory budgeting is now used in more than 1,500 places around the world. But it was slow to catch on in the United States.
"We think we know how to do democracy best," Lerner sighed.
It took 20 years from that first experiment, in fact, before anyone in American officialdom decided to give it a try.
That someone was Alderman Joe Moore, in Chicago's 49th Ward. In that city, each ward gets an annual lump sum called "menu money." Before 2009, Moore's decision-making approach was pretty straightforward: "I would spend a day, drive around the neighborhood, examine constituent requests that had come in over the previous year," Moore recalled. Then he would fill out a form and send it off to City Hall. "Ultimately, it was my call."
When he decided to open the allocation process to ward residents, other aldermen thought he was crazy.
Citizens felt differently.
Maria Hadden was one. She saw a flier for Moore's PB meetings at a time she was having major issues with the developer of her condo building. Residents were being dragged into court regularly to deal with the fallout, she said, but they couldn't get any relief from the city.
"Nothing was geared to help solve these issues in a way I could touch as a regular on-the-ground community person," she said. It turned out that PB "wasn't an answer to my specific problems. But it was an answer to 'How do I as a community member effect change?' It's pretty powerful."
Hadden liked the experience so much that she later took a job with Lerner's Participatory Budgeting Project.
Alderman Moore, who at that point had been in office for nearly two decades, learned something, too: Driving around the ward didn't tell him everything he needed to know. He'd been spending the menu money on "traditional basic infrastructure": resurfacing streets, repairing sidewalks, installing streetlights and the like. It turned out residents wanted some of that, but they also wanted things like wheelchair-accessible walkways, murals or a dog park.
"I think through this process you end up getting better projects that are more truly reflective of the wants and needs in the community," he said.
Other aldermen have since decided to try Moore's PB approach. This year, it's being used in three wards, including the 22nd.
The first lesson they learned? It's not easy.
"A million dollars goes very fast," said Adrian Esquivel of Enlace Chicago, a grassroots organization that works for safe and healthy environments. In one of the first brainstorming sessions, residents tossed out so many ideas, "we were up to a few million dollars in about 10 minutes," he said.
Just as quickly, though, they learned to rein in their wish list and focus on what would give the most bang for the buck. Still, this is about a lot more than learning to pencil out a bottom line. Residents are learning about the trade-offs elected officials have to make, about how things get built, about how government works. And they're learning about their own communities.
In the 22nd Ward, most of the residents are Latino, but there's a far-flung corner that's mostly African-American – and they had felt disempowered. At the first meeting, Hadden recalled, they were skeptical and had a list of complaints. As they got answers, Hadden said, "You could feel the shift in the room." They've been participating ever since, in great numbers.
One of the priorities that has emerged is light. What makes for good street lighting? Where is it most needed? Residents have been checking out parts of the ward they might not have otherwise visited to take a look, Esquivel said. And they're seeing the picture beyond their own personal needs. That, he said, is what participatory budgeting is really about.
There are, of course, disagreements. Sometimes, the meetings can be tense. And the process isn't always perfect. Even supporters concede it can be cumbersome. What took a day for an alderman is now spread over nine months. That eats up city staff time – and time, of course, is money.
Also, participation rates are sometimes low. One alderman that went through the process last year decided against it this time around, citing concerns over staff time. Participation was low: Only about 100 people there had voted.
Elsewhere, there have been reports of stalled projects and of officials usurping the people's will.
Some also point to disappointments in the concept itself.
One aim is community change and empowerment, but often the focus is on the details of specific projects rather than on broader social and economic issues.
Still, supporters say the concept has great potential. In New York, nine city council members are using participatory budgeting. There is talk of allowing public housing residents there to vote on infrastructure projects via PB.The idea is also taking hold in San Francisco, Boston, St. Louis and other cities. And the Obama administration touted the concept in a December report on open government.
"It's a great way," Enlace Chicago's Esquivel said, "to get people engaged about something that doesn't always seem that exciting – budgeting."
Maureen O'Hagan
Equal Voice News